Super Bowl Betting Advice and Predictions: Cross-Sport Props
by Trevor Whenham - 1/30/2012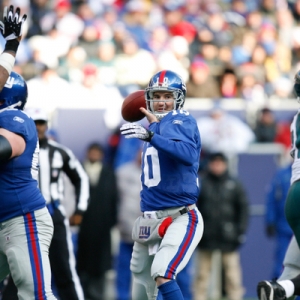 I love looking at all the Super Bowl prop bets every year. The ones that are consistently my favorite are the cross-sport props. It allows you to think about the game in a different way than you normally do, and forces you to make some assumptions that you don't normally have to make. Here's a look at three of the more interesting cross-sport Super Bowl prop bets for Super Bowl XLVI (all Super Bowl odds are from Bovada) along with some betting advice and predictions:
LeBron James points vs. Eli Manning completions
James is the solid favorite here at -130, with Manning at even money. James is averaging 28.5 points per game in his last 10, and 29.7 points when the Heat win. They are very likely to get a win on Super Bowl Sunday since they host the lowly Raptors, and Toronto will have played seven of nine on the road by the time they arrive in Miami. James only averaged 23 in two games against the Raptors last year, though, and Toronto's defense is not as bad as other aspects of their game. I think it's reasonable to assume James will come close to his average, but he shouldn't go way over it here.
So, can Manning get 30 completions in this game? Possible, but not overwhelmingly likely. He has averaged less than 23 per game this season, and has exceeded 27 just three times all year — including once in last week's overtime game. Last time against New England he had just 20 completions. The one interesting factor is that he averaged 29 completions per game in his three games played indoors. James seems like he has an edge here overall, but it is a lukewarm one, and I'm not sure it justifies the price. I would likely pass on this one, though if I was going to take anything I would take a gamble on Manning.
Deion Branch receptions vs. Tyler Seguin shots on goal
Can the Patriot catch more passes than the Bruins' sophomore sensation has shots on goal? Branch has averaged 3.3 receptions per game in 17 regular season and playoff appearances. In three of the regular season games, though, he was held without a catch. In the playoffs he has a total of five catches in two games. He had seven or more catches in three of his first five games, but has only had more than three just three times since, and not at all in his last six games. He has fallen out of favor in the offense to some extent. Against the Giants last time he had two grabs. If Seguin could be counted on to have more than three shots on goal then I would comfortably take him — especially since both players are at the same -115 price.
It's a brutal weekend for the Bruins — they play Pittsburgh on Saturday, then at Washington on Sunday. They could be tired for the Sunday game. Seguin is averaging 2.8 shots per game, so he is definitely capable of getting enough here. That average is basically the same in the back half of back-to-back games, so the situation shouldn't be too much of a factor given his young legs. He has had three or more shots 11 times in his last 17 games, so he is more likely to manage it than he is to fall short. He'll also be well-rested coming off the all-star break — something he needed after six road games out of the last seven has seem his production fall off a bit. All in all, I feel confident in taking Seguin here.
Jason Pierre-Paul tackles and assists vs. Trey Burke assists
I'm a huge Michigan Wolverines fan, so I am obviously drawn to their phenom freshman point guard and this prop. My boys will head to hated rivals Michigan State to kick off Super Bowl Sunday. Burke is averaging five assists per game, and just over 5.5 in his last 13 games. Michigan beat Michigan State at home on Jan.17, with Burke contributing just three assists that day. His offensive production late in the game, though, was the deciding factor, so you can be sure the Spartans will be heavily focused on him. The environment is going to be extremely hostile as well — the worst he has faced. As much as it pains me to say it, I don't expect Burke to meet his season average on this day.
So, if Pierre-Paul can reasonably be expected to get five or more tackles and assists then he'd be the right pick since both players are at the same -115 price. Pierre-Paul ranked third on the Giants in regular season tackles and assists with 86 — 5.4 per game. He is averaging 5.3 per game in the playoffs, though he only had two against the Packers to pull his average down. He has had five or more tackles in six of his last seven games, including a season-high of 16 against the Redskins. He only had three last game against the Patriots, but he was in the midst of a mid-season slump that he seems to have snapped out of. He averaged six tackles per game in dome games. I think it is very reasonable to expect him to get at least five tackles here, so I am forced to pick against a Michigan Wolverine and tab the Giant.
Not sure who to take for the Super Bowl? Doc's expert NFL handicappers have you covered. For just $25 Doc's Super Bowl picks will provide you with the side and/or total for the game along with the best picks on Super Bowl props. Doc's has 40 years of Super Bowl handicapping experience and he has assembled the best team of handicappers in the nation! Click here to sign up today.