Teams with a Real Shot at Winning BCS National Championship
by Trevor Whenham - 10/25/2012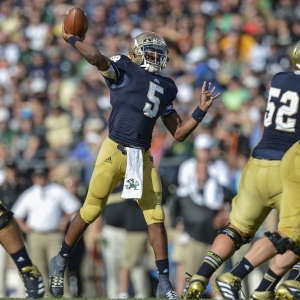 With five more weeks of regular season contests and conference championship games left to play, a whole lot can change between now and the BCS Championship Game. Right now, though, there are five elite unbeaten teams remaining, and those teams have the best shot at making the big game.
Here's a look at all five and their chances of going all the way. (Odds to win the BCS National Championship are from Bovada)
Alabama (6/5)
If Alabama runs the table they will obviously be in the BCS Championship Game. If they lost one game to a decent opponent and won the SEC Championship Game they would still be well positioned to make it if there aren't two strong unbeatens. They are that good.
The question, then, is whether they are going to go undefeated. They face their three-game test starting this week — against Mississippi State, at LSU, and then at home against Texas A&M. They are well-positioned to win all three, though the first two could be a test if the Tide aren't on their game.
The SEC Championship lines up as a showdown with Florida right now, and that would be tough as well. If I was betting, though, I'd definitely take the Tide to make it all the way, though this price is far too steep given what they still have to overcome.
No team has come close to them so far, but outside of an outmatched Michigan team they really haven't played anyone.
Oregon (4/1)
Right now, the Ducks keep winning and keep falling down the BCS standings. They are being beaten up by the fact that 101 teams have played a tougher schedule than they have so far.
Things get much tougher for them down the stretch with trips to USC and Oregon State and a home game against Stanford. There is also the Pac-12 Championship — likely against USC again. That should be more than enough to lift Oregon into the second spot in the BCS standings and get them the right to play for the national title.
The Ducks probably control their own destiny — running the table would get them their shot at glory barring something unexpected. I like their chances, though it could be that I am biased — as a Big Ten guy I really don't want the Ducks to wind up in the Rose Bowl where they will humiliate whoever wins my favorite conference.
Notre Dame (14/1)
The Irish are the other team besides Alabama that likely controls their own destiny. Given their popularity and their very tough schedule they would be well-positioned to make the championship game if they ran the table.
I don't think that's particularly relevant, though, because I just don't see them running the table. Their offense is brutal, and their defense will be tested mightily by Oklahoma and USC in coming weeks.
The Irish will lose twice, in my opinion, so I really don't see them as a legitimate contender here. I might start to reconsider if they overwhelm Oklahoma this weekend, but for now I'm not sold.
Florida (15/2)
The Gators are No. 2 in the BCS standings right now, but that's a bit misleading. They have only played one nonconference game so far, so their strength of schedule has been inflated thanks to their conference. Things get weaker down the stretch, and there is a good chance that they will fall into third in the standings.
If they stay undefeated, though, that's irrelevant — they would get a shot at Alabama in the SEC Championship Game, and a win over undefeated Alabama would certainly get them their shot in the BCS Championship.
Win out and Florida is in. Lose and I don't like their chances, though if they lose once and beat Alabama in the SEC Championship they would still be in good shape.
Kansas State (15/2)
With home games against Texas Tech and Texas representing their biggest remaining tests, there is a good chance that this team runs the table — especially if the Red Raiders don't trip them up this weekend. Unless they are one of just two unbeatens, though, I just don't think that they'll have the juice to make the big game.
They are going to be penalized for not playing in a conference championship game, and their schedule won't be as tough as other potential unbeatens.
This is a very likable team, but if they don't get some help then they could do their work and still be on the outside looking in.
Two more to consider
Though LSU (12/1) and USC (10/1) have both lost, they are still the two one-loss teams in the best position to make the big game.
Though LSU is at longer odds their path is actually easier. If they beat Alabama and win out they would play in the SEC Championship Game. Winning that — especially over an unbeaten Florida — would make it hard to leave them out of the big game — especially if there is only one unbeaten.
USC also needs to win out, but that means beating Notre Dame and Oregon twice, so I'm less optimistic about that one. They would also likely need Kansas State to falter. I don't think there is any value in either of these prices, but they are still in the picture.