Will Jeremy Lin Continue To Make Knicks a Strong Bet?
by Trevor Whenham - 2/16/2012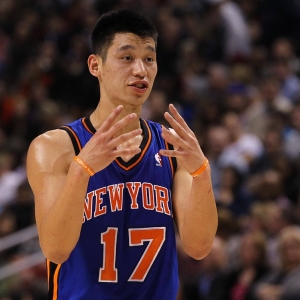 I have to admit — I have come down with a case of Linsanity.
I always try to be a skeptic in these situations (not that we have seen a situation quite like this one before), but Jeremy Lin won me over on Tuesday night. In the first three quarters against the lowly Raptors he was pretty underwhelming. His play in the fourth quarter as he led his team back to tie with less than a minute left, though, was impressive. Where he really got me, though, was with his three pointer to win it all. That was freaking ridiculous.
I'm sure everyone has seen it by now, but if you haven't you need to go find a replay instantly. He killed the clock holding the ball at center court, starting moving with just over five seconds left, pulled up, and drilled the most perfect three point shot a guy can hit. He would have looked ridiculous if he missed it, but he knew he wasn't going to do that. I can't explain how he knew, but he just looked like he did. Crazy.
The story has captured the imagination of fans and the media like few I can remember. It's a story that would be impossible to believe if it wasn't true — a guy who didn't get major college attention and was undrafted bounces around the league before landing in the biggest media market there is and rewriting the history books. It's Cinderella on steroids.
The amount of interest in the story makes it both interesting and significant from a betting perspective. Here's a look at five angles to the story that bettors need to consider when deciding how to deal with this incredible tale:
He's got ice in his veins
There is no denying that the guy is channeling something special right now. That last shot against Toronto was a shot that 99 percent of the guys in the NBA would shy away from in those circumstances. He tied it up right before that on a three-point play that was totally clutch, too.
It wasn't just that game that he has shown that ability, either. Against the Lakers he looked Kobe in the eye and then took him to school.
There are going to be some inevitable bumps in the road — as we'll talk about soon — and he's going to come down to earth to some extent at some point. There is no doubting, though, that the guy is a true competitor with a relentless desire to win. Beyond everything else it would be a mistake to discount that.
He's going to get worn down
Tenacity aside, the guy is going to get worn down. he's not big, and he is slight. He also fearlessly drives to the hoop. We've seen already that he can start to drag in the second half of back-to-back games — he wasn't as sharp as he has been against Minnesota, and he sat for the fourth quarter against Sacramento.
He's also not at all used to the strain of the NBA — he hasn't played in the last two years, and hasn't played more than 30 or so games in a college season.
On top of all that he has a target on his back, and that will only grow with his success and attention. The more he plays, the more of a concern his physical ability will become.
This is the perfect public story
The public is loving this story, and they are only going to love it more. It's like a checklist for what the public likes.
Underdog players? Check. Offensive records? Check. Popular teams in major markets? Check. Winning streaks? Check. Major media attention? Double check.
The public love, and betting action, has grown with every game and will only continue to grow. For now the team is covering spreads nicely despite the attention — they are 6-1 ATS in his starts. As the attention grows and the schedule gets tougher, though, those spreads will become much harder to manage.
Remember, though they are red hot right now these seven straight wins have only got them to .500 on the season. This team has not proven that they are worthy of heavy betting attention yet.
Teams will see more tape on him
Right now a big factor Lin has working for him is surprise — no one knows what to expect, and they can't believe what they are seeing. Once teams have more tape to study, though, they will start to figure out how to deal with him.
Between never really playing in previous stops and toiling away in the Ivy League in college the guy is a total unknown. With study teams can figure out strategies. Already it looked like Toronto had managed to figure him out for three quarters, and the Raptors aren't exactly the most talented team in the league.
Next Monday is going to be a particularly interesting game to watch — when the Nets come to town it will mark the first time that an opponent has seen him twice. If he can shine in the face of that familiarity then things could really get interesting.

The Carmelo factor
This is a bigger factor than anything else. For all of this remarkable run Carmelo Anthony has not been in the lineup, but he could return as soon as Friday. Anthony is as talented as anyone, but he doesn't always play well with others, and he loves having the ball in his hands on offense.
Lin and Anthony are going to have to coexist, and that will mean that Lin will have to learn to let Anthony be "the man". They clearly have a good relationship now — they spent the whole fourth quarter against the Kings giggling like schoolgirls together on the bench. That love-fest will be tested when Anthony hits the court, though, and the ability for them to find chemistry and harmony will essentially dictate what the next chapter of Linsanity looks like.
It would be easier to be optimistic if Anthony had done a better job of getting along with others on the court up to this point in New York.