2013 AL Central Picks and MLB Betting Predictions
by Robert Ferringo - 3/9/2013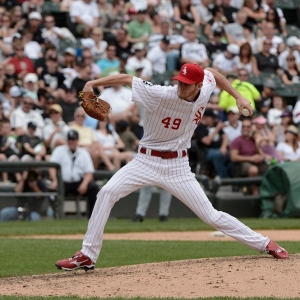 It's a good thing that the teams in the American League Central get to play one another or they all might lose 90 games.
The A.L. Central will once again battle its National League counterpart for the title of The Worst Division in Baseball. And last year the A.L. Central teams certainly made a case. Three of the five teams lost 90 or more games, their division winner, Detroit, did go to the World Series. But they also entered the playoffs with just the seventh-best record in baseball.
Further, the Central went a combined 134-196 against the rest of the American League. Detroit went 20-18 against the East, and Chicago went 20-12 against the West. But beyond that no other Central team held a winning mark against either of the other divisions. In fact, it can be argued that the best wager in baseball betting was to simply play against any A.L. Central team against, well, anyone else in baseball.
With that in mind, here is Doc's Sports 2013 A.L. Central picks and betting predictions with MLB futures odds from Bovada:
Detroit Tigers
2012 Record: 88-74
2013 Wins Over/Under: 92.5
Odds To Win 2013 AL Central: -275
Odds To Win 2013 AL Pennant: +400
2013 Detroit Tigers Odds to win World Series: +800
Outlook: The conventional line of thinking is that with the best pitcher in the Majors (Justin Verlander), the best hitter in the Majors (Miguel Cabrera) and the best player returning from injury (Victor Martinez) the Tigers are going to build on last year's American League pennant and be a threat for the title.
Some of that may be true. However, I think that Detroit is going to be fool's gold for bettors this year. This team is going to be priced out ahead of what its actual value is. Detroit did go to the World Series. However, this team had just the seventh-best record in the American League during the regular season and won just 88 games while playing in the worst division in baseball. The Tigers were just 34-38 against non-divisional A.L. foes and just 45-45 against the rest of the Majors.
Martinez will give the Tigers offense a jolt if he returns to form from injury. However, he will also clog up the DH spot as well as the bases. The other key addition is past-his-prime Torii Hunter, who was brought in for some clutch hitting and to give a shaky defense a veteran presence. They will join forces with Cabrera and Prince Fielder to give Motown a formidable core.
Again, Detroit is a solid squad, and they are the obvious favorite to win back-to-back division titles. However, I don't feel like this team does enough of the little things – play defense, run the bases, move runners along, win on the road – to match the hype that their 92.5 season win total suggests. Bettors aren't going to find nearly the value with this group this time around.
Chicago White Sox
2012 Record: 85-77
2013 Wins Over/Under: 80.5
Odds To Win 2013 AL Central: +600
Odds To Win 2013 AL Pennant: +2000
2013 Chicago White Sox Odds To Win World Series: +4000
Outlook: I think that the White Sox are one of the more interesting teams in the A.L. They won 85 games and pushed Detroit to the limit last year. Yet, this season's Las Vegas win total and Chicago's recent yo-yo history suggest that this group might end up being a money burner this summer.
The White Sox have perhaps the most well-rounded pitching staff in the division. Chris Sale signed a fat new contract and will try to match last year's breakout season. Jake Peavy is the guts of the rotation, and solid (if streaky) veterans John Danks and Gavin Floyd back him. Jose Quintana and Hector Santiago are lefties battling for the No. 5 slot. And perhaps the underrated part of this team is the crop of live, young arms that it offers out of the bullpen.
Paul Konerko, at 37 years old, anchors the White Sox lineup. If he goes down things will get ugly. Ultra-streaky Adam Dunn and Alex Rios spent much of 2012 in the "on" position. But you can't count on those guys, nor can you count on strikeout machines Gordon Beckham and Alexei Ramirez. When this lineup is running hot they use the long ball to score runs quickly. But good pitching, particularly strikeout-oriented hurlers, can dominate this lineup fairly easily.
The White Sox have finished over .500 four times since 2006, including last year. But the previous three times they fell off the map the next season and failed to crack 80 wins. This year's team doesn't have a lot of depth, and if anything happens to Konerko this locker room could crumble. If the starters are healthy I enjoy all of them. But I don't trust this lineup, and this is a team to be very cautious of this year.
Kansas City Royals
2012 Record: 72-90
2013 Wins Over/Under: 78.5
Odds To Win 2013 AL Central: +650
Odds To Win 2013 AL Pennant: +2800
2013 Kansas City Royals Odds To Win World Series: +5000
Outlook: The Royals have finished over .500 just once in the last 20 years and have topped 72 wins just one time in the last nine. But, call me crazy, I am actually a little bullish on the Royals this year. They made the bold move to part with some of the best prospects in baseball for proven Major League starters, and the result could be the most competitive Royals team in years.
Kansas City brought in James Shields, Ervin Santana and Wade Davis during the offseason. That trio will join veteran Jeremy Guthrie and a fifth starter to be named to give K.C. their least comical rotation in several seasons. Are any of those arms great? No. But for a team that has had to talk itself into Bruce Chen, Luke Hochevar, Scott Elarton and Jose Lima as the staff aces (those are all actual K.C. Opening Day starters since 2005), this year's starters signify a major upgrade.
The Royals lineup was actually one of the most clutch in baseball last year. They were No. 2 in the Majors in batting after the seventh inning and No. 3 in the league with runners in scoring position. Billy Butler is one of the best hitters in baseball, and guys like Alex Gordon, Eric Hosmer, Jeff Francoeur, and Mike Moustakas have enough at-bats between them to be considered a viable veteran core.
I think that this team is just one or two good veteran bats away from being in the playoff hunt. Sure, you can say that about a lot of teams. But I just think that if the Royals can find two proven vets – think Jonny Gomes or Wilson Betemit-caliber players – that they can make a run at it. Of course, K.C. is annually the most optimistic team in the league each March before the realities of baseball Darwinism squash them like a bug by mid-May. But they aren't quite so young any more. And (finally) they have some legitimate arms in their rotation. I am not willing to predict a postseason berth, but I will say that this team could end up being a really nice value play for bettors throughout the summer.
Cleveland Indians
2012 Record: 68-94
2013 Wins Over/Under: 77.5
Odds To Win 2013 AL Central: +1000
Odds To Win 2013 AL Pennant: +3500
2013 Cleveland Indians Odds To Win World Series: +7500
Outlook: The Indians were so pathetic to close out last season – going 18-45 in their last 63 games – that it is easy to forget that they were actually three games over .500 and three games off the pace in mid-July. In fact, they looked like they would stay in the Central mix all summer – before reality hit.
Cleveland's rotation has just enough name guys – Justin Masterson, Ubaldo Jimenez and Brett Myers – to keep moneylines respectable. However, that trio looks like a mediocre back end of a rotation as opposed to a solid front end. (And for the record, I have said for two years that Jimenez is pathetic.) The Tribe just need innings out of their starters. They had one of the worst bullpens in the A.L. last year, and they need to do what they can to protect a feeble middle relief corps.
You shouldn't underestimate what the addition of Nick Swisher will do for this clubhouse. Swisher will keep things laidback but also lead by example by giving a max effort every day on the field. The Tribe has a young roster. But well-placed vets like Swisher, Mark Reynolds and Mike Aviles should help stabilize a lineup that scored the second-fewest runs in the league. Cleveland needs to get better against lefties (.234), and they need to get better in close-and-late situations.
One sharp baseball bettor I know expects the Tribe to be a surprise team in the A.L. this year. He feels they will be buying at the trade deadline and that this team will be competitive from April to August. I'm not so sure. I don't like their arms, and they have a lot of hitters that will give you empty at-bats. I do agree that they will be better than last year's 68-win crew. But I am not in a rush to get cash down on them.
Minnesota Twins
2012 Record: 66-96
2013 Wins Over/Under: 68.5
Odds To Win 2013 AL Central: +1500
Odds To Win 2013 AL Pennant: +5000
2013 Minnesota Twins Odds To Win World Series: +10000
Outlook: I'm not exactly sure how it happened, but the Twins have fallen off a cliff. From 2001 to 2010 this franchise was the gold standard of small market baseball. The Twins finished over .500 nine of 10 times and made six postseason appearances. But back-to-back years with 96-plus losses have this team stuck among MLB bottom feeders.
And with a rotation "anchored" by Scott Diamond, Kevin Correia, and Mike Pelfrey, things don't look like they will be improving any time soon. The Twins had the third-worst team ERA in baseball last year and the second-worst starter's ERA. During the last decade the team was stacked with No. 2 and No. 3-caliber starters. But they have been struggling through this decade, thus far, with a bunch of long relievers and fringe No. 5s dotting the rotation.
Offensively, the Twins are perfectly mediocre. When Joe Mauer and Justin Morneau are healthy and hitting – which has been almost never over the last two years – they can be competitive. Josh Willingham is just a pro's pro in the cleanup spot. But beyond that, the Twins are going with a bunch of .230 hitters and hoping for the best. The results have been predictably awful.
Minnesota's pitch-to-contact philosophy is at odds with their atrocious team defense. And their offense is both too young and too terrible to keep up with their opponents. The Twins started 10-26 last year and were out of it by mid-May. And while they were actually OK in divisional games (35-37), they were an abominable 22-50 against the rest of the AL. I'd like to say I see improvement but the reality is that this team seems to have tagged out with Kansas City for the worst team in the worst division in the A.L.
2013 American League Central Picks and Predictions: Predicted Order of Finish
1. Detroit Tigers
2. Kansas City Royals
3. Chicago White Sox
4. Cleveland Indians
5. Minnesota Twins
Doc's Sports is offering $60 worth of member's baseball picks absolutely free – no obligation, no sales people – you don't even have to enter credit card information. You can use this $60 credit any way you please on any of our top MLB handicappers. Click here for more details and take advantage of this free $60 picks credit today.
Robert Ferringo is a professional sports handicapper for Doc's Sports. He is considered one of the top MLB cappers in the country and has turned a profit in four of the last six years on the diamond with his baseball picks. He closed 2012 with an amazing $11,700 in earnings over the last four months and is looking forward to a great upcoming season against the MLB odds. Click here for more information on his MLB picks.
Read more articles by Robert Ferringo