2013 AL West Picks and MLB Betting Predictions
by Robert Ferringo - 3/8/2013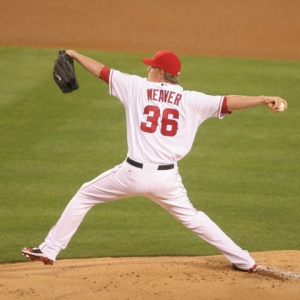 Last year it was, "poor, poor Seattle Mariners." Seattle was clearly the worst team in a loaded American League West, and they entered the season with nothing to look forward to but a beating by the Angels and Rangers.
But this year the Houston Astros are going to make the 2012 Mariners seem like a division champ.
Houston will become the first National League team in Major League Baseball history to convert to the American League. They have been placed in the A.L. West, and this realignment will ensure that every week there will be at least one Interleague series played as opposed to the bi-annual smorgasbord that has taken over the schedule in May and June for each of the last 16 years.
The biggest problem for the Astros is, well, that they are pathetic. They have been the worst team in baseball for each of the past two seasons, losing 106 games in 2011 and dumping 107 last year. They were that bad despite playing in the weakest division in the sport.

The second biggest problem for the Astros is that they are being thrown into the West mix at a time when things are even more acrimonious than normal. Bad blood between the Angels and Rangers is at an all-time high, and those two organizations are still among the best in baseball. They will have no quarter when dealing with the infantile Astros this summer.
So, yeah, the happiest team in baseball right now is the Seattle Mariners. Because even though they are still pretty shaky in their own right this year, they at least get to go into the season knowing they won't finish in the basement.
Here is a look at Doc's Sports 2013 A.L. West picks with some betting predictions (with MLB futures odds courtesy of Bovada):
Los Angeles Angels
2012 Record: 89-73 (-940)
2013 Wins Over/Under: 91.5
Odds To Win 2013 AL West: -125
Odds To Win 2013 AL Pennant: +775
Odds To Win 2013 World Series: +1650
Outlook: For the second year in a row the Angels swung out of their cleats in free agency. Last year they bagged Albert Pujols, and then this winter they wrestled Josh Hamilton away from rival Texas. That duo should form one of the most fearsome 3-4 combos in the sport. But it is not a guarantee that the Angels will live up to their preseason billing.
Despite the ballyhooed addition of Pujols, the Angels finished in third place and failed to make the postseason. He was wrestling with Mendoza into May but still ended up with a sweet stat line. Pujols should be able to rake this season after a year to adjust to A.L. pitching (after essentially hitting off a tee for a decade in the pathetic N.L. Central) and with Hamilton behind him. Hamilton, if he's healthy, and Mike Trout, if he avoids a sophomore slump, gives L.A. three MVP-caliber players. But the Angels offense will be defined by the production of guys like Howie Kendrick, Mark Trumo and Alberto Callaspo. Those are the guys whose numbers I'll be watching as I handicap this team.
Los Angeles still has one of the better rotations in baseball. Jared Weaver has been at a Cy Young level for three years, and C.J. Wilson is a bulldog. But I feel like Tommy Hanson, Jason Vargas and Joe Blanton are going to be a drop off from Dan Haren, Zack Greinke and even Ervin Santana. How the new starters shake out will be a major storyline for the Halos. But the primary storyline will involve the Angels harrowing bullpen, whose 47 blown saves over the last two years are the most in baseball.
The Angels have the star power. There is no doubt about that. And their top-tier talent stacks up with what defending A.L. Champion Detroit brings to the park each day. But the Halos need better, more consistent production on the edges. The stars on this team will produce. But the veteran bats, the bench, the back end of the rotation, and, most importantly, the bullpen must improve lest this team spend October on the golf course yet again.
Texas Rangers
2012 Record: 93-69 (-440)
2013 Wins Over/Under: 86.5
Odds To Win 2013 AL West: +100
Odds To Win 2013 AL Pennant: +750
Odds To Win 2013 World Series: +800
Outlook: Apparently Josh Hamilton was worth five wins on Texas' season win total. And without the former team anchor, the Rangers enter the season as a team that I feel like people are forgetting about.
Hamilton won't be the only stick the Rangers miss. Mike Napoli and Mike Young have both moved on. Sure, all three of the vets had declining production. But they were also key locker room guys and professionals that the rest of the group could lean on.
That said, Texas won't lack for pop. David Murphy, Elvis Andrus, Lance Berkman and Nelson Cruz are not as consistent as the players that moved on. But Texas will score plenty of runs and put a lot of pressure on opponents. But after going 72-83-7 against the total last season I'll be looking for value on the "under" in Ranger games.
Part of the reason I think Texas will be a decent under play is that they still have a pitching staff chock full of live arms. Yu Darvish has just scratched the surface of his potential. Derek Holland and Matt Harrison have developed and are steady lefties. And Alexi Ogando and Martin Perez have potentially explosive stuff. The bullpen is aggressive, and proven closer Joe Nathan can nail down games big and small.
Texas is still going to be one of the best teams in the American League. They looked disjointed and disinterested while making a quick postseason exit. Yet, while the roster might be younger overall, this team has as much postseason experience and success as any team in the A.L. west of New York. Their numbers may be inflated in April. But by June we'll know how, when and where to wager on this transitioning team.
Seattle Mariners
2012 Record: 75-87 (+430)
2013 Wins Over/Under: 77.5
Odds To Win 2013 AL West: +1500
Odds To Win 2013 AL Pennant: +5000
Odds To Win 2013 World Series: +10000
Outlook: Things appear to be on the up-and-up for the Mariners after inking Felix Hernandez this offseason. While that move stole the headlines, Seattle's year will be defined by how several other newcomers perform. And with the plates in the West shifting, there could be an opening for Seattle to jump into the division's top tier.
King Felix is as good of a pitcher as we've seen over the last 20 years. But he can only go once every fifth day. Seattle parted with emerging lefty Vargas, and they could enter the season without a southpaw starter if Joe Saunders can't regain his form. The bullpen, however, is stocked with lefties. Add in some flamethrowers from the right side, and this no-name staff has the potential to be excellent.
Seattle moved in the fences at Safeco Field this offseason and further bolstered the worst offense in baseball over the last half-decade with some savvy moves. Kendrys Morales and Michael Morse are two big hitters to pair with young studs Jesus Montero and Justin Smoak. Raul Ibanez has come home as well. But Seattle will still need fading players like Jason Bay and Franklin Gutierrez to figure it out, as well as to steal some production from a light hitting middle infield.
I've read several stories this year pegging Seattle as a potential sleeper team out West. Granted, while all the attention in this division has been on teams south of the Emerald City, the Mariners are lurking. But they can't do anything unless they score some runs. And that will fall on all of the new additions to come through. Seattle was very good at home last year (40-41). If they can threaten .500 on the road, then this team will justify the hype.
Oakland Athletics
2012 Record: 94-68 (+3860)
2013 Wins Over/Under: 84.5
Odds To Win 2013 AL West: +500
Odds To Win 2013 AL Pennant: +1600
Odds To Win 2013 World Series: +3300
Outlook: The A's entered last season as +3500 underdogs to win the West and paid out handsomely to any enterprising bettor bold enough to make a play. Oakland overcame a dismal start to go 68-33 after June 10, and they were the best bet in the sport through its second half. Will that magic carry over into this season? Or will this franchise regress back to the group that averaged 76 wins per year from 2007 to 2012?
Oakland went 11-5 in extra inning games and 25-18 in games decided by one run. They put together a patented mid-summer run, the kind that we saw routinely in the Moneyball years, and once this team got hot there was no stopping them. But Oakland is still shackled with one of the worst offenses in the game, and it might be a tall task for them to repeat last year's effort.
The A's added talented, but underachieving, outfielder Chris Young from Arizona. And they can only hope that he has the same impact as newcomer Yoenis Cespedes did last year. Cespedes is a star, and if he gets any help then this team could possibly work its way into the top half of the A.L. scoring ranks.
Regardless, Oakland is going to win and lose on the strength of its pitching. The A's bullpen was amazing last year, and teams simply did not score after the seventh inning against them. Their young starters flourished, and if they can secure more than 35 innings out of Brett Anderson this group could improve.
The A's play vintage Oakland baseball: winning with pitching, defense and just enough clutch hitting to be a nuisance. However, I think this group is going to come back to earth after an excellent 2012, and I think the betting value will be going against this team, which was the most profitable in baseball betting last year, rather than backing them.
Houston Astros
2012 Record: 55-107 (-3070)
2013 Wins Over/Under: 59.5
Odds To Win 2013 AL West: +5800
Odds To Win 2013 AL Pennant: +15000
Odds To Win 2013 World Series: +30000
Outlook: Hysterical.
There is literally nothing good to say about this roster. Houston lost 107 games last year despite being in one of the easiest divisions in baseball. From top to bottom the American League is head-and-shoulders above the National League. And beyond that, an A.L. team is constructed completely differently than an N.L. team, and Houston's isn't even close to being able to complete with the lineups in their new league.
This is going to be ugly.
Houston's starters were No. 25 in ERA last year (4.57) and No. 29 in WHIP (1.43). And when you head into the year with Bud Norris – a fringe No. 5 starter – penciled in as your "ace," you know you are in trouble. Lucas Harrell showed some promise as a rookie last year. But his fastball can get flat, and he threw nearly 200 innings in his first season, which means his arm will likely be blown out by July. Oft-injured Erik Bedard is in the mix as are retreads Alex White and Jordan Lyles. Phil Humber could be better than last year's numbers suggest, but he already flamed out of the A.L. once.
As bad as Houston's starters are, the bullpen is even worse. The Astros were just 29-46 last year in games decided by two runs or less and just 1-11 in extra inning games thanks to their horrible back end. They were 26th in bullpen ERA, and that was with Brett Myers for most of the year. This year the pen is full of journeymen, and it should get taxed even more due to weak starting pitching.
If you were waiting for a bright spot from the lineup – you can keep waiting. Jose Altuve is just about the only MLB-caliber starter on the team. The little sparkplug plays an excellent second base and is a max-effort player. Jed Lowrie and Carlos Pena are really the only other guys in the mix that have accomplished anything in the American League, and their results have been spotty at best.
Last year I made the bold prediction that Seattle wouldn't lose 100 games as the worst team in the American League. I was right! This year I will predict that Houston will absolutely lose 100 games, and they may even make a run at Detroit's modern-day record for losses with 119.
2013 American League West Picks and Predictions: Predicted Order of Finish
1. Los Angeles Angels
2. Texas Rangers
3. Seattle Mariners
4. Oakland A's
5. Houston Astros
Doc's Sports is offering $60 worth of member's baseball picks absolutely free – no obligation, no sales people – you don't even have to enter credit card information. You can use this $60 credit any way you please on any of our top MLB handicappers. Click here for more details and take advantage of this free $60 picks credit today.
Robert Ferringo is a professional sports handicapper for Doc's Sports. He is considered one of the top MLB cappers in the country and has turned a profit in four of the last six years on the diamond with his baseball picks. He closed 2012 with an amazing $11,700 in earnings over the last four months and is looking forward to a great upcoming season against the MLB odds. Click here for more information on his MLB picks.
Read more articles by Robert Ferringo