Bold College Football Predictions for 2013
by Trevor Whenham - 8/21/2013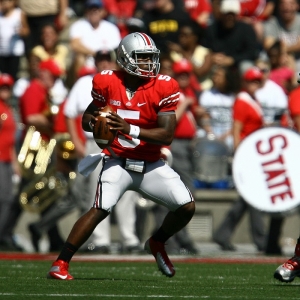 As the season nears, here are 10 bold college football predictions that I feel pretty good about:
Ohio State will lose at least once
The Buckeyes hype is getting out of control. There is, of course, a lot to like — Braxton Miller chief among them. It is extremely tough to go undefeated once, though, never mind twice in a row. Urban Meyer has had issues with internal control of his team this offseason, and that has to be a concern. So, too, is the fact that the Big Ten will be better this year than it was last year. Trips to Northwestern and Michigan are going to be extremely tough, and Cal will have nothing to lose in their early-season meeting. The Big Ten Championship Game will be tough no matter what, too.
Alabama won't
I am as tired as anyone about the domination of the Tide these days. I just don't see it ending anytime soon, though — at least not this year. Senior quarterback. Plenty of talent everywhere — including stunning wealth at running back. Most significantly, though, the schedule is forgiving — as forgiving as it can be in the SEC. Virginia Tech and Texas A&M are both overrated in the first two weeks, and Alabama will be out for serious revenge against the Aggies. Arkansas and Tennessee have plenty of work left to do. LSU will be tough, but Alabama gets them at home. Auburn is a year or four away from true respectability. If the team plays like we know they can then there isn't a game on the schedule that they can't win convincingly.
Louisville won't either
Louisville is a solid team. Quite good. Exceptional quarterback. Well-coached. In a real conference they would be a strong contender. They aren't in a real conference this year, though, and they play a laughable schedule. If they don't run the table it will be only due to a lapse in concentration. The school knows a little something about winning, though, so I don't expect them to be overwhelmed by, or unprepared for, the moment.
Texas A&M will go boom
This is not going to be a dream season to follow up last year's almost impossible dream season. The loss of Kliff Kingsbury as offensive coordinator is going to have a big impact. More significantly, though, the enormous pressure that Johnny Manziel has been under is just going to be too much for him and his team — if he is even allowed to play. It will be far from a disastrous season, but they will fall well below the expectations that fans, the media and bettors have for them.
Devin Gardner will shine
This is a ridiculously deep year for quarterbacks — one of the strongest I remember. When the dust settles, one of the most impressive will be Michigan's Gardner. He started five games last year and was very strong — after spending most the year playing receiver. Now he has had a full offseason to prepare. His physical skills are excellent, and he has plenty of tools around him — starting with Taylor Lewan, the best tackle in the country. Outside of the Big Ten he's not getting the attention he should be just yet. That will change.
Washington State will pull off an upset
Last year was a mostly ugly season for Mike Leach. He had a few bright spots, though, and they came in some of the bigger games. He lost by only a touchdown at Stanford, stayed close with UCLA in a shootout, and took a ranked Washington squad to overtime in the finale. Leach has had another year to groom this team and to create the situation he wants. There still isn't enough talent for the team to compete consistently. With USC, Stanford, Oregon State, Oregon, Washington and Arizona State on the schedule, though, the team will have plenty of chances to pull off a shocker. For one day this season we will get a clear glimpse of the promise that the Leach era offers in Pullman.
Clemson will win the ACC
This is a simple way of saying that Florida State won't. Tajh Boyd vs. Jameis Winston isn't nearly the contest it is being portrayed as this year. While Clemson's nonconference schedule is brutal, the ACC tilt outside of Florida State shouldn't be too tough — especially because they don't play Bryn Renner and North Carolina.
Indiana will surprise
It has been a long time since the Hoosiers have been even remotely relevant. While they still won't contend in the Big Ten — that may never happen consistently — they are definitely moving in the right direction. After years of futility, they have a clear path to bowl eligibility and could even win seven or eight games if everything goes just right.
Texas will disappoint
The Longhorns have been a mess for a few years. I'm not willing to believe that things will turn around this year. The QB situation concerns me. The coaching situation scares me even more — Mack Brown seems like he is paddling upstream and losing ground. The talent isn't where it should be. The Big 12 isn't great, but the schedule has pitfalls. This team is ranked too high and will fall as the season progresses.
Clowney will go No. 1
Jadeveon Clowney faces impossible hype. He will do enough this year to satisfy scouts and earn the top spot in the draft next year. While he won't prove to be the unstoppable beast people want him to be — lost in the hype of the massive Vincent Smith hit against Michigan last year was the fact that Taylor Lewan largely contained and frustrated him up to that point — he is still a very special talent who will shine.
Read more articles by Trevor Whenham