College Football Handicapping: Off-the-Radar QBs with Value
by Trevor Whenham - 8/20/2013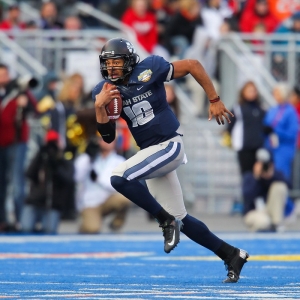 I have been watching college football obsessively for more years than I would like to admit. In all that time I don't remember another year in which there were more teams with strong quarterback situations. We are in a prime era for quarterbacks. With so many impressive guys out there, it is inevitable that there are quarterbacks that aren't getting the attention or recognition that they deserve. Those undervalued guys can provide very attractive value for bettors — especially early in the season before the public catches on to their strength.
Here are five quarterbacks that have the potential to be better than the expectations that the public seems to have for them:
Michael Brewer or Davis Webb, Texas Tech
It's unclear who the next starter at Texas Tech will be. Sophomore Brewer was expected to be the starter, but a back injury has slowed him down lately and allowed true freshman Webb, an early enrollee, to close the gap and make it a contest. Whichever guy wins the job — and my money is on Brewer unless the back is worse than it seems — will be very interesting for bettors. Kliff Kingsbury has brought a tremendous amount of excitement with him to Lubbock in his glorious return. Besides being head coach, Kingsbury will also be chief offensive strategist and quarterback coach. Of course, the last guy he mentored at the position was some little known three-star recruit named Johnny Manziel, and we all know how that turned out. I'm not saying that the Texas Tech QB will be the Heisman winner — there are a whole lot of problems this team needs to deal with before anything like that can happen. It is reasonable to believe, though, that Brewer or Webb will be more effective under the guidance of Kingsbury than they would have been under another coach.
Bryn Renner, North Carolina
If Renner played for a program in better shape, he would be a superstar. The Tar Heels have been hit so hard by controversy and struggles, though, that the very strong play of Renner has been overshadowed. The senior has been the starter for two years. He has thrown for more than 3,000 yards both years, had 28 touchdowns and just seven interceptions last year, and completed more than 65 percent of his passes. The team lost their second and third games last year to fall out of the minds of bettors, and they were ineligible for the postseason, so Renner didn't get his chance to shine on a national stage. If he continues his progress forward then the team should cover some spreads. Head coach Larry Fedora is in his second year with the program, so that should help Renner and the team as well.
C.J. Brown, Maryland
Brown is the type of guy who is easy to cheer for. He will be starting for the first time this year, but he is actually a rare sixth-year senior. He was tabbed by coach Randy Edsall to start last year but then injured his ACL in training camp and was lost for the year. What followed was a ridiculous drama at quarterback for the Terrapins. They tried absolutely everything — including playing a linebacker at the position at one point. With Brown back, the team can hopefully return some stability to the position and therefore to the team. Brown has had limited starting experience. In 2011 against Clemson, though, he showed how dangerous he can be in a shootout loss — he threw three touchdowns with just one interception and ran for a school-record 162 yards. With a full year to get comfortable and build chemistry — and with an incredible weapon like Stefon Diggs to work with — Brown, who has clocked a 4.42 40-yard dash, could do some real damage. More than his physical skills, though, Brown gets credit for his excellent leadership, and the Terps could certainly use that.
Chuckie Keeton, Utah State
If you asked 10 casual college football fans or bettors who the starting quarterback for Utah State is, I would be pleasantly surprised if you got more than one or two correct answers. The anonymity of Keeton — and the Aggies, for that matter — doesn't dim the fact that he is a very talented quarterback coming off an excellent year. Last season he threw for 3,373 yards with a very solid 8.29 yards per attempt. He had 27 touchdowns and just nine interceptions — a tidy 3-to-1 ratio. Showing he's a multi-dimensional player, he also ran for eight touchdowns in his last seven games. He's entering his third season, so the game should slow down further for him, and he should make it easier for his team to cover some spreads. The public may be tentative about the Aggies after head coach Gary Andersen left for Wisconsin, but new coach Matt Wells was the offensive coordinator for the last two years, so the transition for Keeton should be relatively smooth.
Read more articles by Trevor Whenham