College Football Handicapping: Overrated Teams in the AP Poll
by Trevor Whenham - 8/21/2013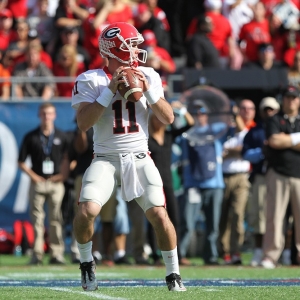 Now that the preseason AP Poll has been released, it is time for the inevitable griping and complaining. In my eyes, here are the five teams that got far too much credit in the first poll of the year. If the public agrees with the poll, then there could be value in the other side of the games these teams play:

Georgia (5)
There is a lot to like about Georgia. There always is. When was the last time, though, that Mark Richt was able to meet expectations with a team — never mind exceed them? It has been far too long. More often he has started ranked very highly and has found ways to be disappointing. To quote a famous band, "I won't get fooled again". Given the conference they play in and the brutal schedule as a result, Georgia just doesn't deserve the credit they are getting here. Some teams need to earn the high rankings, and Georgia is absolutely one of them.
Texas A&M (7)
This one is straightforward at this point. Simply put — we don't know what the status of Johnny Manziel is going to be. Will he be suspended for his extra-curricular autograph activities, or will he be able to play? Needless to say, this is a very different team if Manziel is at the helm than it is if he isn't. There are already some concerns on offense because Kliff Kingsbury is out as offensive coordinator, but the loss of Manziel would be a crucial blow. If he manages to avoid punishment, then I wouldn't have too much argument with this ranking — though it is still higher than I would be comfortable with. If he's out then this is just way too high — for the drop in QB play they would suffer and for the massive distraction and disruption that it would be. With this much uncertainty it would be just impossible to accurately rank them, and given the hype surrounding the team it would be all but impossible for them to not be overrated at this point in time and reality.
Texas (15)
Let's pretend that this wasn't one of the most popular teams in the country but was just some random program. Let's say that random team had gone 9-4, 8-5, and 5-7 in the last three seasons, had shuffled their coordinators repeatedly, hadn't produced top-level talent like they normally had, and had major questions at quarterback. Is there any reason to think that that team would be ranked at all? Of course not. Yet because Texas is Texas they sit 15th in the polls. Could they wind up deserving that ranking? Absolutely. Could they wind up as a Top-10 team? I guess so. But at this point are they clearly and certainly the 15th best team in the country and, according to the polls, the second-best team in their conference? Not at all. It's just silly — an inflated number for a team that perennially gets too much credit.
Louisville (9)
I like Louisville a lot, and I think they have the best chance of any team in the country of going undefeated. So, why do I call them overrated at ninth in the polls? Well, by starting them this high it is going to make it too easy for them to climb higher as other teams fail. They really play no one this year — Cincinnati is the hardest game, and that shouldn't be that hard. Louisville could easily climb up into the very elite positions in the poll only because they started high to begin with and can't be dropped because they are winning — and presumably winning nicely — against sub-par competition. As a fan of the sport, I really don't want to get into a situation where an undefeated Louisville team is playing in the National Championship Game or even a top-level bowl game over a team that lost a game or two against much better competition. I wish the Cardinals had been ranked lower early on so the climb would be tougher — much like voters have treated Boise State through the years and have again this year. The BCS has suffered so much through its history (mostly deserved). In its last year it deserves better than a Cardinals'-fueled controversy. The fact is that given the schedule this team plays, we have absolutely no way of knowing how good they are even if they win every game.
Wisconsin (23)
This one just doesn't make any sense at all — I don't see how Wisconsin is a ranked team right now and others like Baylor, Miami or Fresno State aren't. They are getting credit for having been in the Rose Bowl each of the last three years. As impressive as that is, it just doesn't mean anything right now. They are coming off a season that was just 8-5, and they only made it to where they were because Ohio State was not eligible for the postseason. They are facing yet another quarterback change — their fourth in the last four years. Most significantly, they are making the first significant coaching change since Barry Alvarez took over in 1990. Bret Bielema was an insider, so the transition was smooth. Gary Andersen is a total outsider — he has never coached anywhere near the Big Ten, never mind in Wisconsin. He has some ideas that will be different than what Wisconsin is used to as well. It won't be as dramatic as when Rich Rodriguez tried and failed to break into Michigan's culture, but there could be some speed bumps. Add the inevitable growing pains to the changes the team faces, the problems they had last year, and the fact that they are playing in what should be a solidly-improved conference, and you have a team that is certainly overranked because they appear in the poll at all.
Read more articles by Trevor Whenham