College Football Handicapping: Quietly Dangerous Teams
by Trevor Whenham - 9/11/2013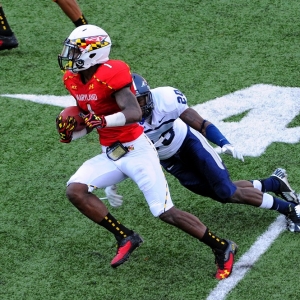 As the college football season gets rolling, one of my favorite things to do — and most profitable activities — is to keep an eye out for teams that are better than the public thinks they are. With so many teams out there, it is easy for one to fall through the cracks. It could be that the team doesn't play in a major conference or that it does but it plays deep in the shadows of the major programs that dominate the action. Or perhaps they have been so bad for so long that people have all but forgotten about them. Whatever the reason, a lack of attention and respect can lead to very nice value until the public catches on.
Here are four programs this year that have certainly exceeded public expectations so far — and haven't drawn major headlines for their efforts:
Illinois
There is no established player who has improved more this year than Illinois QB Nathan Scheelhaase. Last year, in a nightmare 2-10 season, Scheelhaase, then a junior in his third year starting, had just four touchdowns and eight interceptions while throwing for just 1,361 yards in 10 games. In two starts this year, he has six TDs and just one pick, and he has thrown for 728 yards — 9.97 per attempt. He's like a whole new guy, and the team has two wins to show for it, including a surprising destruction of Cincinnati last week. So, what has caused this miraculous turnaround? Nothing more than new offensive coordinator and QB coach Bill Cubit — the head coach at Western Michigan until he was fired after last season. He had some talent to work with — including a criminally underachieving QB — and he has made the most of it. The team is aggressive and creative with the ball, and that spirit has filtered down to the rest of the team as well. This team is going to lose their share of games when Big Ten action gets underway, but this is a dramatically better team than last year, and their improvement has not yet been fully noticed because they fly so far under the radar.
UCF
Unlike Illinois, UCF was a good team last year. They went 9-3 in the regular season, lost the Conference USA championship game to Tulsa in OT, then they won their bowl game. They have played a very weak schedule so far — Akron and FIU — but the results have been impressive. They beat Akron at home 38-7 then shutout FIU 38-0 on the road. Both sides of the ball are looking good, and the defense appears to be improved from last year. They face a brutal schedule in the next month, with Penn State, South Carolina and Louisville on tap. That could be good news for bettors, though, because it will be easy for bettors to undervalue the Knights and what they are capable of. I don't see a shocking upset in their future — certainly not against the highly-ranked teams — but they could be a very handy team for covering spreads in coming weeks.
Colorado
It has been far too long since the Buffaloes were anything other than embarrassing. Hiring Mike MacIntyre as their new head coach in the offseason was the best move in a long time, though, and the early results have been impressive. Last year this pitiful offense averaged just 192.5 yards per game through the air. In two outings this year they have averaged 370. Now, those numbers have come against Colorado State and Central Arkansas, so we can't get too excited — not with a brutal Pac-12 schedule looming. What is already evident, though, is that this team has a clear sense of creativity, fearlessness and audacity that has been lacking for far too long. It's an offensive overhaul, but more importantly it is a whole new mindset — a much-needed one. Colorado is a couple of years away from competing under MacIntyre, but they are going to be far more competitive in their losses this year than we have come to expect from them in recent years.
Maryland
Like others on this list, Maryland's impressive start — a combined score of 90-20 in their two opening wins — has come against weak competition. Putting that aside, what seems clear at this point is that Randy Edsall is working from a much better starting point than he was last year. Injuries hit so hard last year that the team was forced at one point to start a linebacker at quarterback. There aren't a lot of teams out there that would look good in that situation. This year, QB C.J. Brown is healthy again after a knee injury cost him last season, and he has been brilliant. The running game is solid, and sophomore receiver Stefon Diggs is proving he is worth the hype and is indeed one of the top receivers in the country. The last few years it has been very easy to ignore this program, and they have received even more criticism than normal in the face of their impending move to the Big Ten. While this team isn't going to win the ACC and will hit some rough spots along the way, they are a much better team than [people are giving them credit for at this point. Until people realize that this isn't the Maryland we have grown to know and ignore, there is going to be some value here.
Read more articles by Trevor Whenham