College Football Handicapping: Teams that Fell Short of Expectations Week 1
by Trevor Whenham - 9/2/2013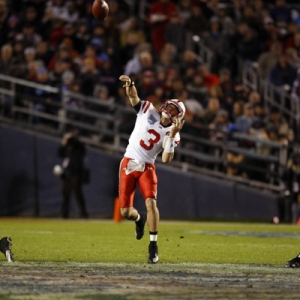 Analyzing teams heading into the college football season is tough. There is no preseason, and training camps are typically not very publicly accessible. We are therefore forced to form our opinions of teams based on some media access, extrapolation from the previous season and how the roster has changed, and a good deal of speculation. Oftentimes we are reasonably close, and after we have seen the team play a game or two we just have to slightly tweak what we thought to match reality. Sometimes, though, teams really seriously fail to meet those early expectations. That makes it very tough for handicappers.
Here are four teams that delivered serious warning signs in their opening game that they might not be what we thought they were.
Boise State
The Broncos had everything going for them. A very manageable schedule meant that they were by far the most popular pick to be this year's so-called BCS Buster -- the last we will ever see. All they had to do was head to Washington -- a team they beat in their bowl game last year -- and pull off a win, and it seemed like they would again be unbeaten and hard to ignore. Instead, things went horribly wrong.
Head coach Chris Petersen has had a long history of success, but in his whole career he has never lost as badly as he did on Saturday. Sometimes a score like 38-6 isn't quite as lopsided as it seems. This was not one of those times. Washington QB Keith Price had his first 300-yard performance since 2011, and he again looked like the sharp player who came into last season with so much hype that he couldn't live up to.
The Broncos seemed physically unable to match the high pace of Washington's offense, and the offense was just plain lousy. Joe Southwick threw for only 152 yards, and he was dramatically weaker as the game progressed. For the first time in my memory Boise State just looked lost.
Before the game I gave them a good shot at being undefeated on the season. Now I wonder how many times they will lose – because this team is just not good enough to win a lot of games if they look like they did Saturday.
Alabama
I can't help but feel a little ridiculous suggesting that Alabama looked a little vulnerable on Saturday. After all, all they did was beat an elite national program by 25 points on a neutral field. Still, by the ridiculous standards that Nick Saban and company have set for themselves lately, that game was far from a complete success.
Scoring 35 points would seem to indicate that the offense had a good day. Really, though, it was the defense and special teams that bailed the offense out. Christion Jones had both a punt return and a kick return for TDs, and Vinnie Sunseri returned an interception for a score. Erase those 21 points, and this was much more of a contest than it should have been.
A.J. McCarron was just lousy – 10-of-23 for 110 yards with a TD and a pick. Even more striking, the stunningly deep running back corps combined for just 96 yards. Virginia Tech can play some defense, but not good enough to shut down the Tide like that.
Alabama lost a lot on the offensive line since last year. Though it seemed like they would easily be able to reload, they were far from dominant up front. Trench dominance has defined this program above all else, so the absence of it is hard to compute. Saban will be working non-stop until next game to make sure that that was just early-season jitters and not a threat to the dynasty.
Oregon State
After a lousy season a couple of years ago, the Beavers seemed very much to be moving in the right direction. The Pac-12 is deep and tough this year, but the Beavers seemed to be a very strong second-tier team that could break through and do some real damage. Dangerous teams that start the season ranked are not supposed to lose to FCS teams, though. Especially not at home.
The offense was working just fine – they scored 46 points, and Sean Mannion threw for 422 yards. It was the defense that was a disaster. Eastern Washington QB Vernon Adams could do whatever he wanted. He ultimately passed for 411 yards, ran for 107 yards, and scored the winning points with 18 seconds left when the Beavers profoundly failed on red zone coverage.
Adams was banged up during the game – leaving once to tend to cramps and again because of the effects of a brutal hit – but nothing could stop him. The Beavers were stunned at home by FCS foe Sacramento State two years ago, so they should have been ready for this one. If they are as lackadaisical on defense in league play, though, then they could be in real trouble – there are several QBs on their schedule that could teach Adams a thing or three.
Nebraska
Offensively, Nebraska looked mostly like the 18th-ranked team and serious Big Ten contender that they are supposed to be in their win at home against Wyoming -- except for two late turnovers that proved very costly. If they play defense like they did in their opener, though, they will be lucky to win a Big Ten game.
Wyoming junior QB Brett Smith is a solid player, but he's not nearly as good as his 29-of-43, 383 passing yard performance would indicate. The Cowboys had 602 yards of offense and were as effective early in the game as they were late. Nebraska should have been able to adjust and adapt against a far inferior opponent, but they couldn't. That's a problem.
Nebraska replaced eight defensive starters, so some growing pains were inevitable. Going forward, though, it will be very interesting to see if it was just early-season issues as new players adapt to their roles, or if this game was a sign of bigger issues. If it's the latter, then Bo Pelini should get that resume polished up, because he'll need it.
Read more articles by Trevor Whenham