College Football Handicapping: Teams with Inflated Hype
by Trevor Whenham - 9/11/2013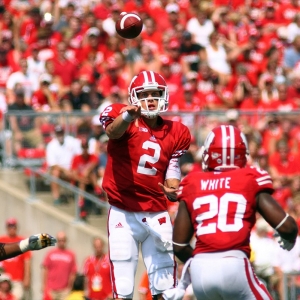 More than any other sport, hype runs wild in football. It's because we have so much time to fill between games — time to think about what we saw and magnify the significance of it. Hype can particularly run wild in college football because, with so many teams, it is impossible to know each team well, and we have to rely on the opinions of others.
For bettors, hype can be the worst enemy or the best friend. If you blindly buy into the hype then it can lead you to make bad decisions and lose money. If you can recognize the hype, though, you can see where the public is going to overreact and perhaps find value by being more patient and realistic.
Here are three programs that are getting far too much hype so far this year. That doesn't mean that they are bad teams — in fact, a couple on this list are actually quite good. It just means that their starts have led the public to expect more from the teams going forward than they are likely to deliver. In other words, I'm not saying they are going to lose games necessarily — just that they aren't likely to play as well as they are expected to and could fail to cover spreads as a result.

Baylor
Ever since the days of RGIII, Baylor has been a team on a rapid rise, and head coach Art Briles has been viewed as more and more of a genius with each passing day. Heading into this year, the Bears were a popular pick as an upset winner of the challenging Big 12, and that enthusiasm has ramped up after they have averaged 69.5 points per game in their two opening outings. While this offense is unquestionably good, they have played Wofford and Buffalo so far, so they haven't exactly been challenged. Things are only going to get worse going forward because a soft schedule gives them a real chance of being 7-0 heading into a showdown with Oklahoma. It's important to remember that as good and improved as this team is, they are still coming off an 8-5 season, have depth issues on defense, and are far from well-rounded. On top of that, Briles is sure to be a serious contender — at least in the media — for the Texas and USC jobs, and that will be a distraction the team has to deal with. This team could be good, but they aren't the immortal squad people seem to think they are.
Wisconsin
The Badgers have pitched shutouts in consecutive games while averaging 46.5 points, and people have already almost forgotten that Bret Bielema ever existed. While Gary Andersen was a good hire and potentially a long-term improvement over Bielema, it's ridiculous to expect him to make changes and improvements as rapidly as some people think he has based on this start. The opponents they have faced? UMass and Tennessee Tech. Frankly, if they hadn't won those games by a combined margin of at least 80 points then it would be time for panic. With Arizona State, Ohio State and Northwestern on the horizon in their next four games, we'll get a good sense of where this team is really at and how to deal with it. Until then, all we know is that Andersen is capable of getting this team to do exactly what it should be able to do against hopelessly outclassed opponents. A good start, but a meaningless one.
Texas Tech
I like the Kliff Kingsbury hire as much as anyone, and I have tremendous confidence in the long-term direction of this program under his leadership. People just need to put some brakes on their expectations this year, though. The start has been wildly-impressive — especially the dominating win at SMU in their opener. This is a team facing dramatic changes this year, however, and though their QB has been exceptional, we can't forget that he is a true freshman walk-on. Kingsbury's reputation got a major boost last year when he took an unheralded freshman QB who wasn't even expected to win the job and turned him into a Heisman winner in one season at Texas A&M. The Aggies were a deep team with excellent talent and a strong coaching infrastructure newly in place, though. Kingsbury doesn't have nearly as much to work with, and it's going to take more time for him to realize his vision fully. A four-week stretch starting at the end of October that features a trip to Oklahoma and home games against Oklahoma State and Baylor will tell us what this team is really made of. Until then it is important to focus much more on what the future could hold for this team under Kingsbury than what he is doing right now.
Read more articles by Trevor Whenham