College Football Handicapping: Teams off Short Weeks
by Trevor Whenham - 11/11/2013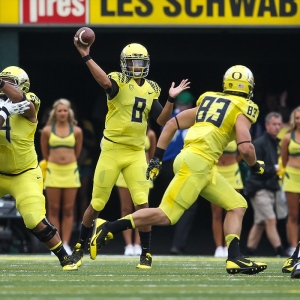 In the aftermath of the shocking destruction of Oregon by Stanford last Thursday night, people were left looking for explanations for the surprising outcome. Why did Oregon look and play much flatter than usual? One explanation I heard several times was that Oregon didn't react well to the challenges of playing on a Thursday. That may be true to an extent, but the impact is certainly being understated — both teams had the previous weekend off, so they had had more time than normal to prepare for the game. From time to time during the year, though, teams are forced to face the challenge of a midweek game after having played the previous weekend. Those relatively rare situations can present a real opportunity for bettors who can analyze what they mean and how to find the value they create. Here are seven factors to look at in these situations:
Past experience: A team is going to be better equipped to handle the unique pressures of a short week of preparation if they have faced the challenge of it before. Of course, that team experience means nothing if the key personnel — the coaching staff, the quarterback and so on — wasn't around the last time they played mid-week.
How different is the style?: It's tough enough to prepare for a game in a short week under ideal conditions. When a team is forced to prepare for an entirely different style of game than they just played, or that they are used to playing, there is a whole new level of difficulty involved. If, for example, a team had to face a spread offense for the first time in the season off of short rest, it could be harder to trust them than you might if they had a full week to get ready for the game.
What was the last game like?: Sometimes a team is over the aftereffects of a game basically as soon as it is over. If the game was particularly physical, challenging, or emotional, though, the effects of that game can linger for days. It can take time for the bangs and bruises to heal, the raw nerves to settle down, and the mind to become fresh again. A tough game can be the worst enemy of a team in a short week — especially if only one of the teams is facing that setback.
How significantly do they adjust to different opponents?:There are some teams that look very different each week depending on who they are playing. They look at what the opponent is likely to do and what opportunities are likely to be presented, and they tailor their approach to the game at hand. Offensively, they may focus heavily on the run one week, but use it little the next. On defense they could dial the blitzes up or down depending on the situation. Other teams don't seem to care what the opponent is likely to do. They have faith in their system — or they know that they don't have the tools to adjust effectively — so they stick to their game and hope for the best. The more a team likes to adapt to an opponent, and the more that ability to change impacts the outcomes of their games, the more significantly a team is going to be impacted by a short week. If a team just seems to ignore their opponent each week and focus on doing what they do well, however, then they could be in position to capitalize on the challenges of the situation.
Travel: Travel can have a big effect on teams in college football. The road team in these situations will have had more disruptions in their week and less precious time to prepare. That can have a big impact. Don't just consider the travel for this game, though — also look at particularly disruptive travel coming home from the previous game that could have impacted the start of their preparations.
How fresh are they coming in?: Beyond just the game before the game in question, you need to look back at what the teams have been facing in the month before the short week. Have they played a lot of tight, mentally exhausting games, or particularly physical ones? Are they full of confidence, or in a bit of a rut? Do they have injuries issues, or are they healthy and at full strength?
Is one team at a distinct disadvantage for some reason?:This is ultimately what every consideration needs to come down to in a situation like this. A lot of the challenges faced in a spot like this are going to be faced by both teams, so neither squad will have a particular edge. It can be easy for bettors to get too excited about the impact of a situation one team faces and overcompensate for it in their handicapping. Unless the situation provides a distinct and significant advantage for one team over the other, the timing of the game doesn't need to factor into your handicapping.
Read more articles by Trevor Whenham