Good Bet/Bad Bet: Oklahoma City Thunder Handicapping
by George Monroy - 3/5/2013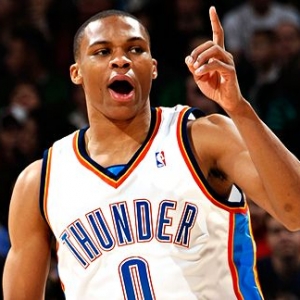 The Oklahoma City Thunder were supposed to implode after their head-scratching trade that sent reigning Sixth Man of the Year James Harden to the Houston Rockets for Kevin Martin and some salary cap space. We were told that the team traded away their chance to compete for a title just to save a little money. We were told that they would no longer be the class of the ridiculously competitive Western Conference.
In reality, what we should have been told is not to believe everything we read, because Oklahoma City is tearing up the league. The Thunder are one of the few elite teams in the NBA that are also excellent at covering spreads. Many times the best NBA teams receive such inflated lines that it becomes almost impossible for them to be a profitable ATS bet. Let's have a closer look at the Oklahoma City Thunder in this week's edition of good bet, bad bet.
Good bet: Overall ATS
The Thunder are the best ATS team in the West and the second best in the entire NBA. The team has been covering just over 60 percent of their spreads and has an overall ATS record of 34-22-3. Oklahoma City has been a habitual betting favorite the entire season and give away points in 94 percent of their games. It's rare for the Thunder to be such an elite team and still cover so many spreads. In contrast, the NBA's other public betting juggernaut, the Miami Heat, have spent much of the season with a .500 ATS record.
Bad bet: Road ATS
Oklahoma City is not a horrendous road ATS team, as they do have a winning 14-13-2 record. But for a team that is so good in other ATS areas, it does not make sense to settle for a coin flip. Overall, the Thunder have a 17-12 SU record, but they are finding it difficult to cover spreads on the road. In general it would be a wise bet to stay away from wagering on the Thunder when they are on the road or else pick your spots very wisely.
Good bet: Home ATS
The Thunder are tied for the best home ATS record in the league with a 20-9-1 mark. The team has been covering their spreads 68 percent of the time when at home, and they are winning sports bettors a whooping $34 for every $100 bet on them. Overall the Thunder have a fantastic 26-4 SU home record and are showing excellent value when playing in the Chesapeake Energy Arena. Taking Oklahoma City at home is a wager gamblers should think about making plenty before the season ends.
Bad bet: Giving away less than four points
It may seem hard to believe, but betting on the Thunder when they are less than a four-point favorite has been a bad bet for gamblers. The team is 3-7-1 as a four-point or fewer favorite this season and has been losing gamblers $43 for every $100 bet on them. This stat is completely surprising and even carries over into the Thunder's SU record. In those games where the team is a four-point of fewer favorite they have only won four of them outright and have actually lost seven of them. Wagering on the Thunder as a small favorite might seem like a great idea, but a gambler would be wise to stay away.
Conclusion
Sports betting can be very situational at times. Good home teams are not necessarily good road teams, and good SU teams are not necessarily good ATS teams. A sports bettor needs to know what situations certain teams thrive on in order to get the best of the sportsbooks. Oklahoma City is a very good ATS team, but they thrive on being a home favorite and have trouble when on the road or dealing with small spreads. Remember to bet wisely and may the spread be with you.
Read more articles by George Monroy