MLB Handicapping and Betting: the Bullpen Report
by Aaron Smith - 5/21/2013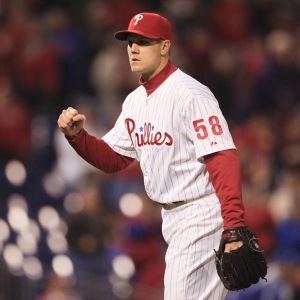 Nothing ticks a baseball bettor off more than a bullpen blowing a seemingly sure victory. I'd like to say that this is a rare occurrence, but we all know that isn't true. It seems as if the quality of bullpen pitchers has gone downhill over the past few years. There are still some great relievers, but there certainly isn't an abundance of depth.
Closing out games can be a really tricky and streaky job. Jim Johnson of the Baltimore Orioles saved 35 consecutive opportunities before blowing a save on May 14 against San Diego. Since that time, he has blown two more saves in a row. How can a guy go from saving 35 straight to blowing three games in succession? It's hard to fathom, but instances like this occur more often than you would expect.
Staying up to date on each bullpen can help you be on the right side of these bullpen meltdowns more often. The truth is that there are some teams that have such a bad bullpen, if they don't blow the lead it's almost a surprise.
Doc's Sports is always looking to give you extra information to help you win your bets. This MLB Bullpen Report will allow us to take a look at the best and worst bullpens in the majors so far in 2013. We'll take a look at the best and worst bullpens every couple weeks this year. Please note that statistics used in this report are for games played between March 31 and May 20.
Top Five Bullpens (Listed by ERA)
Atlanta Braves (2.64 ERA) For the second straight time, it is the Atlanta Braves who top the charts as having the best bullpen in baseball. Craig Kimbrell actually showed he is human during the last few weeks, but several others have picked up the slack. The rash of injuries in this bullpen has to be a cause for concern. Eric O'Flaherty, Johnny Venters, Luis Ayala, and Jordan Walden are all on the disabled list right now. The next few weeks will be a big test of this team's depth in the pen.
Pittsburgh Pirates (2.81 ERA) Were you wondering how the Pittsburgh Pirates have the second-best record in the National League? The terrific work of this bullpen has played a major role in this team's success. Mark Melancon and Jason Grilli both have an ERA under 1.00 despite extensive work out of the bullpen this year. Lefty Justin Wilson is one of the best left-handed specialists in the majors as well. Opponents' batting average against the Pirates bullpen is just .211.
San Francisco Giants (2.82 ERA) San Francisco's bullpen keyed their World Series Championships in 2010 and 2012, and they are great again this year. Out of their entire bullpen, only George Kontos has an individual ERA above 3.00. Sergio Romo's devastating slider makes him a very effective closer. Javier Lopez is an amazing left-handed specialist who gets this bullpen out of tons of difficult spots late in the game. Expect this bullpen to stay near the top of this list.
Oakland Athletics (2.85 ERA) Oakland's starting rotation hasn't performed up to expectations this year, but the bullpen has been great. Youngster Sean Doolittle has a 0.95 ERA through 19 innings pitched this year. Oakland has a nice mixture of right-handed and left-handed arms in the bullpen. This bullpen has walked only 48 batters in nearly 149 innings of work. It looks like the opposition better be ready to swing away!
San Diego Padres (2.90 ERA) San Diego's bullpen has been a strength now for quite a few years. Unfortunately for the Padres, the rest of the team isn't any good. Luke Gregerson is one of the best setup men in baseball. Gregerson has appeared in 20 games and allowed just seven hits so far this year. Houston Street has been up and down the last few years, but he is healthy and pitching well now.
Bottom Five Bullpens (Listed by Worst ERA)
Houston Astros (4.80 ERA) It's absolutely no surprise that Houston comes in first as the worst bullpen in the majors. Houston is tied with Miami for the worst record in baseball, and the Astros really don't have any clear strengths as a team. Opponents are hitting .275 against this bullpen. To make matters even worse, the Astros bullpen has already logged more innings (172 and 1/3) than any other bullpen in baseball.
Tampa Bay Rays (4.68 ERA) Tampa Bay's bullpen struggles have been one of the main reasons the Rays have been such a great "over" bet of late. The over is 20-5-2 in the Rays last 27 games. This bullpen has already walked 57 batters in just over 119 innings pitched. Fernando Rodney has 15 walks in 17 appearances. Jake McGee and Kyle Farnsworth both have an ERA above 8.00.
New York Mets (4.67 ERA) Mets fans aren't a bit surprised to see this team show up on the wrong side of the bullpen report again this week. The biggest weakness of this Mets team over the past few years has been their bullpen. Opponents have already hit 19 home runs against Mets relievers this year. The Mets have converted seven save opportunities and blown six saves.
Philadelphia Phillies (4.63 ERA) The Phillies have gotten more quality starts (30) than any other team in the majors. Unfortunately for Phillies fans, the Philadelphia bullpen has ruined quite a few of those quality starts. Jonathan Papelbon has been great as the team's closer, but bridging the gap between the starter and the closer has been this team's problem. Opponents are hitting .269 against the Phillies bullpen.
Los Angeles Dodgers (4.61 ERA) In the first week of the season, the Dodgers bullpen didn't give up an earned run. The good times certainly didn't last long for this group! After a pretty good start, Brandon League has been a disaster of late. He has a 5.51 ERA this year. Kenley Jansen should start getting most of the team's save opportunities going forward. This bullpen was great down the stretch in 2012. They'll need to get back to that form if the Dodgers are going to turn this season around.
Read more articles by Aaron Smith