MLB Handicapping: Hot/Cold Pitchers and Hitters Betting Report
by Ricky Dimon - 7/16/2013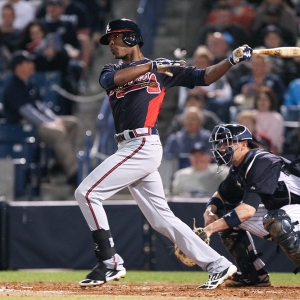 The all-star break is here, so it's time to take a look at the players who have been either red hot or ice cold throughout the first half of the season. Will anything change when the stretch run begins?

All odds provided by Sportsbook.ag.

Pitchers – Hot

Jeff Locke (Pirates) – The Pirates have just the second best record in their own division, but they also have the second best record in all of baseball. A big reason for that is Locke, who is 8-2 with a 2.15 E.R.A. The 25-year-old southpaw has not allowed more than two earned runs in any of his last starts, and he has not given up more than three earned runs in his last 15 outings. Pittsburgh is +300 to win the NL Central and +850 to make it to the Fall Classic.

Hiroki Kuroda (Yankees) – Both Kuroda and Clayton Kershaw are saddled with modest 8-6 records at the break, but they deserve better. While Kershaw's E.R.A. is 1.98, Kuroda's is 2.65 — an especially impressive mark in the American League. The 38-year-old righty ended the first half in appropriate fashion, allowing no runs in his last two starts (12 innings of work).

Matt Garza (Cubs) – Garza is 6-1 with a 3.17 E.R.A., and it would be even better had it not been for a nine-run outing against Cincinnati on June 11. Since then, Chicago's right-hander has gone six consecutive starts (at least 6.2 innings in each of them), without surrendering more than two runs. In a five-start span beginning on June 16, Garza's E.R.A. plummeted from 6.26 to 3.22.

Pitchers – Cold

Rick Porcello (Tigers) – Porcello has not been particularly good since his rookie campaign of 2009, and this year has been especially bad due to a recent swoon. In his last five starts, the 24-year-old righty has a 5.83 E.R.A. and a 1.53 WHIP. For the season, Porcello is 6-6 with a 4.80 E.R.A. Luckily for the Tigers, they also have both Justin Verlander and Max Scherzer. Detroit is a +350 favorite to win the American League Pennant.

Edinson Volquez (Padres) – In 2008 with the Reds, Volquez boasted a 17-6 record and a 3.21 E.R.A. Even last season, his first in San Diego, he was a decent 11-11 with a 4.14 E.R.A. This year, however, the 30-year-old righty is 6-8 with a 5.74 E.R.A. at the break. In his last 10.1 innings, Volquez has given up 17 hits and 12 earned runs.

Wade Davis (Royals) – Nobody has been worse than Davis in 2013. Coming off a solid year with Tampa Bay in the bullpen, Davis is living a nightmare in Kansas City. His 5.89 E.R.A. is the worst in Major League Baseball among qualifying starters. Davis has allowed at least six runs in six of his starts, including an eight-run disaster in five innings last Wednesday against the Yankees.

Hitters – Hot

Yadier Molina (Cardinals) – St. Louis boasts the best record in baseball and has scored 462 runs, by far the most in the National League. It has been a team effort, of course, but Molina is the man. He is leading the NL in batting average at .341 to go along with seven home runs and 49 RBI. Molina ended the first half by going 4-for-6 with a homer, four RBI, and three runs scored in a 10-6 win at the Cubs on Sunday.

Chris Davis (Orioles) – Davis is on pace to best Roger Maris' once-record mark of 61 home runs. Baltimore's slugging sensation has 37 dingers at the break to go along with 93 RBI and a .315 batting average. He ended the first half on a four-game hitting streak, which featured four yahtzees, eight RBI, and seven runs scored. Davis is a -250 favorite to lead the bigs in homers, ahead of Miguel Cabrera (+250).

Pedro Alvarez (Pirates) – Like Davis, Alvarez did not do much during the Home Run Derby on Monday. Still, that does absolutely nothing to erase the third baseman's first 85 games of 2013. Although his .250 average is modest, Alvarez has blasted 24 homers and driven in 62 runs. A 10-game hitting streak — which included four longballs and nine RBI — ended on Sunday.

Hitters – Cold

Mark Reynolds (Indians) – Reynolds has never been one to hit for average, but a .218 mark at the break is especially bad. Cleveland's third baseman has a decent 15 homers and 48 RBI, but his last dinger came on June 28 and his last RBI came on July 2. Reynolds has a mere three hits in his last 11 contests. The Indians are +280 to overcome Detroit for the NL Central crown.

B.J. Upton (Braves) – Aside from a powerful start by Justin, the Upton brothers experiment has been a dreadful one for Atlanta. B.J. is the worse of the two so far…in fact, he is the worst of almost all hitters in baseball. His .177 average has him in dead last — with plenty of room to spare — among all qualifying hitters. Upton also has only 20 RBI.

Yoenis Cespedes (Athletics) – Cespedes captivated the New York faithful with a dominant performance in the Home Run Derby. His Oakland fans on the other side of the nation will hope it propels him to an improved second half. Cespedes is batting just .225 and a home run on Saturday was his first — and only — of July.
Read more articles by Ricky Dimon