MLB Picks: Indians at Tigers Series Odds and Predictions
by Robert Ferringo - 5/10/2013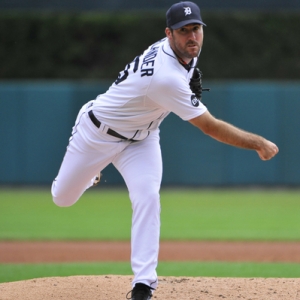 The Cleveland Indians and Detroit Tigers aren't two teams that move the needle nationally. But the Rust Belt rivals are two of the hottest teams in baseball right now and locking horns for a key American League Central series this weekend in Motown.
Cleveland has won 10 of 11 games and is coming off a four-game sweep of Oakland this week. They have pulled within one game of division-leader Detroit, which has jump-started its season by winning nine of its last 12 outings to regain its perch atop the Central standings.
Detroit, whose odds to win the Central were the shortest of any team in baseball to win its division, slogged its way to a 10-10 start to the season. But a dominating three-game sweep of Atlanta back on April 26-28 has propelled them on a solid two-week run, and right now the Tigers look like the force that prognosticators expected them to be.
Detroit has outscored opponents 79-33 in its last 12 games and has only been involved in two one-run games during that stretch.
Cleveland was just 8-13 after dumping the first game of a doubleheader in Kansas City on April 28. But the Indians throttled the Royals in the nightcap (10-3) and the next day (9-0) to get the ball rolling on a dominating offensive rush of their own. Cleveland has outscored foes 76-26 during its last 11 games, and they head to Detroit with a full head of steam.
While it is still way too early in the season for a three-game series to have any significant impact in the standings, this is still a key series for both teams. Each team is smoking hot heading into the weekend. Someone is going to win the series and leave the weekend with even more momentum while the other will have hit a wall with their own surge.
Here is a deeper look at this week's best baseball series, including a free MLB series prediction at the bottom:
Indians at Tigers Probable Starting Pitchers
Friday: Indians RHP Corey Kluber (2-1, 3.06 ERA) vs. Detroit RHP Max Scherzer (3-0, 3.98 ERA)
This pitching matchup looks like a mismatch – until you look at the peripheral numbers. Kluber is a 26-year-old with just 14 career starts. But after taking some lumps late last year and starting this season in the bullpen, Kluber has been OK as a fill-in rotation guy. He has a 4-to-1 strikeout-to-walk ratio and had an excellent start in Kansas City on April 28. Scherzer is streaky. He is coming off his best start of the year, going eight innings and giving up just one run on three hits at Houston. But Scherzer has gotten rocked at home this year, earning a 6.23 ERA in his three starts here. However, Scherzer has won all three outings.
Saturday: Indians RHP Ubaldo Jimenez (2-2, 6.37 ERA vs. Detroit RHP Justin Verlander (4-2, 1.55 ERA)
Verlander at home is about as sure of a thing as there is in baseball. The Tigers are 45-13 in his last 58 home starts and 41-12 in his last 53 starts against a division rival on his own turf. Verlander is 51-21 in his last 72 starts overall and is still one of the best pitchers in baseball. He is 11-4 in his last 15 starts against Cleveland and is a perfect 5-0 in his last five home starts against them. Jimenez, on the other hand, has lost four of five starts in Motown and is still a dud. He has looked sharp in back-to-back starts against Oakland and Kansas City, allowing just two runs in his last 13 innings. But Jimenez is still just 3-10 in his last 13 road starts.
Sunday: Indians RHP Zach McAllister (3-3, 2.63 ERA vs. Detroit RHP Rick Porcello (1-2, 7.52 ERA)
If the Indians are going to get a game in this series, this will be the one. Porcello is really a fringe Major League starter. He has terrible stuff and really just relies on opposing batters to get themselves out. Even in quality starts, like his last one against Houston, he gave up two home runs, and I am sure the Indians will tee off on him. McAllister has quietly been Cleveland's best starter. He has a quality start in seven of his last 10 outings, including four of six starts this year. McAllister throws a lot of pitches to work. But he has a 2.21 ERA in his last three outings and will challenge the Tigers.
Indians at Tigers MLB Betting Odds and Trends
The Tigers are massive -190 favorites in the opener, with the Indians paying out a healthy +170. Saturday's game is weighted even more heavily toward Detroit, with the Tigers posted at -230 and Cleveland at +215. The total on Friday is 8.5 and on Saturday is 7.5.
The Tigers are -280 favorites to win this series with Cleveland a solid underdog at +230.
Detroit has dominated this series, particularly at home. The Tigers are 35-16 ATS in their last 51 home games against the Indians. Detroit swept a series here last August, and they are 6-3 in the last nine meetings overall.
The Indians have been on an amazing 10-1 run. But they have been pathetic away from Cleveland. The Indians are just 17-35 in their last 52 road games and 19-42 as a road underdog.
Detroit is surging in its own right and is dominating at home. The Tigers are 47-17 in their last 64 home games and 42-15 in their last 57 games as a home favorite. Detroit is 44-21 at home against a team with a record over .500. Also, the Tigers have been outstanding as a major favorite, winning 83 of 115 games as a favorite of -150 to -200.
Indians at Tigers Picks and Series Betting Predictions
Detroit is going to win this series. They are too good at home and they are facing a Cleveland team that has struggled on the road. Also, they are going to win Saturday behind Verlander, so that means the Indians would have to steal games on Friday (unlikely) and Sunday (50-50). That said, I have to say that I like the value on Cleveland. They are paying out around 2-to-1 on Friday and Saturday, and then I expect them to be a small underdog, maybe +115 or +120, on Sunday. I think that is grounds for a modified series chase, where you would bet $100 on Friday, if you lose bet $100 on them again Saturday, and if Cleveland loses that second time bet $250 on them on Sunday. Just one win from the hottest team in baseball guarantees a profit, and I think Cleveland is playing well enough to avoid a sweep here.
How about $60 worth of member's baseball picks absolutely free? – You can use this $60 credit for any of our top MLB handicappers. Get on board now.
Read more articles by Robert Ferringo