MLB Series Picks: Yankees at Rays Odds and Predictions
by Robert Ferringo - 5/24/2013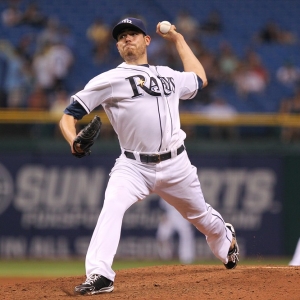 They look like the Yankees; as is to say they are wearing the same uniforms.
They play like the Yankees; as they are currently in first place in the American League East and boast the second-best record in the American League.
But are these really the Yankees?
New York travels to Florida this weekend for a three-game set with rival Tampa Bay. New York (28-18) is four games ahead of the Rays (24-22) right now, and the Yankees have overcome all manner of injury to get off to this hot start.
But the main question surrounding New York is, just how long can guys like Vernon Wells, Lyle Overbay and Travis Hafner – guys left for dead entering this year – continue to carry water for the Bronx Bombers?
New York, which is missing Kevin Youkilis, Mark Teixeira, Alex Rodriguez and Derek Jeter, and which only recently welcomed Curtis Granderson back into the lineup, has found ways to win games early in this season. New York is just No. 17 in batting and No. 17 in runs scored, and the pitching has been just slightly above average at No. 8 in ERA and No. 14 in WHIP. But the numbers don't tell the tale of how well the Yankees have played in close games, going 8-4 so far in one-run games.
Tampa Bay got off to a slow start to the season but is charging hard now. The Rays have won 10 of 14 games and have dug out of last place. This is their fourth straight series against a divisional team, and they are always fired up to welcome the Yankees to town.
Here is a deeper look at this week's best baseball series, including a free MLB series prediction at the bottom:
Yankees at Rays Probable Starting Pitchers
Friday: Yankees RHP David Phelps (2-2, 3.38 ERA) vs. Rays RHP Roberto Hernandez (2-4, 5.24 ERA)
The Pitching Artist Formerly Known As Fausto Carmona takes the ball for the Rays in this opener. Hernandez has picked up where he left off after his bizarre sojourn from baseball. The former Cy Young-caliber pitcher has a 5.24 ERA and since the start of 2011 is boasting a 5.39 ERA in 49 starts. Basically, he is a piñata. But Hernandez has three of five quality starts and is looking to bounce back after getting roughed up by the Orioles last weekend. Phelps entered the Yankees rotation out of desperation on May 1 and has been steady in his four starts. He has three straight quality outings, giving up just four runs in his last 20 innings, and he has won four of five appearances. Phelps made a pair of spot starts against the Rays last year, giving up just one run in nine innings over two starts, and I expect a quality outing from him tonight.
Saturday: Yankees LHP Vidal Nuno (1-1, 1.12 ERA) vs. Rays LHP Matt Moore (8-0, 2.29 ERA)
I can't lie: I'm not that familiar with Nuno's work. I saw him throw one very unimpressive time in Baltimore this week. But apparently the rookie lefty threw five scoreless innings at Cleveland back on May 13. Nuno has three career appearances, with one start, and has actually been hit kind of hard despite allowing just one run. He's only pitched once in the last 12 days – that ill-fated outing in Baltimore, which lasted exactly one batter – and I don't expect the youngster to be very sharp.
Moore has been one of the best pitchers in baseball through the first two months. The Rays have won all nine of his starts, and he has a streak of 11 straight wins going back to last year. The lefty phenom shut down the Yankees back on April 22, giving up just two hits and one run in eight innings in a 5-1 win. However, if you include last year, he's gone just 2-2 against New York while allowing 15 runs in 24 innings.
Sunday: Yankees LHP C.C. Sabathia (4-3, 3.43 ERA) vs. Rays RHP Alex Cobb (5-2, 2.73 ERA)
The rubber match of this series will feature two guys that have been doing it with smoke and mirrors.
Alex Cobb has been brilliant so far this year. Cobb's BABIP and his strand rate are both way above the Major League average. He has an excellent 54 strikeouts to just 14 walks, and he did dominate the Yankees for over eight innings of shutout ball on April 24. But I think it's only a matter of time before things start to level off for this righty, who excels at keeping the ball on the ground.
C.C. Sabathia has compensated for his decreasing velocity with guile and guts. But he is no longer the automatic 'W' that he once was, and the big Yankees lefty has failed to clear the seventh inning in any of his last four starts. Sabathia lost to Moore back on April 22, giving up five runs in seven innings. He is just 3-6 in his career in Tropicana Field and could struggle against a Tampa Bay lineup that feasts on lefties.
Yankees at Rays MLB Betting Odds and Trends
The Rays are a massive favorite in this series at -160, with the underdog Yankees earning +130 odds. That is interesting considering that the Game 1 odds are almost equal, with Tampa Bay sitting at -110 behind Hernandez and the Yankees at -105 with Phelps.
The Game 2 odds have not been announced yet. But I imagine that the unbeaten Moore will be somewhere around -175 as a favorite against the rookie Nuno.
The Yankees have struggled on astroturf, going just 9-19 in their last 28 dome games. However, they are 7-2 in their last nine divisional games, and the Yankees are 7-3 in their last 10 road games. New York has gone 5-2 as an underdog, which they will be at least twice this weekend, and New York is 7-3 against a team with a winning record. The "under" has gone 22-6-2 in their last 30 games against an above-.500 team and is 10-2-2 in New York's last 14 road games. The under is also 10-1 in their last 11 games as an underdog.
The Rays have dominated this series at home, going 13-3 in their last 16 games against the Yankees in Tropicana Field. Tampa Bay has won 10 of 14 games overall, and they are 6-2 in their last eight on their home turf, with all of their wins coming as a favorite. Tampa Bay is 9-2 as a favorite, and they are a sparking 12-5 in their last 17 home games against a left-handed starter.
New York Yankees at Tampa Bay Rays Series Betting Picks and Predictions
I like the Rays to stay hot in this series. The Yankees have put forth an incredible effort so far this season. They are winning games without the core of their team, and they have held the fort while guys like Mark Teixeira and Derek Jeter can get healthy. But the Yankees have lost two of three series, falling to Seattle at home and Baltimore this week on the road. Tampa Bay is surging while the Yankees have been just treading water (5-5) in their last 10 games. I think one of the biggest factors, though, is that Tampa Bay has the edge in the pitching matchups on Saturday and Sunday. Moore and Cobb have been excellent. And while Nuno and Sabathia have done yeoman's work in their outings, they are left-handed pitchers – both ripe to get lit up – going up against a team that is No. 6 in the Majors in hitting southpaws. Tampa Bay is 13-3 in their last 16 home games against the Yankees, and I think they have the clear upper hand this weekend. I won't be betting this one because I think the odds are too high on the home team, especially if the Yankees can steal Game 1. Then the bet will essentially come down to Sabathia vs. Cobb on Sunday. I think the Rays are going to take two of three here, but I don't like the overall value on the wager. You are better off just betting the Rays straight in all three games.
Doc's Sports MLB handicapping team is offering $60 worth of member's baseball picks absolutely free – no obligation, no sales people – Claim your free MLB picks here now.
Read more articles by Robert Ferringo