NBA Futures Betting: Los Angeles Lakers Season Outcome Odds
by George Monroy - 2/19/2013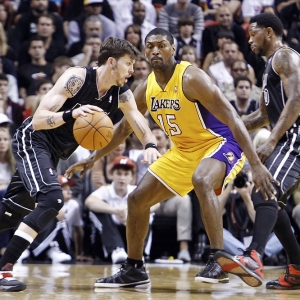 Describing the Los Angeles Lakers first half of the season as tumultuous would be an extreme understatement. Even describing it as a complete and utter mess would probably still be an understatement. The Lakers have been so bad that, to be honest, it is quite shocking. The team has gone through three head coaches — they fired one of them five games into the season and failed to gel with the other after 40-something games. Pau Gasol has been on the trade-block. Dwight Howard has been on the trade-block. Kobe Bryant is angry. And Lakers fans are just frustrated.
The team is hoping to make a late-season run in order to sneak into the playoffs as an eight-seed. Los Angeles has won eight of their last 12 games and has looked like a very good team for long stretches of play, but they will need to do much more if they hope to make a postseason push. Sportsbook.ag recently released odds on the Lakers' season outcome. Let's have a look and see if there are any wagers worth placing a bet on.
Lakers Miss Playoffs -300:
The Lakers not making the playoffs is a huge favorite, as you might expect. The team is currently three games behind the Houston Rockets for the eighth seed in the Western Conference with a 25-29 record. Houston is currently 29-26 and winning roughly 52 percent of their games. And as bad as the Lakers' season has been so far, there is still a decent chance that they make the playoffs.
If the Rockets continue to play at their current pace and win around 52 percent of their games, they would finish the season with 43 wins. Los Angeles would then need to win around 44 games this season to sneak into the eight-spot. The team has 28 games left on its schedule and would only need to finish the year with a reasonable, but still difficult, 19-9 record.
Good bet/bad bet? Bad bet. Odds are that Los Angeles will probably miss the playoffs, but -300 feels like too steep of a price. The Lakers could easily make a late-season run and sneak into the playoffs.
Lakers Lose in first-round Round of Playoffs +220:
This wager has excellent value. The Lakers have a solid shot at making the playoffs, but, once they get there, the reward (or punishment) would be a first-round matchup against either the San Antonio Spurs or the Oklahoma City Thunder. Sure, anything can happen in an NBA series — especially with injuries — but the Lakers cannot beat either of those teams. Los Angeles is simply not as good.
Good bet/bad bet? Good bet. Of all the scenarios in play for the Lakers, this one is probably what will actually happen. Los Angeles will make a late-season push, make the playoffs and get dominated by the Spurs in the first round.
Lakers lose in second-round of playoffs +1000:
This wager has the next best value on the board, but is still a long shot. Predicting the Lakers to beat the Spurs or Thunder in a seven-game series is almost impossible. I doubt even the Lakers actually believe they could beat either of those teams in a playoff series. But, if for some miracle they happen to upset either team and make it to the second round of the playoffs, they would probably matchup against either the Memphis Grizzlies or Los Angeles Clippers. The Lakers are a combined 0-5 against both teams and have lost each game by an average of 12 points.
Good bet/bad bet? Bad bet. This wager is not horrible because the Lakers matchup badly with their potential second-round opponents, but the only trouble with betting this wager is that they'd have to make it out of the first round, which is a long-shot at best.
Lakers lose in Conference Finals +2500, Lakers lose in NBA Finals +1500, Lakers win NBA Championship +3000:
It's difficult to image the Lakers even getting out of the first round let alone making it to the Western Conference Finals or the NBA Finals. These three bets are dead money and have very little value. I am not sure that even the most optimistic Lakers fans would place money on these wagers. But if you are still not convinced, in order to win an NBA Championship the Lakers will probably have to go through the Spurs, Grizzlies, either the Oklahoma City Thunder or Los Angeles Clippers and then face the defending champion Miami Heat.
Good bet/bad bet? Bad bet. Don't waste your money.
Read more articles by George Monroy