NBA Handicapping: Do Pacers Have a Chance to Reach NBA Finals?
by Trevor Whenham - 5/30/2013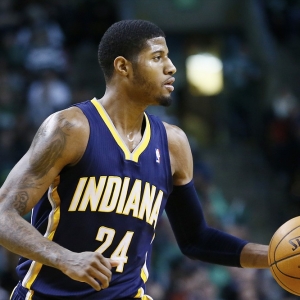 For months now I have been convinced that the winner of the Eastern Conference Championship in the NBA would be the NBA Champions when the playoffs ended. That was just code, of course, for the fact that Miami was too good for any team to beat.
Suddenly, though, we have the first hint of a possibility that the Heat could actually lose. The Pacers have won two games, and both times they have fought back from setbacks that could have crushed their spirit in the previous game. It has been impressive, and it has made for a wildly-entertaining series.
Of course, this all leads to one big question. Can the Pacers actually win this thing? Can Indiana really beat Miami and win the East — and quite possibly the NBA Championship? I'm not yet convinced that the Pacers actually will win this series. With each passing game, though, I am certainly more and more convinced that they can win it. Here are four reasons why:
Resilience
When most teams get punched in the mouth by the Heat, they stay punched. They realize that they are outmatched, they cower and retreat, and the Heat get what they ultimately want — the win. For the first time in a long time — likely since Dallas in 2011— the Heat have found a team that isn't intimidated by them.
Indiana lost a heartbreaker in the first game of the series. They came back strong to win the second in Miami. That win came even though Miami has had a clear tendency to start a series slowly but quickly find their stride. Game 3 was a dominating Miami win, and it again seemed likely that Miami was going to turn the page on this series — to stomp on the pests. But then Game 4 happened, Indiana showed they weren't afraid, and they finished with a 13-3 run to close out the win.
I can't think of more than two or three teams that I would give even a small chance of being tough enough to bounce back like Indiana has twice.
Youth
Paul George and Lance Stephenson have been just magical for good portions of this series. They are 23 and 22 respectively. Roy Hibbert is only 26. George Hill is 27. David West is the grizzled veteran of the starters, and he's only 32. Miami has eight players who are 32 or older, and while Dwyane Wade is only 31, his body is acting like it is about 40 in this series. With Danny Granger sidelined, West in the only player on the Pacers older than 27.
Their youth makes it easier for them to handle the intense physical strains of the playoffs — especially a tough, hard-fought series like this one. Mentally the Pacers are in a sweet spot, too — their core is old enough to have some valuable experience but young enough to still believe that they are invincible.
Team
The Pacers play like a team. Their five players on the court feed off of each other, focus on what matters, and will step forward if and when they give their team the best chance of success. The Heat are in no way a team. They are one alpha dog, a few guys he mostly trusts, and several he only barely tolerates. The construction of the Heat obviously doesn't doom them.
The impressive, ego-limited play of the Pacers really elevates their chances, though, and makes it much tougher to beat them than if the same cast of characters was more concerned about their role in the class structure of their team.
Frustration
You just can't beat LeBron James by letting him play, and it has proven very difficult to beat him with defense — at least consistently. The best way to get an edge over him is to get into his head and really frustrate him. He has a temper, even though it doesn't show up often.
The Pacers have been able to find ways to really get under Miami's star's skin. James really shines in the closing minutes of a game. That's when he takes the team on his shoulder and takes them to the promised land. In Game 4 of the series he wasn't able to do that because he had fouled out earlier. Indiana went on a 13-3 run to come from behind to win. James was gone, and no one else was able to step up — largely because they are rarely called on to do so.
There are very few downsides to having the greatest player on the planet on your team — unless he's not there when he is needed.
The Pacers are very creative, determined, and well-coached. It's reasonable to think that they can continue to frustrate and annoy James. That will continue to make things interesting.
Read more articles by Trevor Whenham