NBA Handicapping: First Quarter Betting Review
by Trevor Whenham - 12/18/2013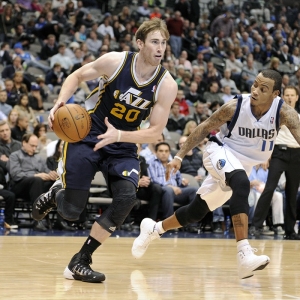 We're now just past a quarter of the way into the NBA season. It's a good time to look at what has happened so far from a betting perspective, and to hand out some awards — and some healthy criticism — based on what we have seen so far:
Biggest betting surprise: Phoenix Suns. If you said that you knew that the Suns would be the most profitable team in the NBA through the first quarter of the season, I would have to call you a liar. Here we are, though — and with five wins and covered spreads in a row they are showing that it's not really a fluke. They don't have the roster to be doing this, but selfless, team-centered basketball still wins in this league, and this is proof.
Runners-up: Portland and Charlotte. After a completely disastrous end to last season, the Trail Blazers have bounced back strong. They have a gaudy 21-4 record, and are second most-profitable behind only Phoenix. Charlotte is well below .500 at 10-14, but they are playing tough, covering spreads at a real clip, and have shown more promise now than they have in eons.
Biggest betting disappointment: New York Knicks. Don't have to over think this one. When a team viewed as a serious contender is 7-17, and 8-16 ATS, it is an unmitigated disaster. Absolutely nothing has gone right at MSG this year.
Runners-up: Chicago and Brooklyn. You can't blame the Bulls. Losing Derrick Rose for the year again is an absolutely crushing blow for this team, and it is no wonder that they have floundered as a result — they are the least-profitable team in the league. Brooklyn can be blamed for turning a ridiculously expensive roster into a circus by hiring a horrifically unqualified coach. Who could have guessed that the Jason Kidd experiment wouldn't work out? Oh yeah, anyone with a brain.
Best coaching hire: Brad Stevens, Boston. No question in my mind. The Celtics had a fire sale in the offseason, and they hired a guy way, way off the radar. All the former Butler coach has done, though, is turn a band of misfits into a disciplined group that believes in themselves and is going to win their admittedly terrible division. It's remarkable, and it's only going to get better as his roster solidifies and he gains traction.
Runners-up: Steve Clifford, Charlotte and Jeff Hornacek, Phoenix. If Stevens wasn't doing such a good job with a team that seemed built to tank, then either of these guys could easily win. Clifford has the Bobcats playing decent ball for once — and clearly exceeding bettor expectations. Hornacek is working miracles in the desert and getting way more out of the talent he has than he should be able to.
Worst coaching hire: Jason Kidd, Brooklyn. This could be one of the worst hires ever. Let's take a volatile guy with off-court issues who just retired and give him the reins to an expensive and challenging roster, then saddle him with an overpaid assistant who is certain to create tension. What could possibly go wrong? The East is so weak, and the team has talent, so Kidd may be able to find a way into the playoffs. That won't hide just how far over his head he is here, though.
Runners-up: Mike Brown, Cleveland and Larry Drew, Milwaukee. There isn't a team that Mike Brown couldn't drive into the ground. He's a walking disaster. Drew just inherited a mess, and he has done nothing to improve it.
Quietly improving team: Utah Jazz. Since first-round pick and point guard-of-the-future Trey Burke joined the squad after recovering from an injury, the team is 5-10. That's not that remarkable — until you consider that they were 1-10 without him. This is a very young team, but under the stellar leadership of the reigning college Player of the Year they are learning to play together, and they are gaining confidence. They are 7-8 ATS with Burke, and they will only improve the rest of the way.
Quietly underwhelming team: Miami Heat. There is no need to panic when a team is 18-6. With the Wade injury, the chronic Bosh brain cramps, and the complete reliance on James, though, this team hasn't been all that they can be just yet. They are only 12-12 ATS.
"Over/Under" superstars: Detroit Pistons. There is barely a total in existence that they can't go over. Detroit has gone over in 19 of 26 outings. When your offense is average, your defense is lousy, and expectations are non-existent, that's a good formula for happy over bettors.
Runner-ups: Portland and Boston. Portland is scoring the most points in the league and only playing average defense. That explains their 18-7 over/under mark. Boston can't really score but has been relentlessly focused on defense. That means they have gone under a league-best 17 times in 26 games.
Read more articles by Trevor Whenham