NBA Handicapping: How Free Throwing Shooting Impacts ATS Records
by George Monroy - 1/31/2013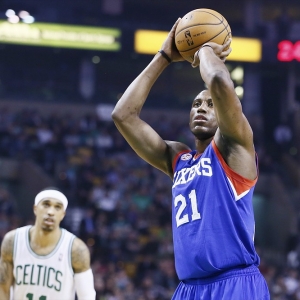 Free throw shooting is a key aspect of any NBA team's success throughout the season. Shots from the "charity stripe" - as they are commonly known - can make or break any team during the course of a game. Free throws are, essentially, two free shots and must be taken advantage of, especially late in a game, when teams are looking to foul in hopes of trading one point for two.
Many times the difference between winning and losing will come down to one possession. And, whether or not a team hits their free throws oftentimes will be the deciding factor as to who gets the victory. Since the importance of free throw shooting is already a commonly known fact, the next question becomes how does free throw shooting impact the spread? Do teams with the best free throw shooting percentages cover the spread more often than teams that do not? Or is there any correlation at all? Let's take a minute and examine the best and worst NBA free throw shooting teams and see what impact they have on a team's against the spread record.
How free throw shooting impacts the spread
Here is a quick look at the top six free throw shooting teams in the NBA.
Oklahoma City Thunder: 83.6 percent, ATS record: 25-17-3
Golden State Warriors: 80.4 FT, ATS: 26-17-2
Dallas Mavericks: 79.8 FT, ATS: 25-20
Memphis Grizzlies: 79.0 FT, ATS: 26-17-1
Orlando Magic: 78.5 FT, ATS: 21-24
San Antonio Spurs: 78.5 FT, ATS: 27-19-2
By taking a look at the stats we see that the of top six free throw shooting teams in the league, five of them also have the best ATS records in the NBA. The only exception to the rule is the Orlando Magic. The team is fifth in free throw shooting percentage but only has an ATS record of 21-24.
However, there is an explanation as to how Orlando's free throw shooting impacts their spreads. The Magic have a horrendous straight up record and are one of the worst teams in the league with a 14-31 win/loss record. If you take a closer look, you will see that Orlando's ATS record is seven games better than their SU record, which is the second largest differential in the league. It is the team's excellent free throw shooting that is giving them enough points to cover their spreads, even though they are losing games.
Another correlation between excellent free throw shooting and covering the spread is that most of the teams that are high on both lists also have great SU records - which means they are getting fouled late in games more often because they are usually winning. So, in turn, they are given more opportunities to extend their lead and cover more spreads.
Taking a look at the worst free throw shooting teams
Here is a quick look at the bottom six free throw shooting teams in the NBA.
Philadelphia 76ers: 72.0 FT, ATS: 20-25
Los Angeles Clippers: 71.0 FT, ATS: 27-20
Detroit Pistons: 70.8: FT, ATS: 21-25
Atlanta Hawks: 70.0: FT, ATS: 19-24-2
Los Angeles Lakers: 68.9 FT, ATS: 18-28
Denver Nuggets: 68.4 FT, ATS: 27-20
There is not as strong of a correlation between the worst free throw shooting teams and their ATS records as there was with the best free throwing shooting teams. At first glance, both the Los Angeles Clippers and Denver Nuggets stick out as teams with poor free throw shooting but excellent ATS records. The explanation might be that both the Clippers and Nuggets are two of the highest-scoring teams in the NBA, so their poor free throw shooting doesn't impact their spreads because they have such big leads to begin with.
The rest of the teams in the bottom six also have some of the worst ATS records in the NBA, and are all under .500. The Lakers, 76ers, and Pistons, specifically, all have horrible SU records, and they have been covering only around 40 percent of their ATS lines. The Lakers, even though they have one worst ATS record in the west, have been a favorite a whopping 69 percent of the time. The team's poor free throw shooting probably does not correlate to their poor ATS record, because Los Angeles is not even winning most of those games to begin with.
Conclusion
After having taken a look at the stats, there is definitely a correlation between excellent free throw shooting and covering the spread. However, there are many teams that are exceptions to the rule. The best way to take advantage of these stats is to simply let this information be another indicator in your pre-wager analysis and not let free throw shooting percentages be the deciding factor in which team you will wager on. Remember to bet wisely, and may the spread be with you.
Read more articles by George Monroy