NCAA Football Betting: Road Teams with Week 8 Value
by CarbonSports - 10/16/2013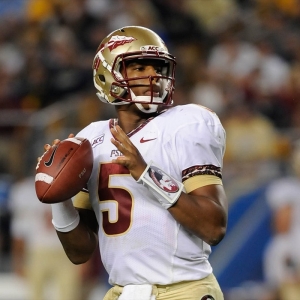 A hailstorm fell upon the NCAA football betting world last weekend, and there's more to come. I have five road teams worth backing listed below, including the showdown between Clemson and FSU, which tees off Saturday night in prime time. Are you ready for the big lights of the big stage? Then let's make some money with these picks.
No. 10 Miami Hurricanes -10 over UNC Tar Heels (Thursday, 8 p.m. EST)
This smells like easy money. The 4-1 SU and ATS Hurricanes are marching up the rankings, and they know they need big wins to keep doing so. UNC is a troubling 1-4 SU and ATS so far this season, and frankly the Canes have had their number for the past three years with a 3-0 ATS record in the head to head matchups.
CarbonSports Lines Manager Michael Stewart's gives his perspective:
"We opened Miami at a solid nine-point road favorite, and all the early money came in on the favorite. We went to -9.5 early Tuesday morning, and that didn't stop the money pouring in on Miami. With 80 percent of the action on Miami, we went to the key number of Miami -10 early Wednesday morning."
UCF Knights over No. 8 Louisville Cardinal -12.5 (Friday, 8 p.m. EST)
Simply put, the Knights are one of those strange NCAA football betting entities floating around the cosmos. They're 4-1 SU and ATS this season, and their only failed cover was in a 24-17 win over Memphis when they were -9.5 road favorites. People love betting on this team, and the oddsmakers have been properly cautious around Central Florida. They seemed ridiculous at +7.0 home dogs against South Carolina two weeks ago and only lost that game by three points.
As for Louisville, I'm just done with them this season. Their lines always seem too big for their on-field performance, and their 2-3 ATS record over their last five games have cooled me off of them. Quarterback Teddy Bridgewater may be a first-round pick in the NFL Draft, but right now he's not doing nearly enough to make Louisville a solid take every week.
CarbonSports Lines Manager Michael Stewart's gives his perspective:
"We opened Louisville -12, and the early action came in on the road favorite. Week in and week out, our bettors have been backing this public team, so we weren't surprised that all the early action was on Louisville. We went to -12.5 and considered going to Louisville to -13, but just this morning we took sharp action on the home dog at +12.5. Because we respect the sharp action more than the public action, we didn't go to -13, and we're staying at -12.5 for now, but I wouldn't be at all surprised if this line went back down to 12 or even lower. This is a game where the public and the sharps are on opposite sides. "
No. 22 Florida Gators -3 over No. 14 MISSOURI TIGERS (noon EST)
The Gators are reeling after two tough losses this season, but they're still a much better football team than Missouri. The Tigers have played only one meaningful opponent this year, and the only offensive player UGA didn't have in the infirmary was quarterback Aaron Murray. The Gators are rightful road favorites in this NCAAF betting battle, and I expect them to respond to last weekend's loss against LSU the same way they did when they dropped one to the Canes. The following weekend, Florida went out and thumped Tennessee, 31-17. This is a letdown game in a big, big way for the Missouri Tigers.
CarbonSports Lines Manager Michael Stewart's gives his perspective:
"We opened Florida -3 versus Missouri, and we immediately saw a surge of money on the Gators. We went to -3, -115, before going to Florida -3.5, a line we dealt up until this morning when we booked sharp action on the dog. We immediately went back to Florida -3 and haven't moved off that number. So far we're dead even on the game, and I don't see this game moving all that much more."
UCLA Bruins over STANFORD CARDINAL -6 (3:30 p.m. EST)
You do realize that the Bruins are undefeated across the board, right? They're 5-0 SU and ATS this season, and they covered against Stanford in a 24-27 loss as +9.5 road dogs in 2012. I don't love Brett Hundley as much as everyone else seems to, but he's done a marvelous job of keeping UCLA chugging forth. Their +27.6 point differential is a lot more tempting than Stanford's 2-4 ATS record so far this year. This is not the year to be betting on Stanford.
CarbonSports Lines Manager Michael Stewart's gives his perspective:
"This game moved after opening at Stanford -4.5, and late Monday evening we went to Stanford -5. After going to Stanford -5, we booked sharp action on them at that price and immediately went to Stanford -6, and that is our current line. The sharp action on Stanford is justifiable, in my opinion. We're talking about a team that up until their loss last week to Utah was playing very solid football. Now all of a sudden everyone is jumping ship, except for the sharps who feel that the downgrade of Stanford was too extreme. I expect we'll see more action on Stanford, and I wouldn't be surprised if we close this line 6.5 or more."
No. 5 FSU Seminoles -3.0 over No. 3 CLEMSON TIGERS (8 p.m. EST)
Jameis Winston versus Tajh Boyd? Does it get any better? Not this Saturday. I have loved the Seminoles this year, and at 4-1 ATS it's easy to see why. This is pretty much a toss-up game, even though most people are leaning towards Clemson for good reason. Their defense hasn't allowed anyone to score more than 14 points, and the only team that did was the Georgia Bulldogs.
Don't be too misled by the line here. FSU is a better overall team, with a more athletic defensive unit and a much better running game. But they're also a huge public betting team despite the rankings. People seem convinced that Boyd is containable even though no team has done it so far this season, and though FSU has a chance to bottle him up more than any other opponent he's faced, it's hard to say whether or not Boyd is slowed down this Saturday. What I do know is that Winston has the confidence – and the arm strength – to go toe-to-toe with Boyd this weekend.
That's why I'm tipping my hat to the Seminoles. I don't trust Clemson entirely. They have three bad spread losses this season, including failed covers against the BC Eagles and North Carolina State. I think the Seminoles escape with a narrow victory in this one. You can believe in Boyd, but football is still a team sport, and the squad surrounding freshman Winston is simply a stronger take in the most important game on the NCAA football betting horizon this weekend.
CarbonSports Lines Manager Michael Stewart's gives his perspective:
"We opened FSU as a -3.5 point road favorite in what is going to be the biggest volume game of the day for us. It's a featured ABC game in primetime Saturday night. Both teams have playmakers all over the field, and it should be very entertaining. After opening at 3.5, we saw a surge of money supporting the home dog, enough money to move us from 3.5 to the very key number of -3. We're still seeing more money being bet on Clemson, so instead of going to 2.5, we've adjusted the juice on the game making FSU -3 even / +3 -120. All this line movement happened on Monday, and since going to our latest number, we've seen great two-way action."
Take advantage of the $300 in free bets offer at CarbonSports with no rollover.