Carmelo Anthony Prop Odds: What Team will Melo Play for Next Season?
by Trevor Whenham - 6/24/2014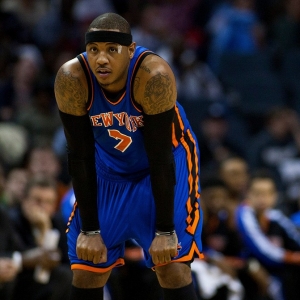 The first chapter in what has turned into a truly fascinating NBA free agency season came to be when, after much deliberation, Carmelo Anthony officially informed the Knicks that he was opting out of his contract to become a free agent. Now he is available to any team, and he will be highly valued. He would have been the most valued free agent except for what came next - LeBron James opted out of his deal as well.
The LeBron Factor: The James move makes things interesting in many ways. If teams are only in position to add one player then James would obviously be the first choice. There are teams - the Cavs, Hawks and Lakers among them -- that dream of adding both players and could conceivably do so. They are good friends who could be interested in playing together. Of course, the most likely reality is that James is just flexing his muscles to force the Heat to get serious about giving him help. Regardless, the presence of free agent LeBron makes the fate of free agent Melo far less straightforward to predict.
The Love Factor: Adding to the intrigue is the availability of Kevin Love on the trade market - a move that could be made as soon as the NBA Draft on Thursday. The teams interested in Melo and Love have some overlaps, so again we can't truly judge what will happen to Melo until we see what, if anything, happens with Love.
So, where could Melo wind up? Let's take a look at the most likely scenarios ( odds are from Bovada):
Chicago Bulls (2/3 to be his home next year): Melo seems interested in Chicago, and it's mutual. There is plenty of talent there as long as Derrick Rose can stay healthy. Rose, Anthony, Noah and Gibson - though the latter would quite likely have to go to make it all work - would be very formidable. Anthony likes coach Tom Thibodeau, and despite a defensive focus that could be an issue between coach and player Thibodeau should be able to use Anthony effectively. There is a good business reason for the move, too - Melo endorses Jordan Brand, so the marketing potential of being in Chicago is dizzying. The biggest problem that looms is money - in order to make everything work out Anthony would likely have to take well below his maximum potential. We'll know how serious he is about winning depending on what he does. If he does wind up in Chicago then we can also expect there to be absolutely no value early on in betting on them. Rose will be rusty, Anthony will have to adapt to his new surroundings and to his defensive responsibilities, and so on.
New York Knicks (5/2): He may ultimately decide that the grass isn't always greener on the other side of the fence. The team can offer him a year more than anyone else, so from a purely financial basis the move makes sense. It's from a basketball sense that the challenge exists. The team is in serious financial woes - so severe that even getting rid of Melo won't free things up until 2015. Anthony has to accept that the team isn't built to win anything next year, and then he would have to make a leap of faith that Phil Jackson can recapture some magic and build a winner around him with the newfound financial freedom. If Anthony was younger I might think differently, but he is old enough that I just don't see how he can gamble with his future like this when better and more certain options exist. If he did stay in New York then it would be tough for bettors to trust him next year because his motivation in the midst of a lost season could be low.
Houston Rockets (6/1): The Rockets could have some payroll flexibility by ditching Omer Asik and Jeremy Lin via trades. They have a core of Dwight Howard, James Harden and Chandler Parsons that would look very good with Anthony added in. I like the fit a lot, but the biggest issue with it actually happening is that I just don't see why Anthony would choose to go to the West where the competition is tougher and the travel is rougher unless the situation was really perfect.
Miami Heat (13/2): This was the subject of immediate speculation when Anthony opted out, but I just don't see how it happens. In order for the team to make room for him they would need the Big Three to all opt out and then re-sign for significantly less money - or the team would have to realize that Dwyane Wade is falling apart and cut him loose, though that won't happen. It would be great to watch, but it still doesn't completely address the issue that killed Miami against the Spurs - their depth outside of their superstars is abysmal, and it won't be any easier with four stars to find the extra money around than it was with three.
Get free picks from any of Doc's Sports Advisory Board of expert handicappers - and with no obligation or credit card. You can use these free picks for any sport, and you will never deal with a salesman. Click here for your free Doc's Sports picks.
Read more articles by Trevor Whenham