College Football Handicapping: Toughest Teams to Judge in 2014
by Trevor Whenham - 7/29/2014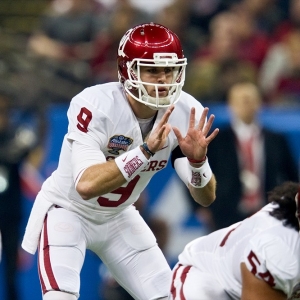 There are some programs that are easy to judge each year in college football. We know, for example, that Florida State and Alabama are going to be very good as always, and that Rutgers and Maryland are going to have disastrous first years in the Big Ten. Handicappers love certainty - or as close to certainty as you can get in sports, anyway.
The problem comes with the teams that are not nearly as clear-cut. This list features five teams that have the potential to be good - serious contenders in their division, conference, or even nationally in one or two cases. They also have some real downside, though, and could just as easily struggle as they could shine.
These are five college programs that are very hard to judge this season ( odds to win the National Championship are from Bovada):
Texas Longhorns (66/1): This team has been just plain bad for a couple of years now. Since Colt McCoy left they were bad enough to get Mack Brown fired - and legends don't go easily. They seemed to have more talent than their record indicated, though they have certainly struggled to recruit at the same levels that used to be the norm for them. Undoing struggles like that can take a while because you need to both update talent and change the attitude of the team. On top of that, they have to deal with a new coach - something the program hasn't dealt with in a long time. Charlie Strong is a capable coach, but he is very different from Brown. Most notably where Brown was a master at working any crowd, Strong is withdrawn and independent. Strong is going to face pressure unlike anything he has seen before, and it is yet to be seen how long it takes him to adjust. We also have to consider how well the program and fans will accept Strong. We have seen many times - Rich Rodriguez at Michigan, for example - where a program wants to succeed so badly that they sabotage their own coach. In the long term I am reasonably optimistic about the Longhorns under Strong, but there is no real way of knowing what this year will look like.
Auburn Tigers (10/1): You can never take away what the Tigers did last year - one of the most impressive first-year coaching turnarounds we'll ever see. There was a lot of luck involved, though - every break went their way. Can that happen again? Can they handle the pressure of being a team to watch instead of an underdog? Is there any hangover from being quite convincingly beaten in the Championship Game? It's a tough team to judge in a conference that is equally tough to predict this year.
Louisville Cardinals (100/1): Teddy Bridgewater plays for the Vikings now. Charlie Strong, who defined and rebuilt this program, is in Texas. They are in a new and tougher conference, so they won't know their opponents and will face more talent (though not necessarily a lot more because the ACC is weak this year). Add it all up and it would be pretty easy to discount the chances of the Cardinals this year. There is one factor that throws a wrench in the simplicity of it all, though. Bobby Petrino is a vile man, and the decision to hire him was an odd one in many ways. However, the one thing he does with regularity is win. He's going to wind up winning a lot of games at Louisville. When does it start?
Oklahoma Sooners (9/1): Oklahoma is viewed as the clear class of the Big 12 and a true national title contender. There is a lot to like about the team. The biggest problem, though, is that we have been here before and it hasn't turned out well. For about the last decade Bob Stoops has really struggled to reach the full potential with his team. They have had talent and opportunity but haven't really seized it. Sure, they played in a National Championship Game in 2009, but they were not particularly competitive in that game. They have not been a bad team by any means - double-digit wins in all but two seasons since 2000. They just haven't been quite as good as they need to be, and that makes them harder to trust here. There is also the consideration that a part of the excitement surrounding this team is because they beat Alabama in their bowl game last year. While a win like that is always impressive, you can't help but wonder how invested Alabama was in the game after the frustrating way they missed out on playing for the national title. Is Oklahoma being overrated? Or was that win a sign of further things to come?
Washington Huskies (100/1): I have been really frustrated with this team the last three years. While Steve Sarkisian unquestionably had a rebuilding job on his hands, the progress he made was underwhelming, and there was a lot of wasted potential. Now Chris Petersen is finally taking his chance to run a big-time program after doing so much so well at Boise State. Can he reverse the underachieving trend in a hurry - like Gus Malzahn did so effectively last year at Auburn? Or will he struggle to change the culture in the short term? And who will play quarterback for him? Cyler Miles looked very good in limited relief of Keith price last year, but he has had some struggles off the field and has already been suspended for the opening game. A distraction of that caliber is far from what Petersen needs.
Got free picks? Doc's does. And for new clients we would like to offer you $60 in free member's college football picks from Doc's Sports Advisory Board of college football handicapping experts. Click here to sign up today. We never require a credit card for this offer, and you will never have to deal with a salesman.
Read more articles by Trevor Whenham