College Football Playoff Picks: Props Odds and Predictions
by Trevor Whenham - 7/17/2014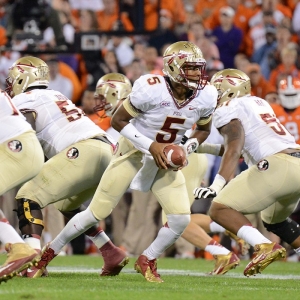 College football season is just around the corner. While that makes me sad because the end of summer is in sight, that sadness is almost outweighed by the joy of the dawn of the best team sport there is. The new college football season brings a massive change - the college football playoff. Some are embracing the change as a shining new era. Others, like me, find it hard to believe that this solution will be any less controversial or ridiculous than the BCS was - though at least we get to see the best teams in the country play another game. However you view it, the important thing is that you can bet on whether teams will make the playoff or not. When looking at the odds on offer at Bovada, there are five teams that stand out from the group - more for the intrigue in talking about them than the attractiveness of the bets:
Alabama Crimson Tide ("Yes" they will make the playoffs: -120, "No" they won't: -120): We start with what is the most interesting one here. As you will see, all of the others have one side that is clearly favored above the other. Here, though, oddsmakers - and therefore the public - can't decide what to expect. This is a hugely public team, so that is noteworthy. There is a lot to like here - they have the best running backs in the country and ridiculous depth as always thanks to an unprecedented run of recruiting classes under Saban. Quarterback is a question, though, with likely starter Jacob Coker being a player who couldn't break through in three years at Florida State. There is also some natural concern from any college football fan when you consider that Lane Kiffin is now the offensive coordinator. No guy is better at running a program into the ground. In recent years it has been very tough to have any doubts at all about this program. Now those doubts are starting to sneak in. You can be sure that Saban won't like that and won't let it happen for too long. Keep in mind, though, that the doubts are still relative - they are still the second most likely in the country to make the playoff according to the odds.
Florida State Seminoles (Yes -250, No +170): They are the defending national champs with a returning Heisman winner at quarterback, and they have a loaded team. It's no surprise, then, that they are expected to shine this year. There are always going to be some doubts - most notably whether Jameis Winston, who had a rocky offseason, can handle the pressure of his celebrity. Still, they have loads of talent, and their three toughest opponents - Clemson, Notre Dame, and Florida - all have to travel to Tallahassee. It is certainly not hard to imagine situations that they make the playoff. In fact, given all of the factors, it's harder than the odds suggest to imagine that they don't.
Ohio State Buckeyes (Yes even, No -140): Urban Meyer and company lost their last two games, so there isn't the confidence here that there would have been before those outings. Still, they have a QB in Braxton Miller that could win the Heisman, and they have the best defensive line in the country in my eyes. The schedule is soft, too - they avoid all of the decent teams in the West division, and they get Michigan at home, so a trip to Michigan State is the only really scary game. Would a one-loss Big Ten champion make the playoff? Probably - especially with Urban Meyer on board. If they can get good offensive line play then they are a real threat. Of course, being from the Big Ten, they will then proceed to humiliate themselves once the playoffs start.
Oregon Ducks (Yes +120, No -160): Marcus Mariota may very well have been the top pick in the draft last year - or at least the top quarterback. Having him back then, is a very good thing. They still lost two games last year, though, and neither loss was pretty. Now they have some nice players, but there are two big concerns. First, after 17 years with the same defensive coordinator, they are making a change. That may not be smooth. The change in head coaches last year certainly wasn't, and Chip Kelly had been there for much less time. Second, and more significantly, the Pac-12 is just plain tough - tougher than it has been. USC is restocking their cupboards and putting the Kiffin nightmares well behind them. UCLA could be elite. Stanford is Stanford. Just winning the Pac-12 used to be assumed for Oregon. Now it is a major challenge. The window seems to be closing in Eugene. The question, though, is if it's still open enough to sneak through. I'm a pessimist - mainly because this team has found ways to disappoint with better teams than this one in the recent past.
Oklahoma Sooners (Yes +170, No -250): Someone has to win the Big 12, and my bet is that it is going to be Oklahoma. They are coming off an impressive bowl win against Oklahoma, and QB Trevor Knight was very strong in that effort. Their defense is much improved - driven by coaching as much as anything. Their offense should be strong. If they can keep focused - which has been a massive challenge for this program in recent years - then they should be able to run the table against a very soft schedule. The problem, though, is that the schedule does them no favors, and neither does the conference. Does an undefeated champion of a lousy conference - a team lacking a true signature win - get into the playoff? That depends on how strong the SEC, I guess, but it is risky.
Doc's Sports has a great offer for new clients. You can get $60 worth of picks from any Advisory Board handicapper for any sport he handicaps. All with no obligation and no credit card needed. Claim your free picks today .
Read more articles by Trevor Whenham