Free College Football Pick for Friday: Washington State vs. Stanford
by CarbonSports - 10/7/2014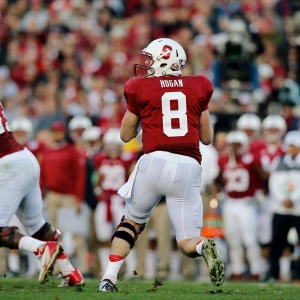 CarbonSports.ag Game Line: Washington State (+17) vs. Stanford (-17)
Friday night we've got a pair of Pac-12 North rivals that are coming off a SU loss as favorites this past week. Stanford lost 17-14 @ Notre Dame on a 4 th and 11 touchdown pass after they only decided to rush three guys (gave ND QB plenty of time) and a coverage mix-up left an Irish receiver wide open in the end zone.
Washington State lost 60-59 in a wild shootout with California and would have won the game (but failed to cover the -3.5 points) if their kicker had made a 19-yard FG as time expired. Washington State QB Connor Halliday broke the NCAA record for passing yards in a game with 734 of them in the loss as this Cougars team can be an offensive juggernaut as they've finally come around on Mike Leach's all-out, uptempo, aggressive attack. This game against Stanford will be a tough test for them though as the Cardinals will be by far the best defense they've faced and the 17 points they are getting here suggests that it won't be anywhere near a record-type performance for the offense this week. However, with Washington State's ability to score points, they are never without a chance to cover a hefty spread like this.
The most impressive thing about Halliday's 734 yard performance is the fact that he did not throw an INT. California's defense isn't good by any means, but when a QB like Halliday is accurate and protecting the ball, that team will find some offensive success.
The 17 points Stanford allowed against Notre Dame was the most they've given up in their five games this year, but chances are that number will increase this week. The losses by both teams are hard to get over, but Stanford will definitely take theirs much harder as they had/have National Championship dreams. With two losses already this year, the chances Stanford even gets into the competition is slim and against a much weaker opponent like the Cougars, I believe they'll be looking past this game a bit.
Washington State is trying to build their program back up to a top tier one in the Pac-12, but until they improve drastically on defense, national championships and even conference championships are nothing more than a long-distance pipe dream. Offensively they are one of the best in the nation with Leach at the helm calling the plays, and they've relished the role of being heavy underdogs the past few years.
Washington State is 7-1 ATS as double-digit underdogs since the start of the 2013 season and are 12-4 ATS in that role since Leach became the head coach back in 2012. That success can be traced back to their scoring prowess as they can always hang around with much better teams thanks to their ability to put up points and I don't think it will be any different against Stanford this week.
Washington State is 6-0 ATS the last six times they've been double-digit underdogs when playing an opponent coming off a SU and ATS loss as favorites like Stanford. It's clear to me that these teams are definitely looking past Washington State in those games as they are trying to recover from a shocking loss and believe they can dominate a Cougars team that struggles on defense. That's precisely the case here and with HC Mike Leach personally being 8-0 ATS as a double-digit dog when his team is coming off a SU and ATS loss, I think you have to take the points here.
The backdoor cover will always be available to Washington State with their offensive talent and while I doubt they win this game outright on the road, they won't lose it by more than two TD's. In fact, Washington State hasn't lost a game all year by more than 11 points (once) with their other defeats coming by 3, 7 and 1.
Take the points with Washington State.
$100 FreeBet at CarbonSports.ag. Use promo code: FREE100 Click Here
(Make a deposit of $25 or more and enter code: FREE100 and get a 50% freebet bonus, no rollover up to $100 ) Click Here