Free College Football Pick for Thursday: Clemson vs. Wake Forest
by CarbonSports - 11/3/2014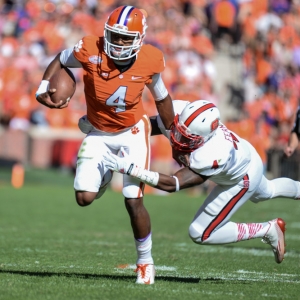 CarbonSports.ag Game Line: Clemson (-22) vs. Wake Forest (+22)
Clemson and Wake Forest had last week off to prepare for this ACC showdown with the Demon Deacons looking to pull off the huge upset. Wake Forest hasn't beaten Clemson since 2008 (12-7) and in the five meetings since then they've been outscored 197-61. Blowout losses for Wake Forest have become the norm in this series with last year's 56-7 win for Clemson being the biggest of them all. But the Tigers aren't as good as they were a season ago and have really struggled to light up the scoreboard in their road contests this season.
Clemson has scored 21, 17, and 17 points in their three road games this year, going 1-2 SU and ATS in the process. Those offensive struggles have magnified themselves lately as the Tigers have scored 23, 17, and 16 points in their last three games, although all three of those were wins. Thanks to a high quality defense, Clemson continues to rack up the wins and with four straight games of allowing 17 or less, I expect that defense to dominate Wake Forest in this game.
However, unless that Clemson D can put up a TD or two themselves, I've got a hard time even considering laying the 22 points here. Yes, the Tigers D should hold Wake to 17 or less points here, but that would mean Clemson would have to score at least 40 (at the high end of that range) to cover this number. Clemson hasn't come near that number on the road and although they've played two great teams (Florida State, Georgia) in two of those three road games, their last outing @ Boston College was a 17-13 win. Boston College isn't great by any means and if you aren't blowout out a team like that, laying double digits on the road is tough.
Now I realize Wake Forest isn't going to get a whole lot of love from bettors here as they've lost four in a row and haven't scored more than 17 points in any of those losses. However, their last game was against the aforementioned Boston College and that was a 23-17 loss for Wake as 13.5-point underdogs. Managing to put up the same number of points as Clemson did in their game with BC is something I don't think we can overlook here, as Wake is a better team at home.
Although both programs had two weeks to prepare for this game, I believe that extra time will benefit Wake more as they are looking to put a major shock into the ACC and have likely come up with an aggressive gameplan. On the other side, Clemson has known that they'd be heavily favored to win this game and the players likely haven't had the same razor-sharp focus during these practice sessions that they would against a much bettor team (ie Florida State). The mindset of just showing up and you'll have a victory is something that can plague teams like Clemson in a spot like this and it's another factor we have to be aware of.
Finally, Clemson is 5-11-2 ATS in their last 18 on the road against a team with a losing record at home, and 1-4 ATS after allowing less than 20 points last time out. That defense has helped lead them to five straight wins, but the Tigers have gone 2-3 ATS during that time and all three of those ATS losses have come in their last three games. Until this offense shows me that they can start scoring at will again like they did earlier in the season, I see no reason to back this Clemson team; especially on the road.
Give me Wake Forest +22.
$100 FreeBet at CarbonSports Use promo code: FREE100 Click Here
(Make a deposit of $25 or more and enter code: FREE100, get 50% freebet bonus, no rollover up to $100) Click Here