Free NCAA Football Pick for Thursday: Arizona vs. Oregon
by CarbonSports - 9/30/2014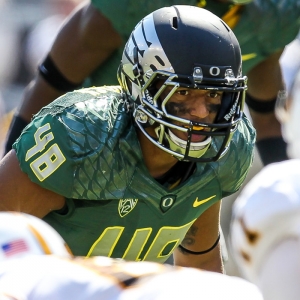 We've got three games this Thursday to start the week of college football action, but it's a Pac-12 showdown between two undefeated ranked rivals that will have everyone's juices flowing that night. The Arizona Wildcats head up to Eugene to play the Oregon Ducks after both teams had last week off and it's the Ducks who will be out for revenge.
CarbonSports.ag Betting Line: Arizona (+22.5) vs. Oregon (-22.5)
Last season the Ducks hopes at playing in the Pac-12 Championship game were killed when they travelled to Arizona in late November. Oregon went into that game as 19-point favorites and got their asses handed to them in a 42-16 beatdown that completely shook up the college football landscape. It was the first outright loss Oregon had against Arizona since 2007 and there is no chance that anyone in that Oregon locker room has forgotten about it. The Ducks come in as heavy favorites again this year, but this time it's at home and I expect to see a much better showing from Oregon.
Many pundits still don't believe in this Ducks team as they question their talent on the O-Line with Heisman candidate QB Marcus Mariota eating quite a few sacks already this season. Oregon struggled to get by Washington State last time out as double-digit favorites and are only 1-3 ATS this season. However, that lone ATS win came in their biggest game to-date (vs. Michigan State) as Oregon rose to the occasion that day. We can't forget about that game for one second here because when the level of competition went up, Oregon put their best foot forward and their next chance to prove that is this game against Arizona.
The Wildcats are 1-3 ATS themselves this year after they squeaked by Cal (49-45) in their last outing. In fact, their last three wins came by 3 points, 7 points and 4 points against some bottom-tier competition. Last year, Arizona jumped all over Oregon early as they got out to a 28-9 lead at the half and Oregon couldn't recover. Arizona was an astounding 69% on 3rd down and capitalized on the three turnovers they got from the Ducks. That alone is a great formula for success, but when Arizona didn't turn the ball over once themselves, that's why we saw the rout.
Things won't be as easy for them on the road this time around as they lost 49-0 in their last trip to Eugene back in 2012 and are 3-7 ATS in their last 10 visits to Oregon. Arizona is also 2-9 ATS as road underdogs when coming off a game where they scored 35+ and when you add in the revenge factor for the Ducks, things look bleak for the Wildcats here.
Chances are this line is going to drop a bit because of all those Oregon non-believers voicing their opinion loudly over the next few days, pointing to the fact that this Arizona team killed them last year. But I wouldn't be so quick to adhere to those thoughts from the mainstream media, as this is Oregon's turn to put a beating on someone. The Ducks stepped up when the last time tough competition rolled into town (Michigan State), and with a 12-4 ATS mark after a bye week and a 5-0 ATS mark after allowing less than 100 yards on the ground, it's the Ducks turn to beat up on the Wildcats this year.
Give me Oregon minus the points.
$100 FreeBet at CarbonSports.ag. Use promo code: FREE100 Click Here
(Make a deposit of $25 or more and enter code: FREE100 and get a 50% freebet bonus, no rollover up to $100) Click Here