Free NFL Betting Picks for Sunday: Pro Football Totals Predictions
by CarbonSports - 9/18/2014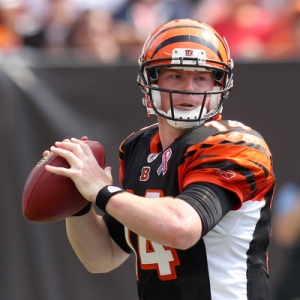 Pick #1: Tennessee/Cincinnati Over 43.5 (-110)
The Bengals defense has gotten a lot of national media attention this week after two stellar performances against Baltimore and Atlanta to open the season. If you take away Steve Smith's 80-yard TD pass in Week 1, opposing QB's are only averaging 4.72 yards per pass attempt against Cincinnati. So what makes me think that after two straight 'unders' for the Bengals that their Week 3 game against the Titans will sail over this number?
First off, the low-side of this total will get plenty of attention from many bettors out there because of Cincinnati's defense and the fact that WR A.J Green is likely out for this contest. Everyone knows how good Green is on the outside, but not many know about the other weapons the Bengals have. Mohammad Sanu is a great threat on the outside and his ability to run reverses and even throw the ball will constantly keep opposing defenses off balance. RB Giovani Bernard is just as versatile and with Dallas running all over Tennessee's defense last week, I expect Bernard and rookie Jeremy Hill to see plenty of touches.
The Bengals are also on a 4-0-1 O/U run when coming off a game where they allowed 15 points or less, and I don't believe their defense plays as well as they have after they've been getting all these pats on the back this week. Titans QB Jake Locker is bound to bounce back after a dismal performance against Dallas and with Tennessee being 9-1-1 O/U after scoring less than 15 points last time out, Tennessee will put their fair share of points up on the board.
The Titans are also 10-2 O/U after rushing for less than 90 yards, 4-0-1 O/U after a double-digit home loss, and 9-2 O/U in their last 11 against a winning team. Cincinnati's defense will be one of the better ones in the league this year, but I wouldn't be buying into all the hype quite yet. That goes double for a game against a weaker conference foe and the Bengals bye week on deck. Last year before the bye, Cincinnati played a 45-41 game against the Redskins and while we shouldn't see that many points here, we could easily see 50+.
Pick #2: Houston/New York Giants Over 42
Houston is another team with a great defense that has impressed many this season as they've allowed a total of 20 points this year in two games. Many expected the Texans defense to get back on track after a brutal 2013 season and if Houston is going to go anywhere this season it will be on the back of their defense. However, this may be their toughest test to date after beating up a gimpy and skidish RGIII in Week 1 and a rookie QB from Oakland last week. Eli Manning and the Giants offense are going through some well publicized struggles right now with a new system they are still trying to grasp but there were some very good signs for the G-Men last week.
Everyone's quick to point to Eli when they talk about the Giants lack of success this year, but Eli's been plagued by plenty of dropped balls from his WR's, miscommunication on routes, and fumbles by his RB's. Eli's not without some blame, but it's only a matter of time before the Giants put it all together and explode for 30+ points and this could be the week.
New York is on a 6-0 O/U run when they've got a Thursday Night Football game on deck and they head to Washington in four days. The Giants have all the weapons there to make life difficult for the Texans in this one and AFC/NFC games were a gold mine for 'over' bettors last season (70%+).
Finally, the Texans are 6-0 O/U after covering the spread last time out and have a 16-5 O/U run going after giving up 250+ passing yards. If a rookie Derek Carr can put up those numbers on this defense there's no reason Eli and company can't do the same. Houston is also 6-0 O/U the last five times they've played a winless opponent, so expect some fireworks in this one.
$100 FreeBet at CarbonSports.ag. Use promo code: FREE100
(Make a deposit of $25 or more and enter code: FREE100 and get a 50% freebet bonus, no rollover up to $100) Click Here
$5 freebet to every new CarbonSports join until the end of Sept.30, 2014. Click Here