MLB Handicapping: Pitchers to Watch in Spring Training
by Trevor Whenham - 3/4/2014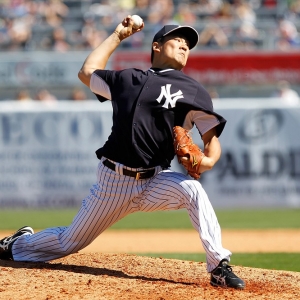 Spring Training can be important for bettors in a lot of ways. One of the biggest is that it provides an opportunity to get a look at pitchers to see what they might be capable of when the regular season starts. It's not perfect because the number of pitches is usually limited and the opposing batters aren't usually as strong as they will be in the season. Still, keeping an eye on pitchers in the spring can provide valuable clues leading into the season.
Here are six pitchers worth watching particularly closely this spring:
Masahiro Tanaka, New York Yankees: Tanaka faces almost impossible hype at this point. He has come over from Japan amidst almost mythical stories of his pitching prowess, and he was the subject of a crazed bidding war. His first Spring Training outing was solid to add fuel to the fire — three strikeouts in two innings, though he did allow two singles. The problem is that we have no real idea what to expect from Tanaka. How will he fare against Major League hitting? Will he adapt well to the cultural differences he is facing and the pressure of facing the madhouse that is New York and its media? Can his reasonably young arm hold up under the workload to come given how much he has already pitched? The betting public is going to be very enthusiastic towards him early on, so we will have to pay close attention to him to get a sense of whether the early value will be on him or against him.
CC Sabathia, New York Yankees: Tanaka isn't the only high-profile Yankees pitcher to
keep an eye on. If you haven't seen Sabathia lately you need to. The typically beefy pitcher looks like he has lost about 200 pounds. It's not that much obviously, but he has certainly lost a lot, and he is coming into this season with a whole different body shape. Despite the size, though, Sabathia managed to stay mostly healthy and effective. Can he be as powerful and effective with less weight behind him? How much will he have to adjust? How long will those adjustments take?
Tim Lincecum, San Francisco Giants: One mild surprise of this baseball offseason was that the Giants resigned Lincecum. It was little surprise that they wanted him back, but the price was a bit of a shock — $35 million over two years. That's a lot of money for a guy coming off a 10-14 season with a 4.37 ERA. Lincecum was better than his numbers last year, though, and I don't mind the deal. Still, the big deal brings big pressure, and it will be very interesting — and important — to watch how he starts this year. He has added a fair bit of muscle in the offseason, so there are body changes to deal with as well.
Jose Fernandez, Miami Marlins: The Marlins are likely to be lousy. They have a solid rotation that is better than the rest of their team, though, and likely Opening Day starter Fernandez is the highlight of that rotation despite being just 21 years old. He's the defending Rookie of the Year, and his numbers were impressive — his ERA of 2.19 was second-best in the NL, and his WHIP of 0.98 was third-best. Fernandez has what it takes to be a superstar, but the list of pitchers who burnt out after a bright start wouldn't be a short one. I want him to be a star, but I won't bet that he will be without first watching him closely this spring.
Brandon Morrow, Toronto Blue Jays: Morrow has the capacity to be a high-quality starter — something he showed in 2012. That season, and again in 2013, he was hit with injuries that have derailed his progress. This year, though, he is healthy, and his team needs him to succeed. Again, Morrow is facing a significant body change — he has added about 20 pounds of muscle since last year. Can he stay healthy? Does the extra muscle make him more effective? The Jays have a chance to overachieve expectations this year, but to do so Morrow is going to have to be good out of the gate.
Yu Darvish, Texas Rangers: Darvish has had two very good years for Texas since arriving from Japan — a big part of the reason that expectations are so high for Tanaka this year. Darvish is still only 27 years old, so he's just entering his prime pitching years. He's dealing with a minor back issue, though he is already healthy enough to have been named Opening Day starter. Expectations are sky high for Darvish. At this point he can either be a reliable pitcher worth betting in good spots despite the ugly prices or an overpriced pitcher who provides plenty of value in betting against him. Spring will give us a clue about which is most likely.
Read more articles by Trevor Whenham