MLB Special Prop Odds and Predictions: Masahiro Tanaka's 2014 Season
by Alan Matthews - 1/23/2014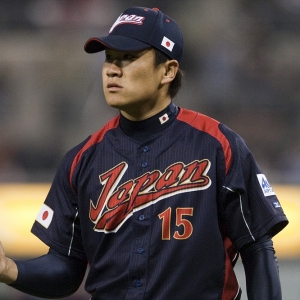 Last week at this time, I wrote about a Bovada prop on where Japanese star pitcher Masahiro Tanaka, considered the best player from that country to come to the USA since Texas ace Yu Darvish, would sign. It was taking this long because of the new posting system that basically had a handful of teams negotiating in total secret with Tanaka's agent, Casey Close. There were new rumors out every day on where Tanaka might sign, and it was frankly amazing how there were no leaks whatsoever out of the Tanaka camp. I could never see this happening with an American player.
The deadline for Tanaka to sign without having to return to Japan for that country's 2014 season was Friday. Tanaka didn't need that long as word came down Wednesday, and to no surprise it was the New York Yankees winning the bid with a stunning seven-year, $155 million deal that includes an opt-out clause after four. It also doesn't include the $20 million that the Yanks must pay Tanaka's former team as a posting fee. The Yankees also kicked in a full no-trade clause, a $35,000 moving allowance, an annual $100,000 housing allowance (which is a cardboard box in Manhattan, but it also can be used in Tampa, the Yanks' spring home), an interpreter of Tanaka's choice who will be paid $85,000 a season, and four first-class airline tickets annually between New York and Japan.
So, yeah, the Yankees really wanted this guy. Frankly, it's a ridiculous contract for someone who has never pitched in the majors. Yes, Tanaka was brilliant in Japan, but that's largely considered comparable to Triple-A. And the Yankees were bitten by the signing of Japanese pitchers Hideki Irabu and Kei Igawa. Most agree that Tanaka isn't Darvish but should be a great No. 2. So essentially $25 million a season for a No. 2 guy? Wow. Tanaka's deal is behind only Clayton Kershaw, Justin Verlander, Felix Hernandez and teammate CC Sabathia in annual value among MLB pitchers all-time. Those guys are all Cy Young winners, and the previous three remain arguably the three top hurlers in MLB. Sabathia's contract is looking worse and worse each year.
I recommended the Yankees at 3/2 on that prop on where he would sign, so hopefully you jumped. The Cubs reportedly came in second, but they didn't approach $150 million and will not give out opt-out clauses -- these are becoming a new trend in MLB as Kershaw also got one -- or no-trade clauses. So really they never had a chance. Teams like the Dodgers and Diamondbacks were sort of half-in the process.
Let's look at the three Bovada props now offered on Tanaka:
*-Will he win a Cy Young in 2014: "yes"-only at +1000.
*-"Over/under" 3.20 ERA: both -115.
*-Over/under 14.5 wins: both -115.
Forget the Cy Young thing. It's going to take Tanaka time to adjust to a different baseball -- yes it is slightly different from Japan's, much like how a college football is different from the NFL's -- and much deeper lineups. Plus, he's pitching in the much-tougher American League, and on top of that, perhaps the best division in baseball, the AL East.
To gauge Tanaka's ERA and wins I will compare the first season's of Darvish's in Texas and Daisuke Matsuzaka's in Boston -- Dice-K was considered a pitching wizard when he left Japan and flamed out quickly after a good start.
Darvish first season (2012): 16-9, 3.90 ERA
Matsuzaka first season (2007): 15-12, 4.40 ERA.
The Rangers were a good team in 2012 with a powerful lineup led by Josh Hamilton. They won 93 games, finishing second to Oakland in the AL West. Texas led baseball in runs, helping Darvish to those 16 wins. The Ballpark in Arlington isn't overly kind to pitchers. The Red Sox were a great team in 2007, going 96-66 and winning the World Series. They were among the MLB runs leaders, and Fenway Park isn't great for pitchers, either. Darvish and Dice-K were both better in their second seasons.
The Yankees are much better offensively than last season in adding outfielders Jacoby Ellsbury and Carlos Beltran as well as catcher Brian McCann. They also will have a full season of DH/OF Alfonso Soriano. However, the Yanks also lost the best offensive second baseman in MLB in Robinson Cano and are hoping Brian Roberts can stay healthy and man that spot. Good luck with that. Of course, Alex Rodriguez is out for 2014, and some sad combo of Eduardo Nunez and Kelly Johnson will play the hot corner. Yikes. Shortstop Derek Jeter and first baseman Mark Teixeira are both returning from serious injuries that cost each most of last season, and there's no quality replacements behind them as it seems unlikely both can play anywhere near 150 games. The bullpen is question mark with the loss of the greatest closer of all time in Mariano Rivera, so that should mean more blown saves.
Bovada also moved the Yankees' World Series odds from 14/1 to 10/1 but I see no shot of that unless they make another fairly big move, which seems unlikely. I think they finish third in the AL East and struggle to get a wild-card spot while competing with Tampa Bay/Boston (whichever doesn't win the East) and Texas/Oakland/LA Angels (whichever two don't win the West). Tanaka will have some growing pains, and I project something along the lines of 12-10 with a 4.50 ERA. So take the under wins and over ERA, the latter of which I believe is a 100 percent lock.
Read more articles by Alan Matthews