NBA Draft Props Odds with Betting Predictions
by Trevor Whenham - 6/24/2014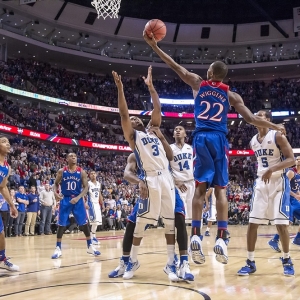 It seems to have taken forever to get here, but we are now just hours away from the NBA Draft. This is a wide-open draft in many ways because it is so deep and intriguing up top. There may not be many sure-fire superstars, but there is a stunning amount of potential. This could be an all-time great draft or a totally forgettable one depending on how things turn out. As we get ready for the draft, here are five players who are the most relevant for bettors to pay attention to:
Jabari Parker (+110 to be the first overall pick): Parker is, by most accounts, the most NBA-ready player in the draft. He could step onto a court right now and not look out of place. While he is very talented, he provides a bit of a conundrum for the Cavaliers (assuming they keep their first pick). Parker will be better to start his career than Andrew Wiggins, but Wiggins has more athleticism and more potential upside. Parker is lower risk, but the Cavs, which haven't exactly dominated the draft lately, need to decide how to balance risk and potential. To add an extra wrinkle to it, Parker seems determined to play in Milwaukee, who has the No. 2 pick, instead of Cleveland - a preference he reportedly emphasized by tanking his workout for the Cavs. Why anyone would want to play in Milwaukee right now is a mystery, but it certainly adds interest to the case. Wherever Parker lands will be of interest to bettors because he should be able to handle big minutes while making a real contribution right out of the gate. His hype, while significant, has never been stratospheric, so there is also a good chance that the public won't bet all of the value out of him and his new team early on.
Andrew Wiggins (-150 to go first overall): Wiggins is an interesting case. He has been viewed as the presumptive top pick for years, but the endless hype was dampened somewhat by a season at Kansas that didn't quite meet the stratospheric expectations - though his numbers were still more than impressive. Now there is a debate. While his athleticism and skills are unquestioned, there is a question in some parts whether he has the fire inside to make the most of them. He can disappear for long stretches of time, and he didn't seem determined to lift his team onto his shoulders during the NCAA Tournament. I actually don't feel like he is going to end up either in Cleveland or Milwaukee because there are enough teams interested in him that a deal could be had that makes sense - especially if Cleveland is looking to make room for a certain new free agent or two. The key for betting on Wiggins is going to be patience - he will take a while to become close to what he is capable of being, and getting too excited too soon will lead to some of the same disappointment that dampened his time at Kansas.
Joel Embiid (draft position "over/under" is 5, with the under heavily favored): Ten days ago Embiid appeared to be all but a lock to be the first overall pick. But then he broke his foot. That has almost certainly knocked him out of Top 2 consideration, but now it remains to be seen who will be willing to take the risk. His athleticism is incredible, and big men of his potential don't come along often. Combine the back injury that hampered the end of his season with this foot injury, though, and teams can't help but have horrifying flashbacks to Greg Oden. Teams have to judge whether the risk is worth more in the long run than the less-risky choice of choosing someone else - though that player will have less upside. He could really wind up anywhere in the top ten - especially if as many trades happen as potentially could. From a betting perspective Embiid will mean little early on, since we are very unlikely to see him before Christmas at the earliest, and teams could use the Nerlens Noel model and give him the whole year off before bringing him back fresh next year.
Doug McDermott (draft position over/under is 9.5): McDermott is a very hard player to judge from a betting perspective. As a college player he was impossible not to like. He can shoot like crazy, he stuck around for his senior year, and he defined Creighton basketball like few players have for their teams. He's not hugely athletic, though, so it remains to be seen how well his game can translate to the NBA. His upside is huge, but he could also fade away to nothing. Either way, I expect it will take a while for him to come into his own, so bettors need to give it time before passing judgment on him and his impact on his new team. One thing you can be certain of, though, is that no rookie will be hungrier to win.
Nik Stauskas (draft position over/under is 10.5): As both a Michigan fan and a Canadian I am hopelessly biased when it comes to this discussion. That being said, I am very optimistic about Stauskas as a pro - and it won't take him long to make an impact. If you had said that he was even going to be drafted halfway through his freshman year you would have drawn odd looks. To start his sophomore year, though, he made an incredible leap forward. Suddenly a tentative, often one-dimensional shooter had become a fearless beast - an all-round scoring machine. He can shoot like crazy, but he can do so much more as well. Team him up with a good point guard and Stauskas is going to grab headlines early on.
Doc's Sports has a great offer for new clients. You can get $60 worth of picks from any Advisory Board handicapper for any sport he handicaps. All with no obligation and no credit card needed. Claim your free picks today .
Read more articles by Trevor Whenham