NBA Handicapping: Betting on the Cleveland Cavaliers with LeBron James
by Trevor Whenham - 7/11/2014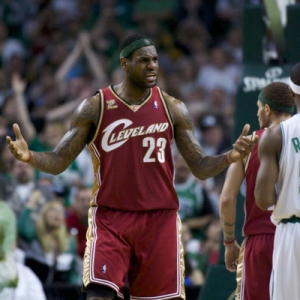 In what is unquestionably the biggest NBA story since the last time he made a decision, LeBron James' choice to return to Cleveland for, presumably, the rest of his career, has rocked the league this morning. When he first opted out of his contract in Miami, anything other than a return to South Beach seemed like a pipe dream. Now here we are — suddenly the Cavaliers are the most popular team in the league, and Miami is a sad afterthought. Needless to say, the prospect of betting on the Cavaliers is much different now than it was just a few hours ago. When trying to figure out how to bet on this team now, and early in the coming season, here are five factors to consider:
The public euphoria: Needless to say, the public is a bit excited by this move. As soon as the decision was made, the Cavaliers fell to 4/1 in NBA Championship futures betting. They had been over 30/1 in recent days, and now they are the favorites. This is just the first indication of the complete lack of objectivity that the public will have around this. The coverage will be intense right up until the season starts, and it will only amplify as the games actually begin. His first game in Cleveland will be the biggest spectacle in the league in a long time. The public will throw money at the team regardless of who they play, and that means that in the early days value will be impossible to find on Cleveland — and it will only get worse if they start the season with a few wins. Suddenly Cleveland is the most public team in the league, and that means bettors need to be on guard whenever they are looking at them.
Roster: As we have learned time and time again in the NBA, one player is not enough to turn a team into a winner. The Heat showed that even three great ones can't do it if the supporting cast isn't there. There is still a lot of uncertainty around what the rest of this roster is going to look like, and we can't truly evaluate the team until that happens — regardless of how excited we might be. There are going to be some veteran pieces added. There is an excess of players in a position or two, and salary flexibility will still be a focus now that they have two highly-paid players (for now). The roster the team has now is not the one that they will start the season with.
Love?: The team is making a serious push, if you believe the reports, to acquire Kevin Love. From a perspective of fit, there isn't much that makes more sense to me. Love and James don't have a deep relationship by all reports, but they are built to play beside each other, and they would be ferocious together. Adding Love to this team would shift them from a team on the rise to the heavy Eastern favorites in no time flat. There are considerations, of course. First, the team is going to have to give up valuable assets to get Love — likely more than one of their recent high draft choices — so the impact of those losses needs to be considered. Second, the team will be in a salary pinch similar to what the Heat faced again thanks to three huge contracts, so we would have to pay particular attention to how the rest of the roster is built and whether it is good enough to compete against the Spurs and the rest of the West. Finally, because Love and James have not chosen this in the same way that James, Bosh and Wade did we can't be as certain about the chemistry. On paper James and Love are a pairing for the ages, but games aren't played on paper.
Youth: This team as it stands now is very young. Irving almost stands as a veteran at this point compared to the youngsters — Thompson, Bennett, Waiters, Wiggins and so on. There is an immense amount of talent there, but without an injection of veteran talent there is going to need to be a lot of patience around this team. James knows it — or at least he said he did in his letter. It will be just as important for bettors to remember the need for patience when dealing with the team. We can't have expectations that are too high early on, nor can we let any struggles decrease our expectations too much. With this core in place this team is absolutely going to be of championship caliber — it may just take a little while.
The Bulls: For the last four years it was the Heat and then everyone else in the East. At some point, especially if they do land Love, it will be the Cavs and then everyone else is the conference — or so it seems, anyway. The team that could potentially change that, though, is the Bulls. They have the strong core — especially if Rose can stay healthy. If they can land Melo — still a possibility, though not as strong of one as it once seemed — then they would be a very strong team, and they would be strong competition for Cleveland. It only makes sense, then, that as bettors we need to pay close attention to Chicago to handicap Cleveland accurately. While Anthony hasn't made his decision, you have to think that if he is serious about being a champion then this has to make Chicago much more attractive. He has to know that the chances of a team being built around him in New York that can contend for a title is very slim — at least while he is in his prime. If he does go to the Bulls then the East — and really the whole league — just got much more interesting to watch.
Doc's Sports has a great offer for new clients. You can get $60 worth of picks from any Advisory Board handicapper for any sport he handicaps. All with no obligation and no credit card needed. Claim your free picks today .
Read more articles by Trevor Whenham