NBA Handicapping: the Horrible Philadelphia 76ers
by Trevor Whenham - 3/3/2014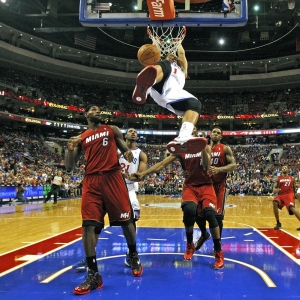 The Philadelphia 76ers are really, really bad at basketball. That's obvious, but you can't really overstate it at this point. Sunday night was a case in point. They lost by 11 to the Magic — a really lousy team in their own right. The saddest part, though, is that they still almost covered — Orlando was favored by 10.5. It was the second time in three games they had fallen to the Magic by 11. Before that they lost by 20 to the Bucks and by 29 to Cleveland. The Sixers are so bad that they can't even contend with the bottom of the barrel in the lousy Eastern Conference.
When a team is as bad as the Sixers are right now, bettors face a big question — and a potential opportunity. If the team is losing but still managing to play tough then it could easily exceed public expectations and could provide some real value. If they are just plain terrible, though, then the value is in betting against them often and enthusiastically. Let's take a look at which camp the Sixers fit into (Hint: It's not the first one):
Carter-Williams feeling the burden he faces: Rookie point guard Michael Carter-Williams was one of the pleasant surprises of the early season. He was a star from the starting moments. While he is still playing reasonably well, the burden of his situation is weighing down the former Syracuse star a bit. He has not been nearly as sharp lately, and he realizes more every day that he can't do everything himself — but there is no one else around to do it for him. He hasn't smashed into a wall yet, but it is certainly in view. This is in no way a criticism of Carter-Williams — aside from some shooting issues he has been great given the circumstances. The reality is, though, that this team would need their young point guard to be absolutely exceptional in order for them to win, and he hasn't quite been that good.
Turner gone for no immediate return: Evan Turner was my least favorite kind of player — a guy who is fairly high-usage who was fairly inefficient. He was no Rudy Gay on that front, but he wasn't a model of efficiency by any means. He scored some points, though, and was producing a lot of the offense for this team. With him gone to Indiana, and with no currently useful pieces coming back in return (thanks to this deal and others the team essentially owns the second round of the draft, but that won't help now and might not help ever), the team has a major offensive hole. Unless you are the Pacers, you can't win in this league if you can't score, and these Sixers certainly aren't the Pacers.
Downgrade at center: Spencer Hawes wasn't a star, but he was a solid player with some nice upside. As part of management's plan to burn this team to the foundations and start over, Hawes was sent packing as well. Immediate returns for him were also minimal. Now at center they have a hideous combination of Henry Sims and Byron Mullens. Just writing about that makes me want to cry for fans of this team. That is about as bad as you can get up the middle. Sims is the definition of a marginal NBAer. Mullens shoots way worse than Hawes did, and he is seemingly allergic to defensive play. Strong play in the middle can hide a lot of faults. Here, again, the many faults of this team will be exposed — at least until next year when Nerlens Noel is healthy and in the lineup.
This team wants to lose: The smart move here is obviously to tank. It makes all the sense in the world. They have no real talent. Carter-Williams is young and improving. Noel is waiting for next year. The draft is strong this year, so the best move is to get as many ping pong balls as possible to maximize the chances of getting the perfect piece to compliment the two pillars the future of this team rests on. So, tanking is the smart thing, and they are doing a masterful job of it. They have dropped 14 straight and 24 of the last 27.
Schedule won't help: As if things aren't bad enough already. The team has to play nine of their final 13 games on the road. They weren't likely to finish strong no matter what happened, but this all but guarantees a dismal finish to a dismal season.
Coach over his head: Brett Brown seems like a nice guy, and he has had some success coaching in Australia and as a long-time assistant in San Antonio. The first-year NBA head coach is in a hopeless spot here, though. John Wooden himself couldn't do much with this squad, and taking this kind of job is often career suicide. That being said, Brown hasn't always elevated himself above the situation, and he clearly hasn't helped the team play beyond their limitations. It's arguable how much impact a great coach could have here, but at this point Brown lends very little to his team form a betting perspective.
ATS: Like we need it, here is the final proof that betting on this team right now is only for people who really hate money. In their current 14-game slide the team is just 3-11 ATS. The public knows how lousy this team is, and oddsmakers know they know, but they can't set a line big enough to be safe for Philadelphia. This is a truly awful team.
Read more articles by Trevor Whenham