NBA Handicapping: How to Bet the Lakers
by Trevor Whenham - 1/14/2014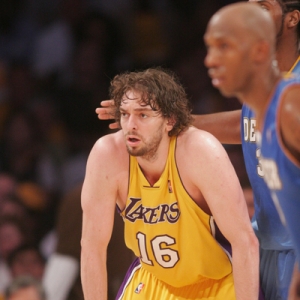 The Lakers. Just saying their name, depending on your long-term view of the team, either makes you break down in tears or cackle with boundless glee. They are a total circus. A mess. A disaster. A farce. You could call it a tragedy and feel sorry for them if their fate wasn't entirely of their own doing. The fat cats have exploded. So, is this dip into patheticness just something temporary that they can shake off in the coming weeks? Or is it going to endure through the rest of the season and beyond? And what does that mean for bettors?
Here are six factors to consider when handicapping the fate of this team this year:
Injuries: Health has obviously been a massive factor working against this team this year — though it is doubtful that even Kobe and Nash at full strength could make this team watchable at this point. It's not just the big two that are hurting, either. Steve Blake, Jordan Farmar and now Xavier Henry are on the sidelines, and now an MRI has shown that Pau Gasol has a strained tendon in his foot and is questionable. Things are so bleak right now that on Monday in practice they had just eight healthy players available, and they had to get assistant coach Mark Madsen and video coordinator J.J. Outlaw to dress just so they could play some 5-on-5. This many key injuries would hurt any team in a big way. When it is a team built this poorly with so little depth, it is all but impossible to overcome.
Incentive to lose soon will outpace incentive to win: The team is falling like a rock in the standings. The only team worse in the Western Conference is Utah, and the way that team has played since Trey Burke got healthy and joined them it is only a matter of time before they pass the Lakers. This team has an epic shortage of talent, and it possesses nothing besides location and reputation to tempt big free agents right now. They need a young superstar to energize the team, and the best way to get that is through the draft. If the Lakers aren't already in tanking territory, they are going to be soon. When teams set out to tank they don't necessarily try to lose. They just aren't always put in the best position to win. For a team as fragile and outmatched as this one, the clear message that management isn't interested in winning every game going forward could be enough to send them even further off the cliff they are teetering on the edge of.
Schedule: This is a team that has just one win in their last 11 games, so the schedule obviously hasn't been working in their favor for a while now. Things are about to get worse. They play Cleveland at home on Tuesday night — a game that should be winnable, though who knows given the injury situation. After that, though, they embark on a seven-game road trip — with six of those games being played in Chicago or further east. Orlando is the only reasonably easy opponent on the schedule, and that is the sixth game, so it will be tough for the Lakers. As if that's not bad enough, they return from that brutal stretch to host the Pacers. If this team winds up with more than two wins in their next nine games it would count as a miracle. A record of 2-7 would almost certainly drop them to the bottom of the West, and it would make it even harder to salvage anything from the rest of the season.
D'Antoni's days are numbered: Coach Mike D'Antoni's departure isn't really being rumored imminently, but it's obviously just a matter of time. His hiring was a clear mistake, and he is not the guy to turn things around. He could last the season, or he could be gone before the end of January. The hotter his seat gets the more of a distraction it will be for the team, and there is pretty much no way they could get a coach to step in who could fix this team in a hurry. Coaching is another strike against this team right now.
Mindset isn't going to improve in a hurry: There is literally nothing positive around this team right now. Not a thing. Players are injured. The coaching is lousy. They just lost by 36 to the Clippers. Fans are pissed. The lineup is a joke, and few outside of Kobe are likely to be a big part of the rebuild going forward. The team is a total circus, and there is no reason to believe it is going to get dramatically better for the rest of the season. Even if Kobe does get healthy enough to return, it's unlikely he can stay at full health the rest of the way,. And even if he did, what can he do to save this situation single-handedly? This is a team in trouble, and that mindset is infecting the squad. That's not going to change in any hurry.
Public very negative: Not surprisingly, the public has reacted very negatively to this situation. When a very public team like this goes so badly off the rails, the public reaction is extreme. If this team were to start to play some quietly-decent basketball, then — enough to show some improvement but not enough to make big headlines — then they could deliver some really nice value for bettors. After a nice ATS start to the season, though, they have covered just one spread in their last seven games, and they have fallen short in their last three despite being given double-digit points each time. In other words, that potential for value remains a long way down the road.
Read more articles by Trevor Whenham