NBA Handicapping: Impact of Kevin Durant Injury on Oklahoma City
by Trevor Whenham - 10/17/2014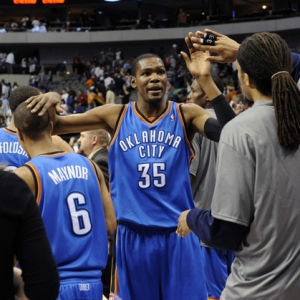 Kevin Durant dropped a bomb on his team last weekend when he complained of an aching foot that turned out to be broken. One of the two or three best and most important players in the league was going to be out for a long period of time, and the media was obviously sent into a tizzy. I have resisted the urge to look at what it all means for bettors, though, until we knew how Durant and the team were going to deal with it. Thankfully, they made what I unquestionably see as the right decision - he has undergone surgery to repair the break. The procedure is a common one in the NBA, and the prognosis is strong - much stronger than if he had opted for rehab instead.
So, now that we know what we are dealing with, what does it mean for bettors? What opportunities can it create, and what challenges does it present? Here are five factors to consider:
The hole in the roster: This whole situation just drips with irony. Durant pulled out of the national team this summer to rest up for the season, and now he's the member of that squad who won't be available to start the season. Karma wins again. That team didn't really miss him because of their depth and the level of competition they faced. The impact on the Thunder could be more profound. Durant is coming off an MVP season in which he scored 32 points per game. No player played more minutes than Durant did last year, though his 38.5 minute per game average was actually the lowest of his career. Simply put, it is very tough to anticipate how the Thunder are going to deal with his absence because they have never had to. His time on the bench during games is minimal, and he has never missed real time before. Ten teams in the league allowed fewer points per game last season than the Thunder did, but only two had a bigger scoring differential, so the effects of the absence of Durant and his 32 points per game - something that just can't be replaced - is going to be significant. Not insurmountable necessarily, but significant.
Depth chart: This is where things get kind of scary. The Thunder stood pat with what they had for the most part - they added a couple of nice pieces through the draft, though Mitch McGary is also out with a broken foot, and Josh Huestis, who is a small forward so could be useful now, has been stashed in the D-League for the year - and added Anthony Morrow, who is on his fifth team since 2012, as their biggest free agent addition. Right now the only small forward on the roster other than Durant is Lance Thomas, who averaged just 1.2 points per game for New Orleans last year. He was added to the team for one big reason - he is cheap, and this team has real cap woes. The team is going to have to do some scrambling and creative re-organizing, and whatever they go with will not be ideal. They also can't afford to make a dramatic change - even if a good option was available.
Prior experience: The team has not had to deal with the absence of Durant, but they have had to overcome adversity caused by the loss of key players too often in recent years. In the 2012-13 playoffs point guard Russell Westbrook was injured in the second game of the first round and missed the rest of the playoffs. Last year, Serge Ibaka was also injured in the playoffs, and missed time in key games against the Clippers and Spurs. Of course, the team lost in the second round without Westbrook and fell to the Spurs when Ibaka was banged up, so while they have dealt with adversity, they haven't exactly excelled in the face of it.
It's only October: This is ultimately the biggest thing to remember. Durant will miss at least the first month of the season and perhaps a bit more than that. It is the least important month of the season, though. The Thunder could likely be a playoff team even without Durant, so they aren't going to fall completely out of contention in his absence. When he returns, the largest part of the regular season will be remaining, and there will be plenty of time to climb back up the standings and round into form for the postseason. The team might not wind up with the seeding they otherwise could have because of the injury, but playoff success means getting through teams like San Antonio, Houston and the Clippers no matter what, so seeding isn't hugely relevant. If something like this had to happen then it happened at pretty much the perfect time - and Durant was smart enough to catch it early before it became a bigger issue, and he dealt with it correctly the first time.
Public reaction: The betting public loves nothing more than to overreact, and this is a prime situation to overreact. They will hear that the MVP will be lost, and they will assume that the apocalypse will follow. While the situation is going to be significant - and the Thunder have been knocked for their lack of depth in recent years - there is a good chance that it won't be nearly as significant as the public will imagine it to be. That means that bettors who can be rational and objective have a chance to find some real value out of the gate on this team if the public deals with their sense of panic by flooding the Thunder's opponents with bets.
Get your $60 worth of member's picks absolutely free - no obligation, no sales people - you don't even have to enter credit card information. You can use this $60 credit any way you please on any of our top NBA handicappers. Get free picks now. Also, for a limited time only get three top NBA handicappers for the price of one! Click Here.
Read more articles by Trevor Whenham