NBA Handicapping: Betting and Dallas Mavericks Futures Odds Update after Rondo Trade
by Trevor Whenham - 12/19/2014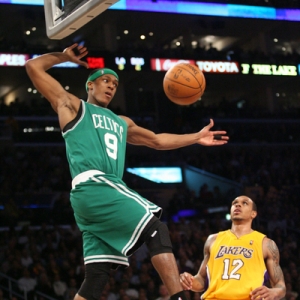 The NBA got a little bit more interesting on Thursday with news that Rajon Rondo, who seems to have been on the trading block for the last two years or more, has been dealt from Boston To Dallas in a deal that included five players and draft picks, including a protected first rounder from Dallas. Rondo has been an all-star four times, and whenever an all-star gets dealt we have to pay close attention as bettors - especially when he moves from a team that is clearly rebuilding to one that is hungry for another championship before their window slams shut.
So, what does this deal mean for bettors? Here are seven factors to consider when asking that question:
Boston did what they had to do: I have seen people being critical that the Celtics didn't get an all-star back, that they should have waited until the trade deadline to maximize value, or that they should have done everything they could to re-sign Rondo. I'm not buying any of that. The value for Rondo wasn't what it once was, and it wasn't likely to increase. They got some nice assets to continue their rebuilding and a very nice player in Brandan Wright. It was take the deal now or take less - and quite possibly nothing - down the road. This deal doesn't make them better in the short term, but they aren't any good anyway and clearly aren't - and can't be - focused on the short term.
Dallas gets a massive upgrade at the point: I have some problems with Rondo, as we will discuss later. Regardless of his shortcomings, though, the fact is undeniable that Dallas got better at the point with this move. Much better. Jameer Nelson started every game he played for Dallas this year, but he averaged less than 25 minutes a game. Rondo is averaging 32 minutes this year, and he has shown in the past that he can play much more. This helps Dallas. The question, though, is just how much.
Bench depth lost: Dallas isn't young up front. Good, but not young. That means that depth is important, and in this deal the Mavericks gave up about 29 minutes per game of valuable and reliable front-court depth. Jae Crowder is unspectacular but useful. Wright is excellent off the bench and could really blossom in a bigger role in Boston. Dallas needs to find a solution to these absences or they will risk overuse of their big guys up front heading into the later days of the season. They aren't done yet despite making this deal, in other words.
Rondo is an offensive liability: I'll say up front that I am not a big Rondo guy - or at least not in the form that he is now. He is an offensive disaster. He can make plays but can't finish them. That concerns me when it comes to fitting in to Dallas' offense. The Mavs space the floor as well as any team, but that is less effective with a shooter as underwhelming as Rondo out there. This isn't impossible to overcome, and his passing will certainly help, but there is going to be an adjustment period, and it's far from certain that things will mesh to maximize this deal. Chemistry was a strong suit of this team, and that chemistry has been messed with here. On top of that, I don't buy that Rondo is the elite defender that he is being portrayed as - not anymore. Before his injury he was on a different path than he is now. Very good? Yes. Game changing? Maybe not.
Dallas had to do something: The west is absolutely ridiculous right now, so home-court advantage in the first round is going to be crucial for survival. Without doing something to address their biggest issue - the point - the Mavs were going to be hard-pressed to get that advantage. They could very well still be, but this is the first step - and it can't be the only step - towards improving their chances. They had no choice, and given that the price they paid is acceptable - as long as they can sign Rondo long term.
Changing role: For the last couple of years Rondo has been the best player on his team - the alpha dog. Now he is probably the fourth-best - or at least fourth on the hierarchy of his new team. That kind of shift doesn't have to be a problem, but for some players it can be a blow to their ego - and that can have negative impacts. How he responds to his new reality - and to the strong leadership in place in Dallas - will be very important to watch in the coming weeks.
Public will overrate the impact: Rondo is unquestionably an improvement, but he's not the star he was - or was on path to be. The public is going to give the Mavericks too much credit here. He's not a Top 10 point guard in the league at this point. In fact, you could make the argument that he is no better than seventh or eighth in the West. Curry, Westbrook, Paul and Parker are unquestionably better. I'd take Conley and Lillard over Rondo, too. That leaves Rondo to fight it out with Lawson and Holiday in the next tier. He's good, but he's far from the player that will decide the outcome of the west. The odds movement tells just what the public is thinking. At Sportsbook.ag the Dallas odds of winning the title dropped from 16/1 to 8/1 when the deal went down. It rebounded to 12/1, but that move is still significant. I didn't see any value at the initial price, and I really don't see any now.
Read more articles by Trevor Whenham