NBA Playoffs Betting: Taking a Closer Look at the Over and Under Stats
by George Monroy - 5/16/2014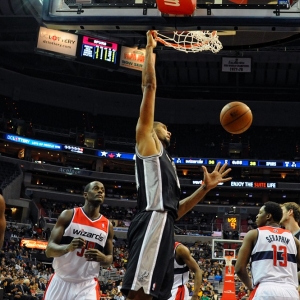 The Conference Finals of the NBA playoffs are finally set after both the Indiana Pacers and Oklahoma City Thunder closed out their respective series with impressive road victories during Game 6. Oklahoma City needed a come-from-behind effort where the team trailed by as much as 16 points, while Indiana jumped out to an early lead and never let it go.
Both squads ended up going "under" their posted totals for the second straight game. And while there may be only four teams left, there is a possibility of bettors still having 21 games left to wager on during the season. Spreads can be tricky bets at times, and they may not provide the vale that you are looking for, so let's take a closer look at the totals record for the teams still left in the playoffs. All odds and lines come from Sportsbook.ag.
Miami Heat
Totals record : 7-2
Surprisingly, Miami has gone "over" in seven of their first nine playoff games. Many of the team's opening totals ended up in the 186 range, while Miami's games during the first two rounds have averaged 192 points per contest. The oddsmakers failure to adjust the totals number has been the biggest reason for the team going over. Miami's totals averaged 179 points during its regular-season matchups against the Pacers, with two games going over and two going under.
Indiana Pacers
Totals record : 4-9
Indiana was a consistent under team during the first two rounds and stayed below their posted total by an average of 3.2 points per game. Pacers' games averaged 175 points during their series against Washington and 181 during the postseason so far. The squad has gone under in nine of 12 games and has been faced with totals in the 184-point range. Game 1 of Indiana's Eastern Conference Finals matchup against the Heat has already been set with total of 182 points.
San Antonio Spurs
Totals record : 8-4
San Antonio was the sixth-highest scoring team in the NBA during the regular season with an average of 105.4 points per game. The team has continued its high-scoring ways during the postseason by averaging 204 per matchup (both teams) during the first two rounds. San Antonio has gone over its posted totals by an average of 1.2 points per game and has seen totals lines in the 203 range. The team went under during its last two games against the Trail Blazers, but prior to that had gone over in six straight matchups.
Oklahoma City Thunder
Totals record : 7-6
Oklahoma City and San Antonio averaged 203 points during their four regular-season matchups and will be facing a Game 1 total of 208.5 points. The Thunder have gone under in three straight games, but they had been facing huge totals in the 210 to 214 range during their matchup with the Clippers. The team ended the series with a 2-4 totals record after going 5-1 during its first-round series against Memphis. Oklahoma City has averaged 205 points during the postseason so far.

Doc's Sports has a great offer for new clients. You can get $60 worth of picks from any Advisory Board handicapper for any sport he handicaps. All with no obligation and no credit card needed. Claim your free picks today .
Read more articles by George Monroy