New York Yankees Odds to Win 2014 World Series with Picks and Predictions
by Alan Matthews - 3/28/2014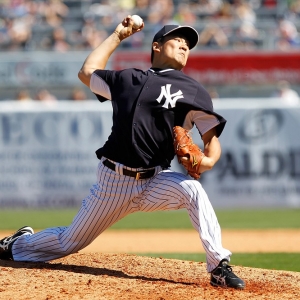 I don't know about you, but I'm tired of everything in baseball's regular season usually being overshadowed by all things Red Sox-Yankees. Or, for New Yorkers, Yankees-Red Sox. The TV networks, especially ESPN, are definitely to blame with their East Coast -- i.e. bigger ratings -- bias. That said, baseball is more interesting when both clubs try to outdo one another and are on nearly-equal footing.
Last offseason, the Red Sox were coming off a last-place finish and added a bunch of new faces, and it led them to the World Series title (which only pissed off the Yankees, more on that in a minute). New York really never had a chance last year. Derek Jeter, Mark Teixeira, Alex Rodriguez and Curtis Granderson barely played because of injury (or in A-Rod's case suspension as well). The lineup often was a joke most nights as New York had to use past-their-prime guys like Vernon Wells and Travis Hafner as well as handful of others who shouldn't have been in the majors. Frankly, it might have been Joe Girardi's best managerial job ever in coaxing 85 wins out of that ragtag group.
Free $60 in Member MLB Picks No Obligation Click Here
New York was supposed to be spendthrift this offseason for luxury tax reasons, but that was obviously a bunch of bull. The Bombers had to do something, after all. The Red Sox were leaving them in the dust -- that's unacceptable! -- and TV ratings and home attendance plummeted in 2013. So New York, aided in part by saving $23 million or so with Rodriguez suspended the entire 2014 season, went out and spent about half a billion on the likes of Jacoby Ellsbury, Carlos Beltran, Brian McCann and Masahiro Tanaka. And the team actually did something smart by not approaching the $240 million the Mariners gave Robinson Cano, a contact that will haunt that franchise for probably the final six years of the 10.
Is New York better this season? It should be, but it might not show in the record. The AL East looks like a monster. Boston and Tampa Bay remain very strong, the Orioles appear to have improved with the additions of Ubaldo Jimenez and Nelson Cruz, and the Blue Jays are likely going to be way better than last year when everything went wrong. So reaching 85 wins again for the Yanks will be a challenge, much less reaching the postseason. New York hasn't missed the playoffs in consecutive seasons since 1993-94 (it likely would have in '94 if not for the strike).
New York Yankees 2014 Projected Lineup
Did New York overpay Ellsbury by giving up $153 million? No doubt. But what choice did it have? Plus, it had the double whammy of hurting Boston. Still, if the Sox didn't really make a big effort to bring their own guy back, shouldn't that send off warning bells? Ellsbury can be dynamic when healthy. However, he hasn't been in the past two even-numbered years and is already battling a calf injury. Ellsbury will be there Opening Day on Tuesday in Houston, but his game is built on speed. That's why it's always risky to give big bucks to those types of guys. Power hitters can deal with calf/hamstring injuries.
Beltran remains very productive and has proven durable the past few years. There's no reason he can't approach last season's numbers (.296, 24 HRs, 84 RBIs) with St. Louis. Plus, he can now be hidden at DH maybe once a week to keep Beltran on the field. He will be 37 in late April. Most everyone liked the McCann signing, and he's one of the top offensive catchers in the majors. He could set a career-high in homers with that short right-field porch at Yankee Stadium.
Other than those three, however, I don't see much. Teixeira's wrist problems might never be gone, and he admitted this week his swing is still hampered. He likely will never be a 30-homer, 100 RBI guy again. Jeter is trying to do what only a couple guys have: play every day at shortstop at age 40. I'm sure Jeter will be solid in what will be his final season, but to expect another 216-hit season like 2012 is a dream. Second baseman Brian Roberts can't stay healthy. Third baseman Kelly Johnson should be a utility infielder. Brett Gardner is a decent player in the outfield and plays very good defense. The Yanks do get a full season of Alfonso Soriano, and he was pretty good after being acquired from the Cubs. He's also incredibly streaky, good and bad.
New York Yankees 2014 Projected Rotation & Closer
There are questions here as well. Sabathia lost a lot of weight this offseason after going just 14-13 with a 4.78 ERA in 2013 when he was really one of the AL's worst pitchers. He has been trending downward for a few seasons and will be 34 in July. Sabathia has thrown a ton of innings in his career, and that left elbow could give out any time. No. 2 Hiroki Kuroda won 11 games with a 3.31 ERA last year but wore down. He was 3-7 with a 4.25 ERA after the All-Star Break. He's 39. Tanaka looked very good this spring, but it's still way too early to tell what he will be. Ivan Nova is a solid No. 4, while Michael Pineda has won the No. 5 job. Remember when he was one of the top young pitching prospects in baseball during the first half of the 2011 season with Seattle? He hasn't been healthy since but has looked great this spring. The upside is there, but so is the injury possibility.
David Robertson was a terrific set-up man for the retired Mariano Rivera, but who knows how he will handle closing full time. There's nothing special about the rest of the bullpen.
2014 New York Yankees Odds to Win the World Series and Futures Odds
Odds from Bovada : New York is +240 to win the AL East, 13/2 to win the pennant and 14/1 to win the World Series. Its wins total is set at 86. Ellsbury is 16/1 to win AL MVP and has totals of .300 average, 14.5 homers and 40.5 steals. Beltran is 50/1 to win MVP and has totals of 25.5 homers and 85.5 RBIs. McCann's HR total is 25.5. Soriano's is 29.5 with 90.5 RBIs. Jeter has an "over/under" of a .280 average and is a 100/1 long shot for AL MVP. Sabathia is 20/1 to win the Cy Young and has an over/under of 14.5 wins. So does Tanaka, and he's 15/1 to win the Cy Young.
2014 New York Yankees World Series Picks and Season Predictions
Could the Yankees win the World Series? Absolutely, if everything breaks right. However, I think that's the difference between them and top contenders like the Dodgers, Cardinals, Nationals, Red Sox or Tigers. Those clubs can deal with a couple of issues and still win it all. I don't see any wiggle room for New York with so many question marks.
This looks like a fourth-place AL East team to me, and I'd lean under the wins total, expecting the Yanks to win around 83-84. No individual honors for Yankee players. I lean Ellsbury under the average and homers but over steals. Beltran under both. McCann over homers. Soriano under both. Jeter over average but not by much. Both Sabathia and Tanaka under the wins but they should each get to 12.
Doc's Sports is offering $60 worth of member MLB picks absolutely free - no obligation, no sales people, no credit card information. You can use this $60 credit any way you please on any of our top MLB handicappers. Get your free baseball picks now. Also, for a limited time get three baseball handicappers for the price of one - click here for details.
Read more articles by Alan Matthews