2014 Odds to Win the ACC Conference for College Football with Picks and Predictions
by Trevor Whenham - 7/23/2014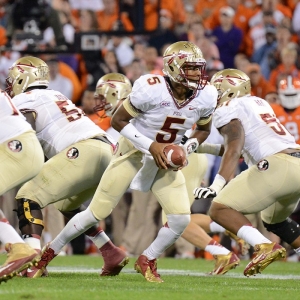 It's another season of change for the ACC, with some new faces and one missing one. Louisville now takes the place of Maryland - an upgrade in every sense of the word. Notre Dame also joins the conference - sort of. They will play five games a year against ACC foes starting this year. They won't be eligible of the ACC postseason (so don't factor in our discussion here) but get access to all ACC bowl games beyond the playoffs. While some things change, there is one thing that should remain constant from last year - Florida State is far and away the class of the conference, and no one can likely do much about it. The odds reflect the lack of drama - more of a foregone conclusion than any other major conference. That won't make it easy to make this preview interesting, but I am game to try if you are. Here are the odds to win the ACC in college football, with picks and predictions thrown in.
The odds (from Bovada)
Florida State (4/11)
Clemson (10/1)
Louisville (10/1)
North Carolina (10/1)
Miami (12/1)
Virginia Tech (12/1)
Duke (20/1)
Georgia Tech (25/1)
Pittsburgh (50/1)
Syracuse (66/1)
Virginia (66/1)
N.C. State (75/1)
Boston College (200/1)
Wake Forest (200/1)
Breaking it all down
Florida State: Here's the main prediction for this article - Florida State is going to win the ACC. Stunningly bold, isn't it. The defending national champs have a Heisman winner at QB, a stunning amount of talent and depth, and a schedule that is favorable. Anything can happen in college football, of course, but if Florida State were to lose a game this year it would qualify as a serious upset. The problem for bettors, of course, is that locking your money up for five months at 4/11 is about as attractive as getting a root canal in a back alley. All we can do, then, is look elsewhere for anything even approximating value. I'll warn you in advance, though - I'll be passing on the chance to bet on this conference.
Clemson: Tajh Boyd is gone. So are Sammy Watkins and Martavis Bryant. And 1,000-yard rusher Rod McDowell. That's a massive hole in what was a very good offense. They have a lot of new talent to replace them, though, and Chad Morris still runs the offense. Their biggest problem, though, is that they are forced to travel to Tallahassee to play Florida State in September before the new blood has a chance to get comfortable with their new responsibilities. They won't win that game, but they could win the rest in the conference. You could do worse than the Tigers in a search for relative value in this conference.
Louisville: Teddy Bridgewater is gone, and there is no tested replacement. I hate the hire of Bobby Petrino. The schedule is new for them and tougher than they have been used to. Not a lot of reason to get excited about this price - especially compared to Clemson at the same price.
North Carolina: The Tar Heels have some decent talent on their depth chart, but it feels like they are a year away from their best with this lineup. The bigger issue is that even at their best they are not going to be good enough to threaten the top teams here. Horrible value.
Miami: I think I might be done having faith in Al Golden. He has had chances to shine, and he never manages to pull it off. He has some issues that will get in his way again this year - most notably that he doesn't have a proven quarterback and last year's really lousy defense has to rely on new blood to improve. I'm not an optimist.
Virginia Tech: Last year the Hokies overhauled their offensive coaching staff, and the results were disastrous. The question for this year, then, is if you believe that the group can get back on track this year or if you still expect them to be pretty bad. I fall somewhere in the middle - they just aren't going to be good enough to threaten, even if they are better than they were by a decent margin.
Duke: How bad does the ACC get after the very top teams? So bad that I am seriously suggesting that Duke could represent some long shot value at 25/1. Ugh. They have a ridiculously soft schedule - they managed to avoid Florida State, Clemson, and Louisville in the divisional crossover. They had some success last year and could use the confidence gained to build on it. They have a real chance to make the ACC Championship Game again. Then, if every Florida State player breaks both of his legs in the first quarter they could win that game as well. It's not going to happen, but a Duke championship is just as likely - or more - than some of the teams at lower odds. That means there is value, right?
Doc's Sports has established ourselves as the best in the business for well over 40 years. We want you to see why! That is why new clients can get $60 worth of member's picks free by clicking this link for a no-hassle signup.
Read more articles by Trevor Whenham