2014 SEC Football Predictions and Futures Odds Picks
by CarbonSports - 8/26/2014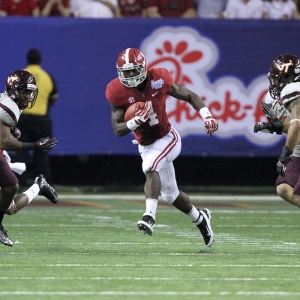 The SEC conference has been the cream of the crop in college football for the last decade or so and I don't believe much will change this year. From top to bottom in the SEC there are some very good teams and we should see some high level football from all of them this year. The odds are quite spread out as to who will end up winning the conference title game in early December as this might not be Alabama's territory to rule anymore. The Crimson Tide come in as the favorites after failing to make it to this game a year ago with their memorable loss to Auburn in Iron Bowl, but Nick Saban will have his guys ready.
All the SEC future lines at Carbon Sports can be found here
Alabama (+150) comes in as the favorite to claim another SEC title, but there might be too much turnover for Saban and the Tide to get back to the mountain top. Alabama lost their four-year starting QB in A.J McCarron this year and only have 12 of 22 starters returning. That's not necessarily out of the norm for Saban's program as his programs have become an NFL training ground in recent seasons, but having a new QB under center will always have a learning curve attached to it. How quickly the Tide can adapt and ride their defense will be the key to their success this season and with by finishing up the year with three straight home games - including that rematch with Auburn in the Iron Bowl, the Tide could be well on their way to the conference title and playoff bound.
Last year's champs from Auburn come in next at +425, but they've got some company in Georgia at +425 as well. These two programs met in last year's SEC Title game and both are primed for another great year. Schedule-wise, it's Georgia out in the East Division that has an easier go of it as they avoid Alabama and get to host Auburn, but four straight road games (one's a neutral site game vs. Florida) in the middle of the year will be the make or break point for the Bulldogs.
Behind them we've got LSU and South Carolina coming in at +650 each and of the two it's the LSU Tigers that I'm leaning on. If LSU can get by Wisconsin in Week 1 they can really get on a roll with four straight home games against lesser competition after that before going to Auburn in early October. They host Alabama in early November and an upset there would likely push LSU to the top of the West division and that game is after a bye week for the Bayou Bengals.
Finally, wrapping up the teams with a legitimate shot at the title are Florida (+1200) and Ole Miss (+1500) but I don't believe either of these programs have enough back-end depth to run through the gauntlet that is an SEC schedule and remain unscathed. Both schools will be improved from last year, but they are likely to slip up at least twice against the big boys and that will ruin any shot at getting to the championship game.
Picking the SEC winner will be tough this year because everyone has caught up to Alabama now. Auburn managed to get one past the Tide last year and prove that Saban isn't an unbeatable machine. The Tide provide little value at the +150 price with a new QB and other new starters across the board and that's why I'm staying away.
Last year Auburn got all the good luck and some in conference play to make it all the way to the National Championship and there's no doubt in my mind that some of those bounces will go against them this year. The +425 price is nice, but Auburn will not make it back to the dance.
That leaves me with an underrated LSU team that I believe will snatch control of the West division early on and sneak up on a few people to take this conference. The value is definitely there at +650 and the "Mad Hatter" Les Miles is never afraid to pull out all the stops to give his team a chance.
Take LSU to win the SEC
Open an account now before Aug.31st and DocSports will get you a $10 Freebet to try out CarbonSports.ag.
You can also take advantage of CarbonSports $100 FreeBet Promotion. Use promo code: FREE100
(Make a deposit of $25 or more and enter the promotion code: FREE100 in the promotion code field, 50% freebet bonus, no rollover up to $100) Click Here to take advantage today!