Betting Odds and Free Picks for NBA Player Props for Monday
by Dave Schwab - 5/11/2015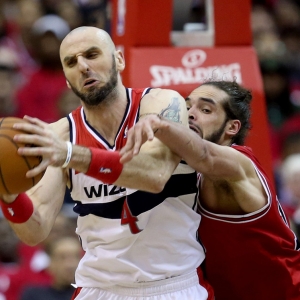 There are two games on Monday night's schedule in the NBA, and both have some major ramifications for the top seed in each conference if they can't come away with a win on the road. Both of these teams trail in their best-of-seven conference semifinal matchups 2-1, and in the East Atlanta is on the road as a 4.5-point favorite against Washington, while out in the Western Conference Golden State is a four-point road favorite against Memphis.
To add even more excitement to the betting mix, BetOnline has also released some player and team props for each of these games. The following are my picks for a few that offer the best value in the betting odds.
Top scorer- Atlanta at Washington
Atlanta comes into this Game 4 showdown with DeMarre Carroll as its leading scorer in the postseason with 18.3 points per game followed by Paul Millsap (15 PPG) and Al Horford (14.8 PPG). The betting odds that Carroll scores the most points in tonight's game are set at +300 followed by Horford and Jeff Teague (13.7 PPG) at +500. There are no betting odds for Millsap in this player prop.
Turning to the Wizards, in the absence of John Wall from the lineup, Bradley Beal continues to be the go-to guy with an average of 21.1 PPG. Paul Pierce is chipping in another 15.6 points, and Marcin Gortat is third on the list with 15 PPG. The odds that Beal is the game's leading scorer are set at +250. There are no betting odds for Pierce, and Gortat's odds are listed at +500.
You have to give all the credit in the world to Washington for taking the series lead with its best player on the shelf for the first three games of this series. The betting odds on Beal remain very attractive with Wall still out of the lineup for Monday night, but when push comes to shove for the East's top seed, I'm going with the +300 odds on Carroll to have another big night to tie this series up at two games apiece.
First team to score a 3-point field goal- Atlanta at Washington
BetOnline has set the team prop bet odds at -140 that Atlanta hits the first 3-point field goal of the game. The odds for Washington hitting the first one are +110.
The Wizards have the slight overall edge in this prop with a team shooting percentage of 43.0 percent from 3-point range through their first seven playoffs games verses a 3-point shooting percentage of 34.9 in nine postseason contests for Atlanta.
Washington's best 3-point shooter in these playoffs has been veteran forward Paul Pierce, who is averaging 6.9 attempts per game and hitting 52.1 percent of his shots. Beal is putting up an average of six 3-point attempts a game, but he is converting on just 35.7 percent of those shots.The total team shots from 3-point range a game for Washington stands at 24.6.
The numbers for Atlanta have Kyle Korver attempting 9.3 3-pointers a game with a conversion rate of 38.1 percent. Next on the list with 4.9 attempts a game is Carroll. He is shooting 45.5 percent from beyond the arc. The total team attempts per game stand at 31.0.
The numbers clearly favor Washington in this team prop with a far better conversion rate from 3-point range than Atlanta, which adds even more value to its favorable +110 odds. Look for Pierce to get it done quickly in this prop by hitting a 3-pointer right out of the gate.
Race to 10 points- Golden State at Memphis
Golden State not only had the best record in the NBA in the regular season at 67-15, but the Warriors were also the league's highest-scoring team with an average of 110 PPG. This scoring average dropped off slightly in their four-game sweep of New Orleans in the opening round, but it has bottomed out in the first three games against the Grizzlies at 93.3 PPG.
A slow start in Game 2's loss led to a six-point deficit at the end of one quarter that grew to an 11-point deficit at the half. In Saturday's 10-point loss, the Warriors were down by three points after the first quarter, but that margin ballooned to 16 points at the half.
Memphis has been able to dial up the defense against the league's most prolific team, but I am sensing a reversal of fortunes in Monday's Game 4. Golden State still has the league MVP in Stephen Curry, and it still has host of other players that can put the ball in the hoop.
BetOnline has set the odds at -125 that the Warriors reach 10 points in this game first, and the risk is well worth the reward in this team prop. The odds that Memphis gets there first are set at -105, but I think this is going to be Golden State's night to remind everyone at FedEx Forum just exactly why it won all those games this year.
Read more articles by Dave Schwab