College Football Handicapping and Betting: Neutral-Site Games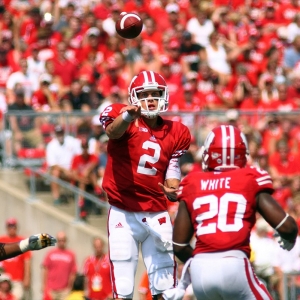 Who doesn't like neutral-site games in college football? The season ticket holders who miss out on a prime game, for one. I could take them or leave them - the novelty of them is long since gone, and seeing games played on a home field is more fun to watch. The schools love, them, though - especially when they pick up their paychecks. Whether you love them, hate them, or don't really care, you can't really ignore them as bettors - the matchups are typically too intriguing, and that goes for this year as well. Neutral-site games are somewhat unique for bettors.
Before we look at the four most interesting neutral-site games to kick off this season, let's look at three key factors you need to consider when handicapping these games:
Just how neutral is it?: By definition a neutral-site game is one that isn't played in the home stadium of either team. Sometimes, though, games are played much nearer to one team's home than another. For example, when Texas A&M plays Arizona State in Houston on Saturday, the Aggies will not have had to travel nearly as far as the Sun Devils to get to the game. More significantly, it is easier for the Aggies fans to make the trip than the Arizona State backers, so there could be a crowd bias. Similarly, Tennessee would always be expected to have a significant crowd edge over Bowling Green at any neutral site, but that is especially likely to be the case when they only have to travel 160 miles to Nashville to play the game.
Is this a new experience?: For some teams neutral-site games, and the spectacle that often surrounds them, can be new and intimidating. I'm looking at you, Bowling Green. That can affect their focus and potentially impact the way they play the game. For others, though, these games are just old hat - nothing new. The most obvious example of that is Alabama. They use neutral-site games against big opponents every year as a way to avoid playing true nonconference road games. They certainly don't shy away from opponents, either - Wisconsin this year will be followed by USC and Florida State. Only the true freshmen on the team haven't been through this before, and upperclassmen have played so many neutral-site games that they barely register anymore. They are just another game.
Is the game distracting us from anything significant?: Oftentimes, the key storyline in neutral-site games - at least among the media and the betting public - is the setting and all that means. While that certainly has an impact, we also need to remember that it is just another football game. If there are other storylines that are huge for the game, we need to make sure that they don't get buried under the weight of the neutral site narrative. Tennessee is a good example here this year. Sure, they are playing in their own backyard. They are also heading into the game have gone through historically high amounts of roster turnover. What impact will that have on the game? Probably more than the fact that the game is in Nashville.
Louisville (+10.5) vs. Auburn, September 4: As these teams prepare to duel in the Georgia Dome, my gut reaction is that the Cardinals, who are unranked, aren't getting enough credit, and the Tigers, who are ranked sixth, are getting too much credit. Or maybe I'm just resigned to the fact that Bobby Petrino is much better at coaching football than he is at being a decent human being. Either way, this is a good test for the Tigers if they want to be legitimate and a great opportunity for Louisville to make a huge statement.
Bowling Green (+21.5) vs. Tennessee, September 4: We alluded to it earlier, but the roster turnover is just amazing in Tennessee. They have just 16 players in Nashville who played for the team in 2013. They have 27 freshmen, including 22 true freshmen, and 34 players who have never played a snap for the team on the travel roster. There are 56 players who have played one year of SEC football or less. Youth is a part of college football, but this is ridiculous. How will it impact the team? Bowling Green has talent deficits in most spots, but they do have an offensive line with five returning starters and 125 starts between them, and QB Matt Johnson was very good in 2013 before missing most of last year due to injury.
Arizona State (+3.5) vs. Texas A&M, September 4: Both of these teams have a shot, if everything goes exactly right for them, to make some real national noise. They both have plenty of talent, and their conferences have at least a sliver of an opening for a team to come through and win them. To do that, though, they need to start by proving themselves here. That obviously won't have an effect on the conference race for either team, but in terms of momentum and confidence it could be massive. The Aggies also need to prove that they made the right decision in a hotly-contested QB race.
Wisconsin (+12) vs. Alabama, September 4: Alabama is going to be a very good team this year. That will be the case until Nick Saban chooses to retire and move on. You can't help but feel, though, that this team is perhaps a notch below his best. Most concerning, they have not been able to choose a starting quarterback - at least publicly - from the three options they have. As the saying goes, when you have three starting quarterbacks you have no starting quarterbacks. They could certainly prove us wrong and be as great as they have been in the past, but they need to prove that that is the case - and a big win here would help. Not that Wisconsin comes here in perfect shape, either. They have a new head coach, and the transition wasn't exactly smooth or free of drama. When a guy chooses to go from Wisconsin to Oregon State - not long after a guy chose Arkansas over Wisconsin - you could have issues. You don't make lateral moves when you love coming to work in the morning.
Got free picks? Doc's does. And for new clients we would like to offer you $60 in free member's college football picks from Doc's Sports Advisory Board of college football handicapping experts. Click here to sign up today. We never require a credit card for this offer, and you will never have to deal with a salesman. Also, get three handicappers for the price of one when you sign up for a full-season football package! Click Here for details.
Read more articles by Trevor Whenham