College Football National Championship Game Picks: 5 Keys for Ohio State
by Trevor Whenham - 1/11/2015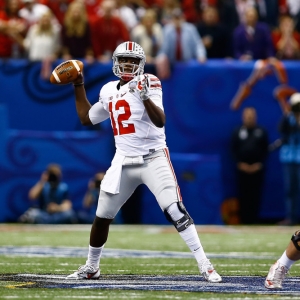 The biggest problem I have with the new College Football Playoff - not overall, but right now - is the waiting. The gap between the semifinals and the Championship Game is endless, and there just isn't enough college football to fill the gap. That means that all we can do is overanalyze and overspeculate. In that spirit, when I look at Ohio State from as many angles as I can, there are five factors that stand out above the rest because of the impact on the game that they could have. Figure out what to expect from these five factors and you can probably figure out how to bet on this game:
Cardale Jones: The Ohio State quarterback is fast becoming one of the most remarkable stories in a remarkable college football season. When a mid-level recruit who starts the season as the third-string quarterback for a team, you don't expect him to have much of a role, and you certainly don't expect it to be anything other than terrifying if he is called into action. So far, though, Jones has been impressive. Very impressive. All he has done is win the Big Ten Championship by beating Wisconsin 59-0 and then follow that up by beating the top team in the country. He obviously hasn't done it singlehandedly, and his numbers haven't been spectacular, but he has been far from a liability. What he faces now isn't necessarily his toughest defensive challenge, but it is certainly the most pressure he has seen. Is he up to the challenge? Or is the reality of the situation going to overwhelm him?
Can the Buckeye defense hold up?: Needless to say, the Buckeye defense is capable of being impressive. They not only shut out a decent Wisconsin team, but they held Melvin Gordon to just 76 rushing yards. Against Alabama they were mostly impressive as well. What they did in their last game, though, and in other games later in the season as well, was fade somewhat down the stretch of the game. That's a particular concern against a team like Oregon that plays as fast as they do. There is also a concern that this team can be vulnerable to big running games - Wisconsin aside. Navy ran for 370 yards, and Indiana and Minnesota each tallied 218. Alabama had 170 rushing yards and could almost certainly have had quite a bit more if they had remained committed to it as the game went along. The Ducks average 242 rushing yards per game and do it without relying solely on one character. If the Buckeyes don't have an answer to the inevitable challenges the Oregon offense poses then this could be a fast game.
Does Urban Meyer have an edge?: Mark Helfrich is getting a lot of attention and respect these days. I'm not saying that he doesn't deserve it - not at all. The truth is, though, that Helfrich does not yet have a real win to his credit on the biggest of stages, and he has limited experience even playing in bright spotlights, but Urban Meyer has two National Championships and has done all there is to do already in the sport. Meyer has an edge here. As handicappers, the challenge is just to figure out how significant that edge is to the outcome of the game.
Will Ezekiel Elliott have a big day?: In the postseason's two games, Ohio State's star running back has carried the ball 40 times for 450 yards and four touchdowns. That's 11.3 yards per carry - and that's not too bad. Elliott is a very good back who is in rare form right now. If he can duplicate that performance for a third game in a row then he is going to have a big impact on how this game turns out. Oregon's defense is not particularly sound, and though they are more vulnerable against the pass than the run they are outside of the Top 50 nationally in terms of rushing yards allowed per game. When Arizona stunned the Ducks this year they were able to run for 208 yards, and two backs both had very good days. Elliott is a massive threat to the Ducks.
Will they keep shining as underdogs?: The Buckeyes are going to be underdogs in the National Championship Game. It would take a miracle for them not to be - they are currently 6-point dogs. From a betting perspective that is far from a bad thing. The Buckeyes have, somewhat surprisingly, been underdogs three times already this season - including their last two games. They have performed very well in that role. They have not only covered all three spreads, but they have won all three games outright as well. Meyer is a master motivator, and you can be sure that he has used the public disrespect in games against their three best opponents as a driving force to get his team ready - just as he will here.
Get free picks from any Doc's Sports handicapper - there is no obligation for this offer and no credit card required. Just sign up for an account, and you can use the $60 in free picks for any Doc's Sports Advisory Board handicapper and any sport. Click here to get started now.
Read more articles by Trevor Whenham