College Football Playoff Betting: Unique Handicapping Challenges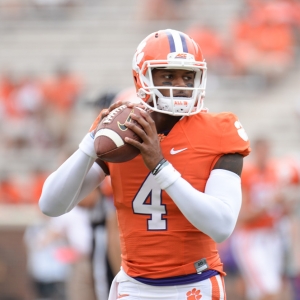 Handicapping the bowl season is a much different proposition than the regular season. That has been true for a long time. What we have seen now, though, is that the new college football playoffs have added yet another wrinkle to postseason college football handicapping.
In many ways the playoffs are just the same as other bowl games - they are important games played weeks after the end of the regular season, and so on. There are some key differences, though, and the handicappers who consider those differences and decide whether they are relevant can have an edge over the general public.
Here are six differences between the three playoff games and the rest of the bowl games:
Massive public attention: The general betting public doesn't have the most sophisticated understanding of the college football landscape. They pay attention to what gets all the hype, and they don't look far beyond the headlines. The playoff gets dramatically more attention than any other bowl games, so it only makes sense that they draw much more public attention than any other game. The higher-profile a game is, the more you need to be aware of how the public is betting and what impact that has on how the line is set and how it moves. That means that paying attention to public betting patterns is particularly important in these games. The factor of interest this year, though, is that we can't know how the timing of the semifinal games will impact the attention and betting fervor of the public - the first game is played while many will still be at work, and the second falls when many will be at new year's eve parties and thinking about things other than football.
More handicapping distractions: More media attention means that there are more story lines covered and more attention given to each storyline than in another game. The more storylines there are out there, the more meaningless or misleading ones there are and the easier it can be to be distracted by one of those storylines and led astray. You need to be particularly vigilant in these games to avoid all but what really matters. It used to be that just the National Championship Game would get the bulk of attention. Now the playoffs include three games - and three times the opportunities to get distracted.
Departing coaches: The fact that coordinators from highly-successful programs can leave for head coaching jobs elsewhere before bowl games is nothing new - it always happens. It is more significant now, though, because these games matter so much and because successful teams have to play twice in a row. This year Kirby Smart, the former Alabama defensive coordinator who is now the head coach at Georgia, is the most obvious example. It's obviously not the case that a team dealing with the distraction of a departed coach is doomed - Ohio State won it all last year after offensive coordinator Tom Herman had taken the head job at Houston. You need to be particularly aware of what has happened to teams, though, and how they are dealing with it.
Scheming: In a lot of cases the worst thing that a coach can have is too much time. With more time than they need to get ready for a game, coaches can easily over think things and get too fancy with their game planning. There's a balance, of course - the best and most experienced staffs can handle the break well because they have been there before. It can be especially tough for coaches who haven't been in the playoff before because they have to deal with the possibility of playing two games while avoiding the temptation to think too much about the second game before winning the first one.
Heisman distractions: It won't always be the case that the Heisman winner is in the playoff, but it's a good bet that it will often be the case. Not only is this year's Heisman winner Derrick Henry in the playoffs, but so is third-place finisher Deshaun Watson and fourth-place man Baker Mayfield. It's way too simple to say that the Heisman winner will have a bad day - some winners in recent years have shown that that isn't the case. The distractions for both winners and finalists are significant, though, and it can have a big impact on those players and their preparation for the biggest games of their careers.
Wear and tear: If they make the finals then Alabama, Clemson and Michigan State will all have played 15 games. In recent times only Ohio State has successfully played and won a 15th game. It's unfamiliar territory, and it can have a big impact on players and teams. Until we get a bigger sample size it will be tough to really understand what it means to play an extra game and how to truly understand the impact it has on teams and how we handicap them.
Got free picks? Doc's does. And for new clients we would like to offer you $60 in free member's college football picks from Doc's Sports Advisory Board of college football handicapping experts. Click here to sign up today. We never require a credit card for this offer, and you will never have to deal with a salesman. Also, get three handicappers for the price of one when you sign up for a full-season football package! Click Here for details.
Read more articles by Trevor Whenham