MLB Betting Tips: Hottest Baseball Teams for Wagering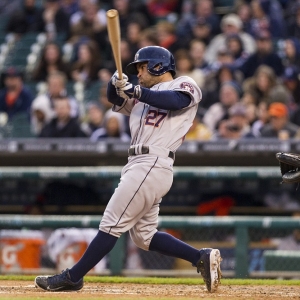 Momentum is monumental in Major League Baseball betting. Every team, from the 100-game winners to the 100-game losers, goes through hot streaks and cold streaks during the course of a 162-game season. And understanding who's hot and who's not is a key aspect to making money during the summer home run season.
Right now there's no hotter team in baseball than the Washington Nationals. Winners of 21 of their last 27 games, the Nationals have been a buzz saw through May. Washington has won nine straight series since a six-game losing streak in late April, and the Nats have looked unstoppable for the past month.
Armed with a dominating starting staff and a suddenly unstoppable offense, the Nationals are in the Top 10 in team earned run average (No. 7 at 3.53) and runs per game (No. 3 at 4.7). They've opened up at two-game lead over the New York Mets at the top of the National League East.
This was the team that people expected when they made lofty preseason predictions for the Nationals. Bryce Harper has been devastating and is proving why he was such a hyped prospect coming out of college. He is hitting .331 with 18 home runs and a ridiculous 1.215 OPS. Max Scherzer has been anchoring the pitching staff and proving why he was worth that mammoth seven-year, $210 million contract he signed this offseason. Scherzer has won six games already and is sporting a tidy 0.88 WHIP to go with a 1.51 ERA.
Washington's schedule has been beneficial during this rush. But it's not the primary reason for their domination. Over the last three weeks they've only played two series, versus the Yankees and Cubs, which are above .500. But they did go 4-1 in games against those two. Washington also swept a series against the Braves (who are currently exactly at .500), and the Nationals have played 10 of their last 15 games on the road.
The Nationals have a weekend series against sagging Cincinnati (19-27) this weekend before a seven-game homestand against the Blue Jays and Cubs. Looking at their layout over the next two weeks, I don't see the Nationals train coming off the track any time soon.
Unfortunately, the question of value is certainly starting to come into play. The Nationals have been favored in all but four of their last 26 games. And the four times they were underdogs they were never larger than +105. They have only been favored by less than -150 three times in their last 11 home games, and I don't expect to see Washington posted at less than -145 much during the month of June.
The Nationals have the third-best record in the National League and the seventh-best record in baseball. A bettor wagering $100 on every Nationals game this year would have made slightly more than $400, which ranks fourth in the N.L. and ninth in the Majors overall. I expect them to continue to earn throughout the rest of the season - as long as they stay healthy they are legit - but there is no doubt that the books are going to try to price Nationals backers out of the market.
Washington is one of the hottest teams in the Majors right now. But here two other teams that have been burning the books over the last several weeks:
1. Houston Astros
The Astros are one of the biggest surprises in baseball this year. They were the first team to win 30 games and currently have the best record in the American League. They have won 26 of their last 38 games and are 10-5 in their last 15. Houston has done its damage despite one of the worst hitting lineups in the sport; their .234 average ranks No. 28 out of 30 teams. But the Astros are No. 1 in the league in home runs with 66 and have been an all-or-nothing team at the plate.
Be wary, however. Houston has only played two series (of 15) this year against teams that are currently over .500. They went just 3-3 in those games against the Tigers and Giants. The Astros have been the best of a miserable bunch in the American League West and have beaten up on their divisional opponents, going 18-11 against West foes.
Also, Houston has been extra fortunate in one-run games this year. Heading into their recent seven-game road trip they had been 10-2 on the season in games decided by the slimmest margin. That was - and still is - an unsustainable rate. They went just 1-3 in one-run games on that losing road trip.
2. San Francisco Giants
Like Washington, it took the Giants a little bit of time to get going. But now that San Francisco is happy and healthy they are in quite a groove. The Giants have gone 19-7 in their last 26 games and are 10-2 in their last 12. San Francisco just wrapped up a 5-2 road trip, and they are back home now, where they have won 36 of 52 games.
San Francisco is pretty much the anti-Houston in terms of how it generates offense. The Giants are No. 3 in the Majors in batting average and No. 25 in home runs, keeping pressure on opposing pitchers with a lineup stacked with guys that are patient veteran hitters.
Their pitching staff has also gotten a jolt by the return to form of former Cy Young winner Tim Lincecum. After three straight seasons with an ERA of 4.37 or higher, Lincecum is once again an anchor at the top of the rotation. He has gone 5-2 with a 2.56 ERA.
Honorable Mention: Minnesota (19-6 in L25 games), Texas (11-6 in L17 games), Seattle (12-6 in L18 games).
Robert Ferringo is a professional handicapper and one of the best long-term sports investors in the country. His clients have earned nearly $60,000 in all sports profit over the last five years and have more than doubled their bankrolls dating back to last August. Robert has posted five of seven winning MLB seasons and you can get his daily baseball predictions exclusively at Doc's Sports.
Read more articles by Robert Ferringo