NBA Betting and Handicapping: Detailing Houston Rockets Struggles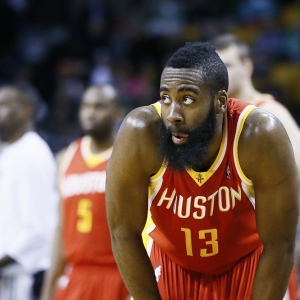 The list of disappointing teams in the NBA is long this year. New Orleans. Philadelphia. Milwaukee. Washington. You could go on and on. The most disappointing, though, might be Houston. Viewed to be a real contender in the West, they have looked confused so far this year, and find themselves at just 8-11 - and have had to win three of their last four just to get to that underwhelming record. This is certainly not how it was drawn up heading into the season. So, what has gone wrong? And what does it mean for bettors? Here are five factors to consider when asking those questions:
Howard: Dwight Howard is still a very good player, and his stats - outside of scoring - are fairly consistent with his career totals. He's just not the dominating beast that he once was. It's not his fault - he may be only 29, but with 11 years of wear and tear at his size it makes sense he has slowed down a bit. He also isn't as resilient as he once was - as shown by the number of rest days he has been given. I'm not saying that Howard is to be blamed for anything that is happening - not as much as others, anyway. It's just easy to look at the team and think of Howard as what he has been instead of what he is. That will automatically have your expectations at an unreasonable level.
Harden: James Harden has performed a really important scientific experiment leading into this season - that living a Kardashian lifestyle over the summer is not as effective as actually training when it comes to getting ready for the season. Shocking, but apparently true. He came into the season out of shape and has not yet gotten to where he needs to be. It's not often you see a top-caliber player look tired on the court, but that has frequently been the case with Harden. He's still scoring, but his shooting percentages have fallen off a cliff, so he has increased his usage to keep the scoring up. It's the Kobe Bryant approach to being a teammate, and that's not necessarily the best approach overall. It seems that his philosophy increasingly is that he will do everything, and his teammates should just get out of his way and witness greatness. His defense hasn't been a huge strength throughout his career, but this year that's really lacking, too.
When your team is essentially built around two guys and one is looking old and the other is looking fat and playing selfish ball, it's not a wonder that things aren't necessarily going your way. I sound like I really don't like Harden. That's not the case at all. The Harden of the last couple of years has been brilliant. It's just that this year's version looks precious little like that, and he doesn't seem to care at all that he doesn't. It's a waste of talent, and that drives me nuts.
Lawson: It can be too easy for fans and handicappers to sit on the sidelines and think that things that teams do don't make any sense. We're not there, so we can't really know what teams are thinking or doing. That being said, it was hard to see how the addition of Ty Lawson at point guard was going to work well from the outset. It's not that he's not good - I like him as a player. It's just a question of fit. Lawson is a guy who needs the ball in his hands. So does Harden - to a very strong extent. Two guys, only one ball - is it surprising that they have struggled badly to get along?
Lawson has found himself on the second unit and has even been benched for one game and most of another lately. It's not a great situation. Patrick Beverley is back in the lineup, which should help the team because of his chemistry with Harden, but that won't help Lawson shake his funk and find a better role on this team. Lawson has been the subject of trade rumors lately. While that has been denied by all involved, it may be the best thing for player and team.
Coaching change: All we can do is grade this one as an incomplete at this time. On the surface B.J. Bickerstaff has a better record by far than Kevin McHale had - 4-4 compared to 4-7. Two of the Bickerstaff wins have been by late miracle shots, though, and a couple of the losses have been ugly. The team really is just as troubled and disjointed as they were before. The team has issues well beyond what a coach can quickly fix - age of the supporting cast, an oddly-built roster, a selfish and out-of-shape star, general apathy. We need a much bigger sample size to know if things have really changed at all. At this point I am skeptical.
West is relatively weak: There is some good news here. For years the West has been almost impossibly tough. Good teams with excellent records were missing the playoffs regularly. That isn't the case so far. Minnesota holds down the eighth playoff spot at 8-10, with the Jazz in seventh at 8-9. Houston is right in the discussion - and they should measure up favorably against those two teams at this point. It had the look of a lost season early on for the Rockets, yet almost despite themselves they are right in the mix. The margin for error is much bigger now than it has been in recent years - and the Rockets likely need as much margin as they can possibly get.
We would like to offer you $60 of member's predictions free - no obligation, no sales people - you don't even have to enter credit card information. Click Here for $60 in free NBA predictions. Also, for a limited time only, you can get three handicappers NBA picks for the price of one! Click Here for more details!
Read more articles by Trevor Whenham