NBA Betting Trends: Hot and Cold Teams Against the Point Spread
by Aaron Smith - 2/10/2015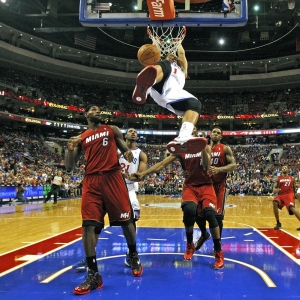 The NBA All-Star Break is this coming weekend. Be careful putting too much on the Wednesday and Thursday games this week, because there will be a lot of teams ready for the break, and it can be difficult to handicap who the more motivated team will be in those spots. Golden State and Atlanta still have the best records in the league, though the oddsmakers have finally caught up to those two teams by laying some big numbers on them. You'll notice in this particular report that it is primarily bad teams that have been great against the number in the past few weeks. The numbers have been too big, and the underdogs have been barking. In the past month, underdogs are cashing at a 54.6 percent clip.
Doc's Sports has done an NBA ATS Hot and Cold report in the past, and we will be offering it again this year. We'll highlight the Top 5 hot teams and the Bottom 5 cold teams. This report allows bettors to keep an eye on which teams are streaking and which are slumping. There's no doubt that the NBA is a momentum-driven league. Will these current trends continue, or will they change soon? This report will now be offered once every three weeks throughout the NBA regular season to allow for plenty of data in each sample. The statistics listed below are for games played between 1/22 and 2/9.
Top Five Hot Teams
1. Boston Celtics (9-2 ATS) The Celtics aren't a good team, but they have been good at the betting window this year. Boston is 28-22 ATS so far this year. The Celtics are an impressive 16-8 ATS on the road. After the break, the Celtics have a three-game road trip, so we could see some value there. Brad Stevens has proven to be a nice hire for Boston, and once they get some more talent (and if they draft wisely they will) this team could be dangerous in the coming years.


2. Philadelphia 76ers (8-2-1 ATS) I've been really impressed with the Philadelphia 76ers in the last few weeks. Obviously they aren't going to be a good team anytime soon, but they absolutely have figured out a way to stay close to most teams. Philadelphia has put forth a great deal of effort on the defensive end of the floor in the last month. Philadelphia ranks in the Top 5 in the league in defensive efficiency in the last few weeks. They still can't score, but Philadelphia is covering numbers by playing defense. The "under" often has value with this team as well based on their new style of play.


3. Utah Jazz (7-3 ATS) The Utah Jazz still have a lot of room for improvement, but they have some nice young pieces to the puzzle. Gordon Hayward is playing some really good basketball of late. Derrick Favors is turning into a good center in this league. Enes Kanter has impressed all season long as well. Utah's size up front has made them a tough matchup for a lot of teams. Keep an eye on their schedule and look to back Utah when they are up against a team with a weak frontcourt.
4. Cleveland Cavaliers (7-3 ATS) They had to heat up sometime, and the Cavs are finally playing much better basketball. If they can consistently get Kevin Love to contribute, this team will be tough to stop. Cleveland still has a lot of room for improvement on the defensive end. If they are going to make a serious run at a title, Cleveland is going to have to find a way to come up with more stops against quality competition in crunch time. Cleveland will play 12 of their next 16 games on the road.


5. New York Knicks (6-3 ATS) Here is absolutely another bad team that the oddsmakers have gotten just a little bit too low on. I feel like this whole side of the report is just a list of the NBA Atlantic Division teams! The Knicks have been much more competitive of late, but be careful trusting this team too much. Carmelo Anthony is struggling with his health more again, and there are rumors that he might be shutting it down for the season soon.
Bottom Five Cold Teams
1. San Antonio Spurs (1-7-1 ATS) San Antonio has been playing surprisingly mediocre basketball of late. Since the oddsmakers are so high on the team (as they should be), the Spurs haven't been able to cover many numbers. Interestingly, their only cover during this stretch was by half a point. San Antonio's defense has still been fine, but the Spurs offense has let them down this season. Can they get it going? I wouldn't want to bet against it, but this mediocrity is becoming concerning.
2. Washington Wizards (2-8 ATS) The Wizards have actually won two straight ATS after dropping their previous eight straight. Washington is a bit of a hard team to figure out. The Wizards are definitely a good team, but the jury is out on whether they are a contender in the Eastern Conference or not because of their inconsistency. Three of their next four games are against: Toronto, Cleveland, and Golden State. We'll see how they fare against some of the top teams in the league.


3. Sacramento Kings (2-6 ATS) The Sacramento Kings are in coaching limbo right now, and that hasn't been good for the team. Ty Corbin isn't the answer, and it seems like management now understands that is the case. Sacramento confused me by firing Mike Malone when he was doing a good job, and now things have just gradually gotten worse. The Kings aren't playing any defense of late. If they get George Karl, this team will improve quickly.
4. Denver Nuggets (3-7 ATS) Speaking of bad coaching situations, Brian Shaw is on a red-hot seat in Denver. Shaw made some really controversial comments insinuating that his team was losing on purpose last week. That doesn't seem like the type of thing a coach should be saying publicly, even if he believes it is true. Until they get a new coach, Denver should be a good fade.
5. Oklahoma City Thunder (3-7 ATS) Oklahoma City struggled without Kevin Durant in the lineup, but now that he is back the Thunder look like a brand new team again in their last couple games. I'll be surprised if Oklahoma City is on this side of the report next time around. Having said that, be careful blindly betting Oklahoma City, because the oddsmakers will certainly adjust on this team quickly.
Read more articles by Aaron Smith