NBA Betting Trends: Hot and Cold Teams Against the Point Spread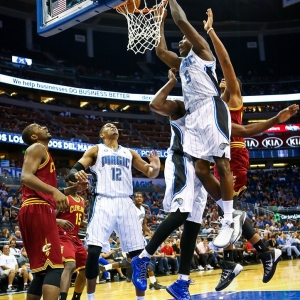 We are almost a month into the NBA season, and the Golden State Warriors have yet to lose. They set an NBA record by starting 16-0. What's the ceiling for this team? They are definitely making things look very tough for the rest of the league. Having said that, don't be one of those people who practically hand the Warriors the trophy after a hot start. This is a really long season, and there are several quality teams who will have something to say about who wins it all this year.
Doc's Sports has done an NBA ATS Hot and Cold report in the past, and we'll be doing it again this year. We'll highlight the Top 5 hot teams and the Bottom 5 cold teams in each article. This will allow people to see which teams are streaking and which teams are slumping. In a league that is unquestionably a momentum-driven, that can be extremely important. This report will be offered on a bi-weekly basis throughout the NBA regular season. The statistics listed for this article are for all games played Nov. 12 through Nov. 24.
Top Five Hot Teams
1. New York Knicks (6-1 ATS) New York has been one of the biggest surprises in the league so far this year. The biggest reason for that has been the play of rookie Kristaps Porzingis. How many Knicks fans would boo him now? Porzingis leads the team in rebounds, blocked shots, and he is averaging 13.7 points per game. While his offensive has been great, I believe his defense has been the thing that has helped the Knicks more than anything else. New York ranks in the top half of the league in defensive efficiency.
2. Toronto Raptors (5-1 ATS) Toronto made it a team goal to work on defense during the offseason. The Raptors believed that they could be a much better team in the long run if they could shore up their defensive issues. It's worked well thus far. Toronto is 11-4 ATS so far this year. The Raptors are fifth in the NBA in points allowed per game. Most impressive to me has been the fact that Toronto has been covering numbers on the road so consistently. They have only played four home games so far this year.
3. Brooklyn Nets (5-1 ATS) It's certainly not that the Nets are a good team. This is one of those cases where the oddsmakers adjusted Brooklyn a little too low. Brooklyn has been covering as a big underdog quite a bit in the last couple weeks. After failing to cover any of their first three home games, they have both covered and won outright as an underdog in their last two games at home. Brook Lopez and Thaddeus Young are playing well, but the Nets backcourt is holding them back.
4. Indiana Pacers (4-1 ATS) Indiana is having a terrific season so far, and Paul George is the main reason for that success. Who would have ever thought George would be averaging 26 points per game through the first 14 games of the year? George is recovering from that terrible injury while playing for Team USA, but it seems he is back and better than ever. You have to give him a ton of credit for the way he rehabilitated that serious injury. Indiana is first in the NBA in 3-point field goal percentage at 41.6 percent.
5. Washington Wizards (3-1 ATS) The Wizards have had the lightest schedule of any team in the NBA in the past two weeks, and that seems to have helped them. Washington has had several key players dinged up, and the extra rest has allowed them to heal. The Wizards next four games are tough ones against quality Eastern Conference opponents. It will be a good measuring stick of where this team currently stands.
Bottom Five Cold Teams
1. Houston Rockets (0-6 ATS) Houston is one of the two most disappointing teams in the league so far this year (I'd throw New Orleans in there with them). The Rockets are 1-8 ATS at home. Houston got rid of Kevin McHale, but that hasn't given the team much of a boost yet. Houston is shooting only 41.5 percent from the floor. James Harden is averaging 27.9 points per game, but he's shooting a miserable 38 percent from the floor. Houston should get better, but I'd wait before trying to call a bottom on this team.
2. Los Angeles Lakers (1-5 ATS) Everyone knew the Lakers would be bad, but not many people expected them to be this bad! Kobe Bryant has had a tremendous NBA career, but he has been terrible so far this year. Bryant is shooting 31.1 percent overall and only 19.5 percent from beyond the arc. Byron Scott's rotations don't make any sense to me. Even in games where the Lakers are being crushed, he seems to want to leave youngsters like D'Angelo Russell on the bench and let veterans keep getting beaten down. What's the point in that?
3. Miami Heat (1-4 ATS) Miami is still winning games, but they just haven't been covering the spread. The Heat have turned up the defensive pressure this year, and that's why they are leading the NBA Southeast Division. The Heat have played 10 games at home compared to only three on the road. I'm curious to see if they can play as well defensively away from their home floor.
4. Orlando Magic (1-4 ATS) The oddsmakers had to catch up to them at some point. Orlando ranked No. 1 on the other side of this report the first time around. Scott Skiles' team is still much improved, but the oddsmakers got a little bit ahead of themselves. Look for the Magic to be a good team to back as a big underdog this year thanks to their much-improved defense.
5. Oklahoma City Thunder (2-5 ATS) The Oklahoma City Thunder went 1-5 ATS during the time Kevin Durant was injured. Russell Westbrook puts up huge numbers when Durant isn't playing, but the team doesn't fare as well overall. Oklahoma City has been great on the glass (first in the NBA). They need to be much better on the defensive end. Oklahoma City is allowing 104.1 points per game.
Doc's handicappers are offering $60 worth of member's picks absolutely free - no obligation, no sales people - no credit card information required. Claim your free NBA picks today
Read more articles by Aaron Smith