NBA Betting Trends: Hot and Cold Teams Against the Point Spread
by Aaron Smith - 3/5/2015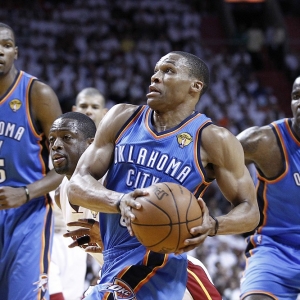 There have been some amazing performances in the NBA in the last few weeks. Russell Westbrook is on an incredible tear as he carries the Oklahoma City Thunder. James Harden continues to have a good year for the Rockets. There is a bunch of talk about the NBA MVP race this season. Many believe it is the toughest race to call in a long time. Soon the majority of the talk will about the race for playoff seeding as well. The stretch run of the season isn't as far away as it seems.
Doc's Sports has done an NBA ATS Hot and Cold report in the past, and we will be offering it again this year. We'll highlight the Top 5 hot teams and the Bottom 5 cold teams. This report allows bettors to keep an eye on which teams are streaking and which are slumping. There's no doubt that the NBA is a momentum-driven league. Will these current trends continue or will they change soon? This report will now be offered once every three weeks throughout the NBA regular season to allow for plenty of data in each sample. The statistics listed below are for games played between 2/10 and 3/4.
Top Five Hot Teams
1. Indiana Pacers (6-1 ATS) The Indiana Pacers are making a serious run right now. Indiana is currently half of a game behind Charlotte for the eighth and final playoff spot in the Eastern Conference. With Paul George practicing and his return nearing, the Pacers are a team that the top seeds in the Eastern Conference won't want to see in the playoffs. I don't think it's a matter of whether the Pacers get into the postseason but rather it is a question of what seed they will get.


2. Oklahoma City Thunder (7-2 ATS) Westbrook's play has been off the charts lately. No one can stop the guy right now. Oklahoma City is almost certainly going to make the playoffs, but how high can they rise in the crowded Western Conference? Oklahoma City needs Kevin Durant to get 100 percent healthy to make a serious run in the playoffs, but for now we should just sit back and enjoy the show Westbrook is putting on nightly.
3. Utah Jazz (5-1-2 ATS) Here's a young team that has been playing really well of late. Utah isn't going to make the playoffs, but they are showing that they aren't about to quit. Utah is now 18-11-2 ATS on the road this year. They have some winnable games in the next week. Utah will be a favorite more often in the near future. Can they continue to cover in that role?
4. Brooklyn Nets (6-2 ATS) Brooklyn is only a game out of the No. 8spot in the Eastern Conference playoff chase. The Nets picked up a really nice win at home over Golden State earlier this week. Consistency has been an issue for Brooklyn this year, but they have a lot of potential. The Nets have a favorable schedule in their next five games, so they'll need to take advantage and make up ground.
5. Cleveland Cavaliers (7-3 ATS) You had to wonder if the Cavs could keep it going after being one of the hottest teams against the number in our last report, but they have continued to roll. The numbers are getting bigger on a nightly basis, but the Cavs keep squeaking by with more covers. Since this is such a public team, I suspect there will be value in going against the Cavs in the near future. The oddsmakers can't continue to let the Cavs beat them.
Bottom Five Teams
1. Washington Wizards (1-7 ATS) Washington's recent play has been nothing short of abysmal. This is a team that many saw as an Eastern Conference contender. They aren't out of the running yet, but something needs to change if they are going to make a run in the playoffs. Bradley Beal hasn't been as good as expected, and Paul Pierce has been playing at less than 100 percent. The Wizards need more production out of Nene. Washington is 5-17 ATS in their last 22 games overall.


2. Toronto Raptors (2-7 ATS) Here's another Eastern Conference contender that has been slipping of late. Toronto has had a relatively difficult schedule of late, but even in their games against weaker opponents they haven't stepped up with a quality effort. Their loss at Madison Square Garden this week was the low point of the season thus far. The Raptors aren't playing the kind of defense they were earlier this year. Toronto's schedule looks tough in the next couple weeks, so it's not going to be easy to turn it around soon.
3. Milwaukee Bucks (2-7 ATS) I think this is a classic case of the oddsmakers finally getting a little bit too high on a team. Milwaukee is still 36-25 ATS on the year, and the oddsmakers were tired of rating Milwaukee too low. The Bucks have lowered their level of play a bit, but the primary cause for this poor run against the number is the overreaction by the oddsmakers. Milwaukee has a three-game homestand coming up starting on Saturday.
4. Miami Heat (2-5-2 ATS) Everyone wondered how Miami would fare this year without LeBron James, and to this point the results have been bad. While the biggest cause for that is likely James being gone, we shouldn't ignore the amount of injuries the Heat have had this season. Chris Bosh being out for the year is a significant blow. One bright spot lately has been the play of Hassan Whiteside.
5. New York Knicks (2-5-1 ATS) Outside of that shocking win over Toronto, the Knicks have been terrible of late. The oddsmakers knew this team would be really bad without Carmelo Anthony, but they still weren't quite low enough on the Knicks. Derek Fisher's first season at the helm has been an ugly one, but the front office will be patient here.
Read more articles by Aaron Smith